Penn State Health names Goldenberg vice president of otolaryngology-head and neck surgery services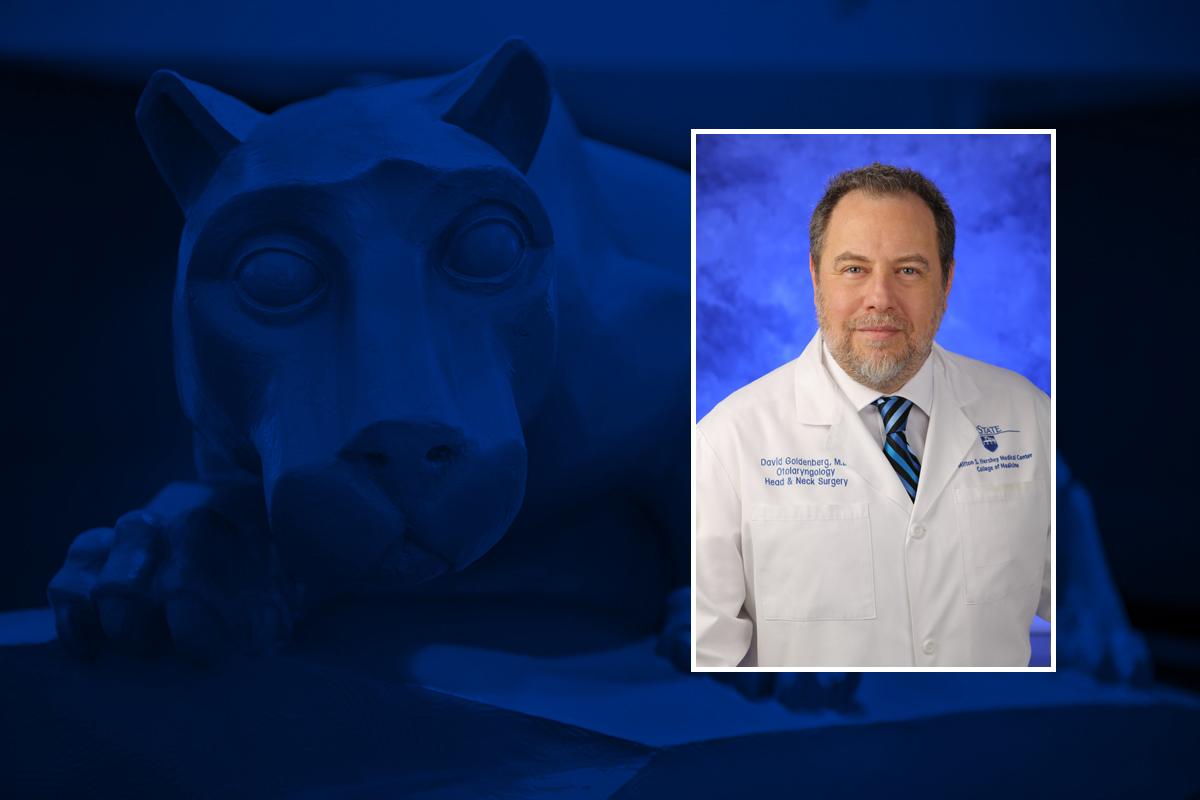 Penn State Health has named Dr. David Goldenberg to the position of vice president of otolaryngology-head and neck surgery services for Penn State Health Medical Group.
Goldenberg will oversee otolaryngology services across the Medical Group, in addition to maintaining his current responsibilities as chair of the Department of Otolaryngology – Head and Neck Surgery at Penn State Health Milton S. Hershey Medical Center and Penn State College of Medicine.
Goldenberg will partner with Dr. Safa Farzin, senior vice president and physician leader of Penn State Health Medical Group, to oversee otolaryngologic workforce planning, including recruitment and retention of otolaryngology care team members at Penn State Health practices. He will also work with the vice presidents of medical affairs at each of the health system's five adult acute care hospitals and coordinate outreach and collaboration with other regional physicians and care providers.
Goldenberg will help drive Penn State Health's patient care strategy for otolaryngology-head and neck surgery, including making recommendations to hospital and health system senior leadership regarding the scope and size of clinical services, key technology investments, capital investments in facilities, as well as quality of care measures and clinical standards of care.
The health system created the position to enhance the coordinated delivery of superior otolaryngologic care across all of its hospitals and outpatient practices, ensuring that no patient needs to leave the region for primary, specialty or sub-specialty services.
"Dr. Goldenberg is nationally recognized as a leader in the field of head and neck and thyroid oncology," said Tom Stoessel, executive vice president and chief of strategy and transformation for Penn State Health. "His collaborative and patient-focused approach, together with his expertise, will ensure that we are providing the highest level of care and support to all of our otolaryngology patients across the health system."
A fellow of the American College of Surgeons and a nationally recognized leader in his field, Goldenberg has been at the forefront of advancing innovative, groundbreaking procedures. He launched the transoral robotic surgery program at Hershey Medical Center in 2010 and is the first surgeon in the commonwealth to offer radiofrequency ablation of thyroid nodules. In his 18 years with the health system, Goldenberg has recruited and retained talented surgeons; mentored and taught residents, fellows, medical and graduate students; and received numerous awards, including the prestigious Penn State College of Medicine Distinguished Educator.
Goldenberg served on the executive council and was director of education at the American Head and Neck Society, is past president of the Pennsylvania Academy of Otolaryngology-head and neck surgery, and is the editor-in-chief of the journal Operative Techniques in Otolaryngology.
"I'm excited to work with Penn State Health's leaders and our talented otolaryngology-head and neck surgery team to ensure that we're providing well-coordinated, superior care accessible across our entire health system," Goldenberg said. "I look forward to growing our clinical and academic missions at Penn State Health and partnering with our community and private practice physicians within the region."
Goldenberg earned his medical degree from Ben-Gurion University of the Negev in Israel. He completed residency training in otolaryngology at Rambam Medical Center in Haifa, Israel, and a fellowship at Johns Hopkins Hospital in Baltimore. He has been repeatedly recognized as one of the nation's top physicians by numerous national publications, including Newsweek and U.S. News & World Report.
If you're having trouble accessing this content, or would like it in another format, please email Penn State Health Marketing & Communications.