Penn State Health adds respiratory therapy to virtual Intensive Care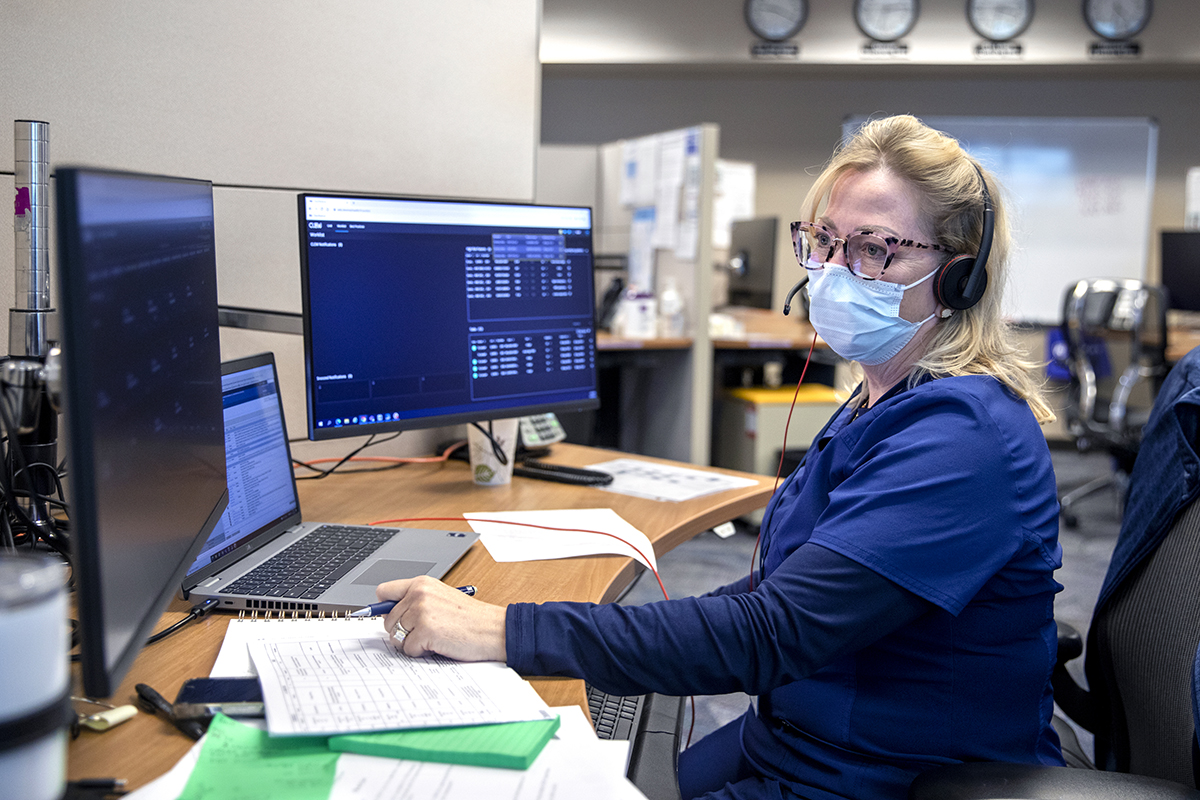 Respiratory therapy will be added to Penn State Health's virtual intensive care services at two medical centers, effective Monday, May 1.
"The service will provide an additional set of eyes and expertise to monitor and manage critically ill patients throughout the health system," said Dr. Will Hazard, director of virtual intensive care, or vICU. "The addition of virtual respiratory care will support bedside care teams when caring for complex patients or when a respiratory therapist may be caring for other patients or not be immediately available. In addition, tasks such as charting, alarm management and best practices can, to a large extent, be performed virtually, offloading some of these tasks from the in-person respiratory therapist."
Virtual respiratory therapy increases Penn State Health's capacity to serve a larger patient population, particularly in the midst of a national shortage of certified respiratory therapists. "A respiratory therapist will staff the virtual ICU, along with other vICU providers, from 11 p.m. to 7 a.m. seven days a week, supporting care for patients and communicating with bedside staff through two-way audio/video connections," said Dana Stauffer, Respiratory Therapy administrative director at Penn State Health Milton S. Hershey Medical Center.
Initially, the Milton S. Hershey Medical Center and Penn State Health Lancaster Medical Center will provide the new virtual service, with expansion to other Penn State Health medical centers planned. Penn State Health assumed virtual ICU operations internally last fall, including assistance with new admissions documentation, pain reassessment, quality initiative audits during rounding, predictive analytics to gauge high-risk patients and monitoring of other unit patients during a code.
"Virtual respiratory therapists increase accessibility to care, providing layered services in hospitals that may be challenged to fully staff respiratory therapy, particularly during the night," Hazard said. "The virtual respiratory therapy services will enable us to break down geographical barriers to quality respiratory care that may be influenced by local staff shortages in regions Penn State Health serves."
"The virtual service can range from helping to manage a difficult-to-ventilate patient to monitoring oxygen administration to a patient experiencing shortness of breath, as well as ventilator management and review of new patients' respiratory issues. In addition, the focus and continuity of virtual respiratory therapists may detect subtle patient changes, prompting interventions that can result in better patient outcomes," Stauffer said.
Virtual services streamline communications among members of a patient's care team, improving overall quality and continuity of care, Hazard noted. "This function will help to facilitate weaning from mechanical ventilation, troubleshoot alarms, alternate and adapt to individual patients with different modes of ventilation and help to facilitate continuing patient engagement and education, extremely important but also time-consuming and challenging functions, especially when patient care demands are high. In addition, the service provides cost-effective, high-quality respiratory care to hospitals that may have varying acuity and patient census. This program will allow us to immediately scale respiratory therapy services at a moment's notice to address increased workload."
Efforts to add respiratory therapy to the vICU program began in the fall. The work required review of department workflow, shadowing of registered nurses in the virtual care program and familiarizing respiratory therapy team members with the software used by the vICU, Stauffer explained. CLEW Medical's cloud-based virtual ICU platform uses artificial intelligence-based predictive analytics, providing clinicians with comprehensive information on current and predicted patient conditions.
All services provided through Penn State Health's virtual ICU coordinate with bedside providers, intensive-care clinicians connecting with on-site staff through technology. Specially trained critical care nurses remotely provide round-the-clock monitoring and regular check-ins with patients, the technology immediately alerting the bedside care team of urgent situations. During the night, the vICU expands its scope by using critical care physicians to treat acute issues that may arise, stabilizing patients and maintaining care plans, Hazard said.
The benefits of virtual intensive care include prompt evaluations in collaboration with the bedside care team, access to clinical expertise regardless of patient location and an added layer of safety, resulting in peace of mind for patients and their family members. The system maintains patient privacy by notifying occupants of the room with a doorbell-style chime indicating the camera has been turned on.
If you're having trouble accessing this content, or would like it in another format, please email Penn State Health Marketing & Communications.