College of Medicine scientists receive $27.8 million in research funding for conditions including obesity, cancer, diabetes and autism spectrum disorder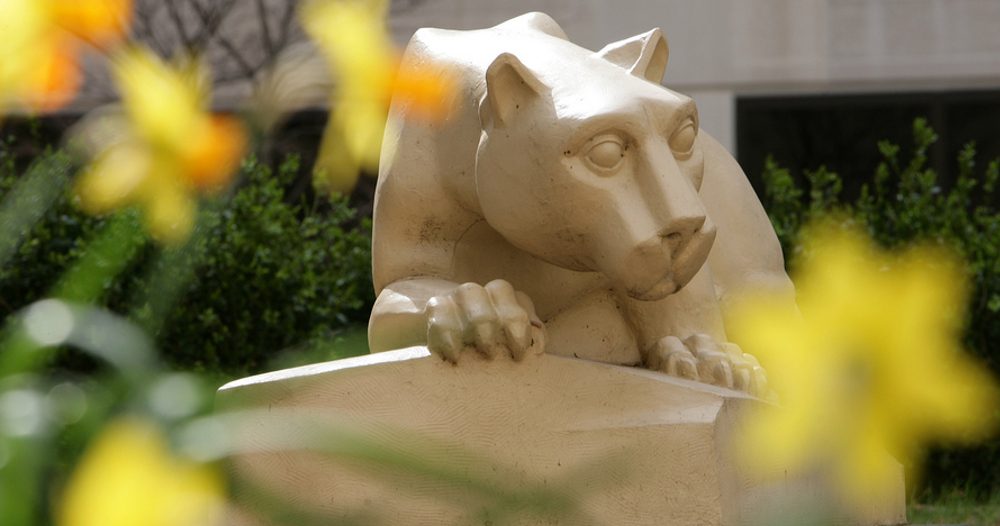 From the beginning of January through the end of March 2023, Penn State College of Medicine researchers received 173 awards and contracts totaling $27.84 million.
Faculty and their teams will develop new models to study disease and develop new therapeutic strategies for obesity, cancer, diabetes, autism spectrum disorder and other conditions.
Read more about 12 projects below.
---
"Angiotensin-(1-7) engages hypothalamic arcuate-paraventricular nucleus inhibitory pathways to lower blood pressure"
Investigators: Victoria Vernail – graduate student and Amy Arnold, PhD – associate professor of neural and behavioral sciences
Grant amount: $32,553 ($65,106 anticipated through December 2024)
Awarded by: American Heart Association
Goal: Hypertension (high blood pressure) and obesity contribute to an elevated risk of cardiovascular disease, which remains the leading cause of death globally. Current therapies for lowering blood pressure can be ineffective and often have adverse effects. Arnold's graduate student Victoria Vernail, thanks to this predoctoral fellowship, will investigate how a hormone called angiotensin-(1-7) might be used as a therapeutic target for obesity hypertension.
---
"Advanced glycation as a mechanism of retinal neurodegeneration"
Investigator: Alistair Barber, PhD – professor of ophthalmology; cellular and molecular physiology; and neural and behavioral sciences
Grant amount: $31,000
Awarded by: Pennsylvania Lions Sight Conservation and Eye Research Foundation, Inc.
Goal: Barber seeks to better understand how the end products of a chemical reaction in the body called advanced glycation (caused by chronically elevated blood sugar), can lead to a diabetic complication called retinopathy, which causes the light-sensitive part of the eye called the retina to degenerate, resulting in vision loss. Currently, 1.45 million Pennsylvanians are living with diabetes, highlighting the need to develop new therapeutics for the many complications of diabetes, including retinopathy.
---
"Adverse obesity-related cardiometabolic outcomes of circadian misalignment in youth"
Investigators: Natasha Morales – graduate student and Julio Fernandez-Mendoza, PhD – associate professor of psychiatry and behavioral health
Grant amount: $32,553 ($65,106 anticipated through December 2024)
Awarded by: American Heart Association
Goal: Fernandez-Mendoza's graduate student Natasha Morales, thanks to this pre-doctoral fellowship, will investigate how misalignment of the sleep-wake cycle might increase risk for developing cardiometabolic diseases in adolescents with obesity. While the American Heart Association recognizes insufficient sleep as a risk factor for obesity and cardiometabolic health, it is not known whether deviations in the circadian timing of sleep affect this risk.
---
"A co-infection model for papillomavirus associated infections and cancers"
Investigator: Jiafen Hu, PhD – assistant professor of pathology and laboratory medicine
Grant amount: $442,679 anticipated through March 2025
Awarded by: National Cancer Institute
Goal: Human papillomavirus (HPV) infections are the most common sexually transmitted diseases and are the primary cause of cervical cancer – the second most common female cancer in women aged 15 to 44 years old. Recent research shows women with high levels of bacterial vaginosis (BV)-associated bacteria are at increased risk of HPV persistence, which could lead to cancer. Hu plans to develop a laboratory model of HPV and BV-associated bacteria co-infection to learn more about the molecular processes behind the increased risk with the goal of identifying potential therapeutic targets for future translational studies.
---
"Degradation mechanism of multimeric structure of von Willebrand Factor"
Investigator: Choon-Sik Jhun, PhD – associate professor of surgery
Grant amount: $100,000 ($300,000 anticipated through December 2023)
Awarded by: American Heart Association
Goal: Acquired von Willebrand syndrome (AvWS), a bleeding disorder, can occur in individuals who use continuous blood pumps or have prosthetic mechanical heart valves. These devices can cause high shear stress and mechanical trauma to the blood, leading to the degradation of von Willebrand factor (vWF). As a result, the levels and function of vWF may decrease, impairing the blood's ability to clot effectively and increasing the risk of bleeding. Jhun plans to study the factors that lead to the development of AvWS in patients with implanted cardiac devices in order to develop a predictive model that can be used to design continuous flow blood pumps and prosthetic heart valves that are less likely to lead to the development of AVWS.
---
"Identification of small molecule inhibitors for YAP fusions-driven pediatric ependymoma"
Investigator: Wei Li, PhD – associate professor of pediatrics; and biochemistry and molecular biology
Grant amount: $150,000
Awarded by: Curing Kids Cancer
Goal: Li plans to use an unbiased screening approach to identify small molecules that can inhibit the function of a protein responsible for the development of ependymomas, a type of pediatric cancer with a poor survival rate. These small molecules could be potential new drug candidates for treating these cancers.


---
"The interplay of behavioral therapies, pharmacological treatments and psychiatric adverse events among youth with autism spectrum disorders"
Investigator: Guodong Liu, PhD – associate professor of public health sciences; psychiatry and behavioral health; neurology; and pediatrics
Grant amount: $1,155,962 anticipated through March 2026
Awarded by: Agency for Healthcare Research and Quality
Goal: Liu seeks to identify ways to optimize treatments and services for individuals with autism spectrum disorder (ASD) and their families. By leveraging large national medical claims data from 2008 through 2022, researchers will examine trends in treatment utilization and behavioral health crises and among youth aged 5 to 26 with ASD. Ultimately, Liu hopes to identify barriers to accessing services based on demographic, geographic and socioeconomic factors to provide guidance on improving health care delivery for people living with ASD.
---
"Inhibition of CK2 as a means to overcoming folate antagonist resistance in B ALL."
Investigator: Joseph Schramm, MD – Instructor, Division of Pediatric Hematology and Oncology, Department of Pediatrics
Grant amount: $200,000
Awarded by: Hyundai Hope on Wheels
Goal: Schramm will study the efficacy of a novel combination therapy for treating chemotherapy-resistant pediatric b-cell acute lymphoblastic leukemia (B-ALL). The research will determine if targeted inhibitors can alter the function of genes known to be responsible for chemotherapy resistance. It is anticipated targeted inhibitors will reduce chemotherapy via epigenetic mechanisms and result in improved efficacy of traditional chemotherapy. Studying this treatment strategy in the preclinical setting will provide evidence for bringing new treatments to clinical trials in order to address the poor prognosis that occurs with high risk chemotherapy resistant subtypes of this common childhood malignancy.
---
"Using cryo-electron tomography and live-cell fluorescent imaging to study the role of cofilin in regulating neuronal filopodial structure and dynamics"
Investigator: Matthew Swulius, PhD – assistant professor of biochemistry and molecular biology
Grant amount: $2,039,200 anticipated through January 2028
Awarded by: National Institute of Neurological Disorders and Stroke
Goal: Understanding how neurons connect and communicate with other neurons is critical during development and recovery from injury. Small extensions from the growing end of axons called filopodia guide and regulate these interactions. Swulius will use cryo-electron tomography and live-cell fluorescent imaging to study these interactions at the molecular level. Knowledge about these interactions could lead to the development of nerve regeneration therapeutics.
---
"AI-based mapping of complex cannabis extracts in pain pathways"
Investigator: Kent Vrana, PhD – Elliot S. Vesell Professor and Chair in the Department of Pharmacology
Grant amount: $536,082 ($3,066,952 anticipated through March 2023)
Awarded by: National Center for Complementary and Integrative Health
Goal: Vrana and Nikolay Dokholyan, PhD, will use a new artificial intelligence-driven platform to identify how cannabis constituents (such as CBD and THC), might interact with various proteins in the body and whether or not these interactions can bring about physiologic responses such as pain relief. Potential applications will be evaluated in preclinical laboratory tests to validate whether the proposed interactions and resulting physiologic changes occur.
---
"Impact of dilated cardiomyopathy mutations on cardiac myosin structure and function"
Investigator: Christopher Yengo, PhD – professor and interim chair, Department of Cellular and Molecular Physiology
Grant amount: $750,458 ($2,797,348 anticipated through November 2027)
Awarded by: National Heart, Lung and Blood Institute
Goal: Dilated cardiomyopathy – a condition where the heart becomes weakened, enlarged and unable to pump blood efficiently to the rest of the body – is the second most common cause of heart failure world-wide. Inherited forms of this condition are connected to a commonly mutated gene that encodes a protein called beta-cardiac myosin, which is the cellular 'motor' behind muscle contraction in the heart. Yengo will study how mutations in this gene affect myosin's ability to contract with the goal of developing possible strategies for therapies to treat this condition.
---
"A novel graft-vs-leukemia model in humanized mice"
Investigator: Hong Zheng, MD, PhD – associate professor of medicine; microbiology and immunology
Grant amount: $792,000
Awarded by: American Cancer Society
Goal: Stem cell transplants rely on an effect known as the graft versus leukemia (GvL) effect, where donated T cells and possibly other immune cells target and destroy residual leukemia cells. However, researchers have a limited understanding of why leukemia can sometimes relapse following these transplant therapies. Zheng has developed a model to study this problem in the lab and aims to develop personalized therapeutic strategies for acute myeloid leukemia that returns following stem cell transplant.
---
Other awards
If you're having trouble accessing this content, or would like it in another format, please email Penn State Health Marketing & Communications.