Penn State Health St. Joseph Medical Center, Northern Berks EMS act fast to save volunteer from stroke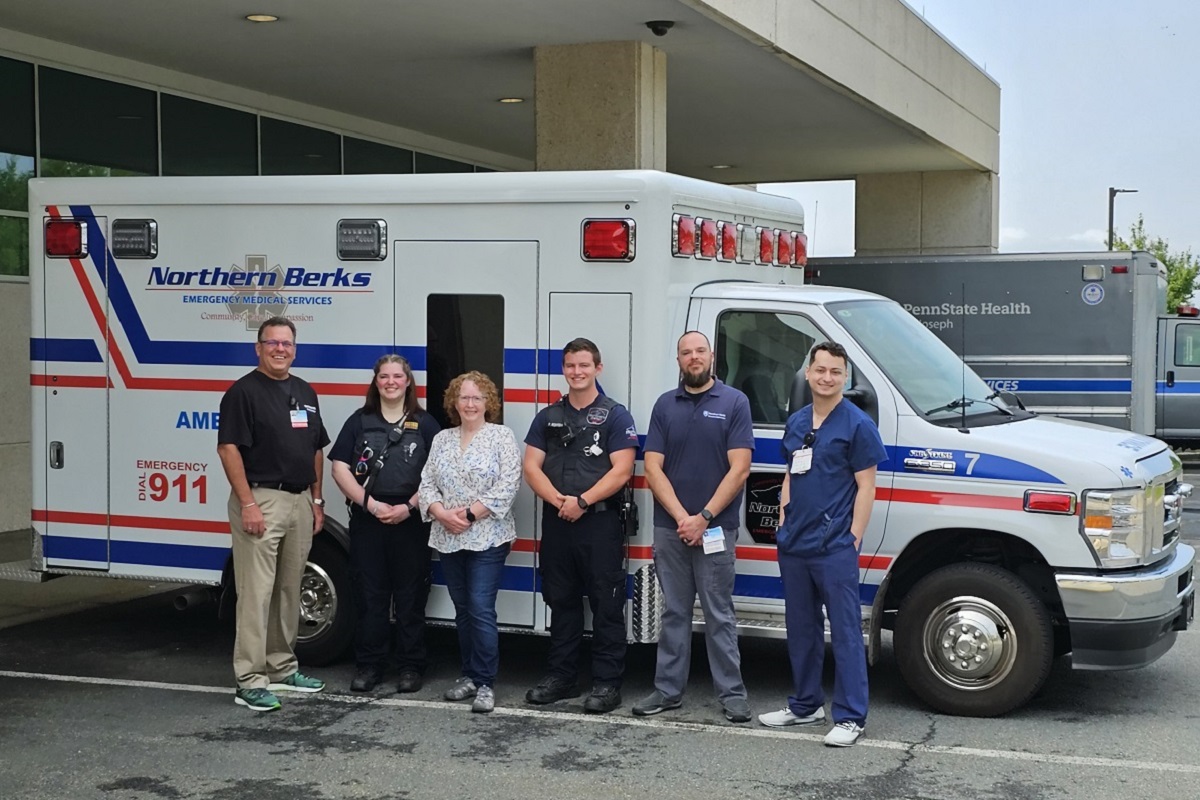 Every year as she has for the past 10, Marina Perez got ready for her volunteer shift at the MidAtlantic Air Museum's World War II Weekend by dressing as if it were the 1940s. For a self-described fan of everything to do with "the war years," there's nothing better than putting on period clothing and makeup to wander among old aircraft and imagine she has stepped back in time.
On this day, however, she was lucky it was 2023.
Shortly before her shift selling drinks in the Officers Club began, Perez discovered just how important it is to have access to modern-day medical treatments and to have them quickly. Symptoms of confusion turned out to be a stroke, and she credits the quick actions of staff from Penn State Health St. Joseph Medical Center and Northern Berks Emergency Medical Services (EMS), who were providing on-site emergency medical services, with saving her life.
At the same time, St. Joseph Medical Center, a Joint Commission Primary Stroke Center, had just the right treatment at just the right time – the present.
Early excitement turns to medical emergency
Perez arrived at the Reading Regional Airport in Berks County, where the three-day event is held each year, excited to check out a new plane she knew would be on display. Accompanied by her partner Michael Wagner, they spent the morning hours exploring restored aircraft parked on the tarmac.
"I was having the time of my life inside one of the planes," she said. "I'm waving out the window at anyone who will look up, looking at all the instruments and wanting to remember all of this."
Later, when the pair stopped for lunch, Perez realized something was wrong. Despite feeling very hot, she wasn't sweating. Wagner also grew concerned by Perez's red face and encouraged her to go to the nearest medical tent.
"That's when I started to get into trouble," she said. "I remember getting into the tent and then a sea of people asking me things. I don't remember what they were asking. I could not speak at that point. I was so out of it. I could just think in my head, 'what's happening?'"
Preparation is key to emergency response
Fortunately for Perez, staff from St. Joseph Medical Center and Northern Berks EMS were prepared for just this type of situation. Knowing that the annual event's large crowds, high temperatures and heavy uniforms mean that medical emergencies are likely, they've teamed up for nearly a decade to provide on-site emergency services. Together they stand up and staff an air-conditioned mobile hospital, a second treatment tent and multiple roving EMS units that monitor people for dehydration, sunburn and other issues.
"We run a command post to dispatch a unit to any possible situation," said Carl Moyer, assistant director of operations for Northern Berks EMS. "If the person is OK to come to the hospital on scene, we do that. We also have four ambulances on scene."
In the treatment trailers, St. Joseph Medical Center emergency department staff volunteer alongside Dr. Duane Siberski, the on-site medical command physician. They see everything from heat exhaustion and ankle sprains to congestive heart failure, diabetic emergencies and heart attacks.
"If it can be treated there, we will," said Siberski, an emergency physician and St. Joseph Medical Center's EMS medical director. "Those in need of higher-level care, the ambulance takes them right across the street to St. Joseph Medical Center."
Clot-busting thrombolytics do the job
When Perez arrived at the tent, she was confused and having difficulty finding her words. Following a quick evaluation, Siberski suspected she was having a stroke and had her transported to the hospital. Upon arrival, doctors confirmed the stroke with a computed axial tomography (CAT) scan. A telestroke neurologist with Penn State Health Milton S. Hershey Medical Center recommended she receive TNK, a clot-busting drug, before admitting for observation.
"Later when I think about it, it went like clockwork," Perez remembered. "As the night went on, I got better. The doctors came in and explained things to me. Eventually, I was able to say I need this or I want a drink."
As a Joint Commission Primary Stroke Center, St. Joseph Medical Center must give clot-busting medications to stroke patients in 75% of all cases in less than 60 minutes. The time begins when the patient is registered and ends when they receive the thrombolytic, which works to dissolve the clot. In Perez's case that was accomplished in 52 minutes.
Stroke is a time-sensitive disease
Had her stroke occurred during World War II, or any time prior to the 1990s, her experience would have been very different since treatment was focused on reducing side effects instead of prevention. It wasn't until 1996 when the U.S. Food and Drug Administration approved the use of tissue plasminogen activator (tPA), a medication that breaks up the blood clots that cause ischemic strokes, that more effective treatments were used.
"With the advent of thrombolytics, there was more emphasis that stroke was a time-sensitive disease," Siberski explained. At the same time, further research revealed that patients with larger blockages often did better with arterial intervention, in which the clot is removed instead of being treated with thrombolytics. "At St. Joseph Medical Center, we're a primary stroke center with a hub-and-spoke working relationship with Hershey Medical Center. If we have a patient who doesn't respond to thrombolytics, we can send them there for higher-level interventional stroke care."
If you think you are experiencing a stroke, call 911.
Perez, who was successfully treated with a thrombolytic and discharged two days later, is thankful for the quick actions of the first responders and the emergency department providers and clinicians.
"It was a great relief that my stroke wasn't as bad as it could have been," she said.
Still, she sometimes can't find her words, but it's getting better. "For that I feel appreciative of the staff who cared for me."
If you're having trouble accessing this content, or would like it in another format, please email Penn State Health Marketing & Communications.