These twins share everything, including a rare disease and surgery on the same day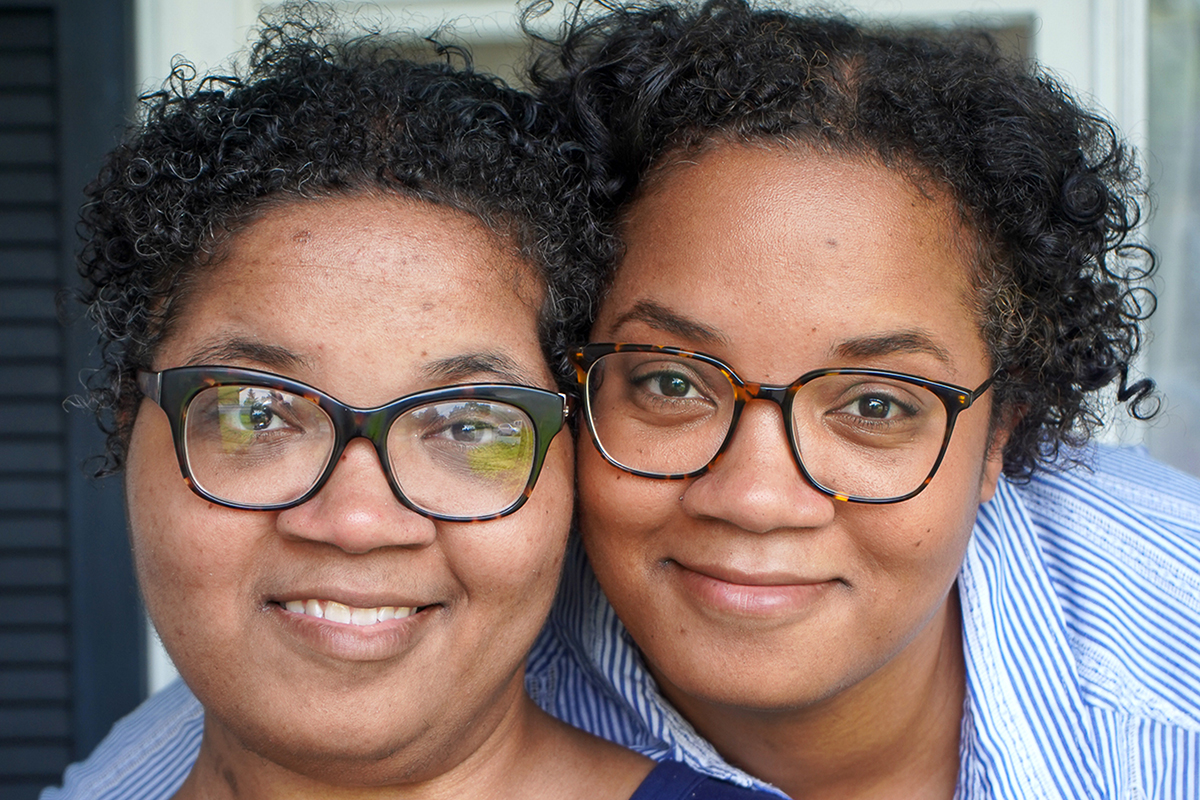 Growing up as identical twins, Alicia and Alana Webb wanted to share everything – their bedroom, their friend group, their secrets. Recently they found out they share something they never imagined – a rare disease that could have proven fatal if not for leading-edge medical care.
"I never heard of moyamoya disease, and I certainly never dreamed how it would change our lives," said Alicia Webb, an IT systems analyst who has lived in Mechanicsburg with her twin sister and parents since she came home to visit in 2020 and COVID-19 hit.
The move was fortuitous since it was Alicia who found Alana on the floor of her bedroom in April 2022 after she suffered a stroke due to moyamoya disease – a rare progressive cerebrovascular disease – she didn't know she had.
Emergency surgery for Alana, a speedy diagnosis and Alicia's subsequent positive test result for the condition resulted in a double surgery on March 22 to give the 39-year-old twins their best chance to resume normal, active lives.
Specialized treatment close to home
Moyamoya disease is caused by blocked arteries at the base of the brain. Tiny blood vessels that form to compensate for the blockage look like a puff of smoke – or "moyamoya" in Japanese. The disease, which is present at birth and often diagnosed in childhood, was first described in Asian populations. It's thought to affect about one million people in the United States.
"It could be underdiagnosed. As our program has grown, we are seeing more referrals from around the state and even outside Pennsylvania," said Dr. Ephraim Church, neurosurgeon and director of the Cerebral Revascularization Program at Penn State Health Milton S. Hershey Medical Center. Church trained in the very specialized direct bypass surgery technique used to help people with moyamoya disease and later established the Penn State Health Cerebral Bypass and Moyamoya Program at the Milton S. Hershey Medical Center in 2019.
"Even within vascular neurosurgery, this is a highly specialized surgery," said Church, who performed the twins' surgeries. "At our medical center, we have become a leading program in the U.S. in terms of volume for direct cerebral bypass surgery operations."
The surgery, called extracranial-intracranial bypass surgery or cerebral revascularization, restores blood flow to the brain by diverting blood from a vessel in the scalp, neck or other available tissues to the brain.
"The surgery is creative, delicate and long – six to eight hours in total – and involves sewing vessels together that are one millimeter in diameter, using a suture that's a third the diameter of a human hair," Church said. "There's a 5% risk of stroke at the time of surgery, but that's much lower than the risk of the disease itself. The risk of stroke is about 10% per year in untreated moyamoya disease. The surgery reduces the risk to 5% over the rest of the patient's life. Patients typically go on to live normal, healthy lives."
A terrifying discovery 
The Webb sisters, who were diagnosed as adults, say they didn't notice any telling symptoms, such as headaches, weakness and mini-strokes.
Moyamoya disease, which can affect one or both sides of the brain, most often causes ischemic strokes, where there's not enough blood supply to the brain. More rarely, it causes a hemorrhagic stroke, which is what happened to Alana, who has the disease on both sides of her brain.
"We both work from home – Alana downstairs and me upstairs," Alicia said. "I saw her first thing in the morning, but by evening, I realized I hadn't seen her all day. I went downstairs and found her on the floor. She had both eyes open, but it was like she was looking at me and didn't see me. She couldn't speak."
At the Hershey Medical Center Emergency Department, the Webbs, a large, close-knit family with nine adult children, gathered to pray and wait.
"This requires emergency lifesaving surgery to take pressure off the brain," Church said. A piece of Alana's skull was removed to relieve the pressure, and it was stored in a freezer for future replacement. Recovery from the surgery was long – with three weeks in the intensive care unit, three weeks of inpatient rehab and then transfer to an inpatient skilled care facility. Alana didn't return home for 10 months, only after she had a second surgery to replace the skull bone and complete bypass surgery on the left side of her brain.
After being tested and finding out she also has moyamoya disease on the right side of her brain, Alicia opted to undergo bypass surgery as a preventive measure against future strokes. Alana needed bypass surgery on the right side of her brain too, so the twins requested their surgeries on the same day so they could convalesce together.
"I was operating from 7 a.m. to midnight, but that's pretty common," Church said. "These surgeries tend to be long and delicate."
Hope for the future 
After the initial brain bleed, Alana was left with some right-sided weakness and aphasia, difficulty in thinking of the right words. She continues in day therapy at Hershey Medical Center, where she is making great strides in mobility and cognitive function. She dreams of the day she can cook again, drive and return to writing and her marketing career.
"There are times I feel overwhelmed with how far I still have to go," Alana said. "But I put that moment behind me because you must always see yourself moving forward. All of this is going to end, and I'm going to be me again. You just rely on God and know you're a much stronger person than you thought you were."
Alicia recovered well from the surgery and found fatigue and not being able to drive for two weeks her only complaints.
The Webb twins say this shared experience has brought them closer than ever. "Alicia is my ace," Alana said. "We're doing this together."
The twins laugh as they admit they sometimes get irritated with one another, but it doesn't last long. Alicia said she regards Alana as a walking miracle, "considering the degree of her brain bleed and how long she laid on that floor downstairs."
Church said the Webb sisters will have yearly follow-up appointments in the Penn State Moyamoya Program, even though the chance of further complications after surgery is low. "We are privileged to walk alongside our patients and these long term relationships are very rewarding," he said.
If you're having trouble accessing this content, or would like it in another format, please email Penn State Health Marketing & Communications.