Clinical Simulation Center partners with PA State Police Academy on innovative training to help cadets handle mental illness cases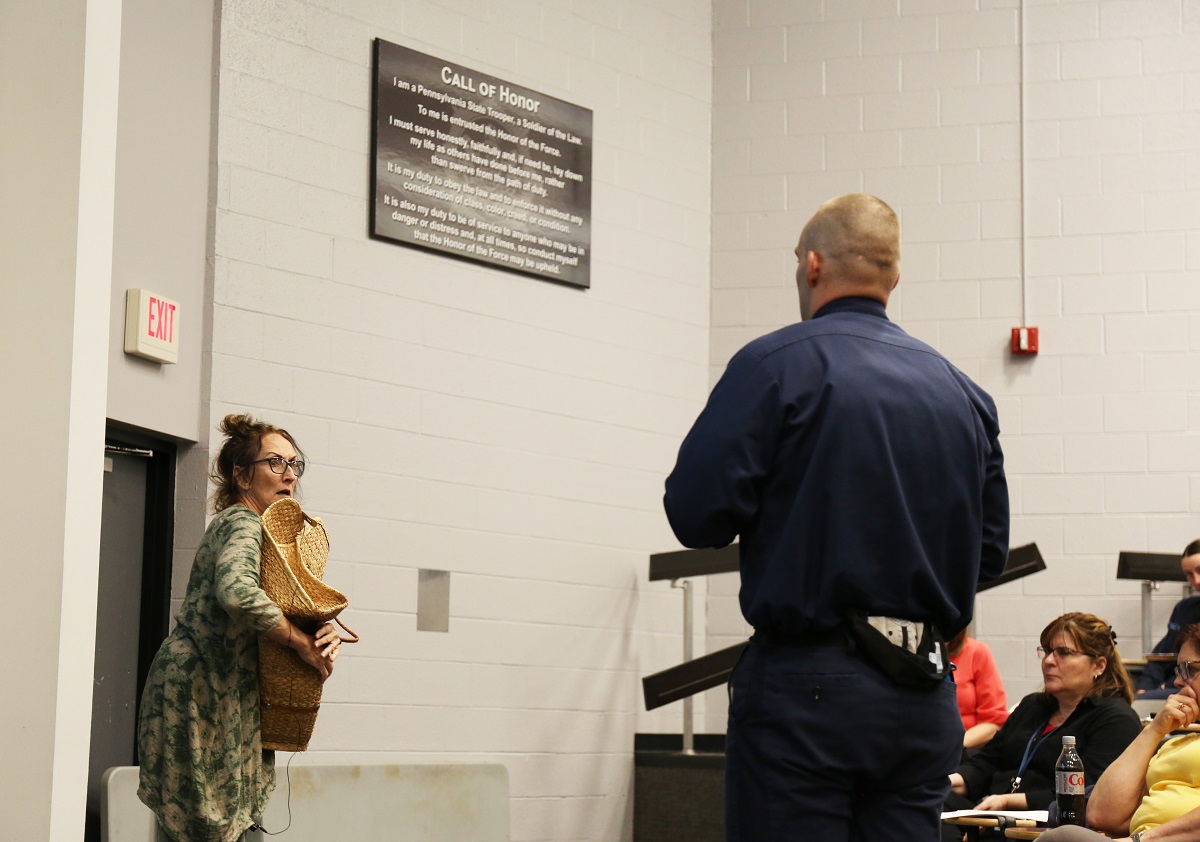 Pennsylvania State Police cadets tested their ability to respond to people having a mental health crisis during a training program presented by the Penn State Health Clinical Simulation Center in Hershey on May 15.
Actors – or standardized patients, as they're known clinically – role-played four- to six-minute-long case scenarios in which they portrayed people with autism, psychosis, bipolar disorder and depression with suicidal thoughts. One performance recreated someone who was not taking psychiatric medication because they weren't able to afford it. The four-hour session was developed by staff from the Clinical Simulation Center, which is jointly operated by Penn State College of Medicine and Penn State Health Milton S. Hershey Medical Center, and instructors from the Pennsylvania State Police Academy.
"Listening to a lecture is very different from having to handle a person in crisis," said Terry Brosche, Simulation Center educator and the program's lead facilitator. "We're able to tap into our actors and make it real. I don't know of any other program like this."
What the cadets learn is a key component of a State Police trooper's job. At least 20% of police calls involve mental health or substance use crises, according to the American Psychological Association. They learn some techniques in classrooms, but the Simulation Center session puts the prospective troopers in situations that are closer to what they'll experience on calls.
First during the simulation, the standardized patients and Penn State Health nurses trained in crisis intervention and mental health first aid acted out scenarios. After the cadets watched each interaction, they wrote down observations and discussed what went well and what could have been done differently. A nurse educator from Hershey Medical Center's Department of Nursing led the debrief session.
Then, several cadets joined in the same scenarios as the de-escalator of the crisis. Content experts from the Penn State College of Medicine Department of Psychiatry and Behavioral Health and instructors from the Pennsylvania State Police Academy offered additional strategies and techniques to help with each emergency.
Closer to real life
The idea for the simulation came in January 2022. State Police Academy cadets were already participating in Stop the Bleed training, a program led by Penn State Health trauma education program managers that teaches how to control bleeding in a severely injured person. The cadets were also receiving classroom instruction on how to recognize and handle mental illness emergencies from academy instructors and Ruth Moore of the Pennsylvania Psychiatric Institute.
But Brosche and academy leaders saw the need for more active, real-world training. They wanted to use standardized patients to act out mental health emergencies, similar to how standardized patients role-play medical scenarios to help medical students and other health care professionals learn clinical skills.
With help from Psychiatry and Behavioral Health faculty and nurses from the Milton S. Hershey Medical Center, staff from the Clinical Simulation Center and State Police Academy went to work designing the mental health simulation training. The first session debuted in October 2022, followed by one in February 2023 and the most recent one in May. Cases evolve with each session, which take place quarterly when the Police Academy's new trainees arrive. So far, about 250 to 300 cadets have participated.
"I believe the program we're building provides cadets with a great foundation to successfully resolve incidents dealing with mental health," said Sergeant Alan Zulick of the Pennsylvania State Police. "Allowing the cadets to observe and then practice response strategies in a safe learning environment is extremely beneficial."
Vision to expand
The Clinical Simulation Center and Pennsylvania State Police Academy have put together a three-year strategic plan to extend the mental health simulation training to firefighters, police, first responders and other hospitals, Brosche said. While the plan is still in draft form, "Our vision is to create a crisis intervention team framework for Pennsylvania that mirrors the Memphis Model. There is a definite need in the commonwealth for expanded mental health services." The Memphis Model is a crisis intervention training model that includes community resources to handle mental health crises.
Brosche is now lining up faculty and staff for the next simulation session, scheduled on Oct. 12.
If you're having trouble accessing this content, or would like it in another format, please email Penn State Health Marketing & Communications.