Four Diamonds Mini-THON celebrates 30th anniversary and more than $64 million raised to help fight childhood cancer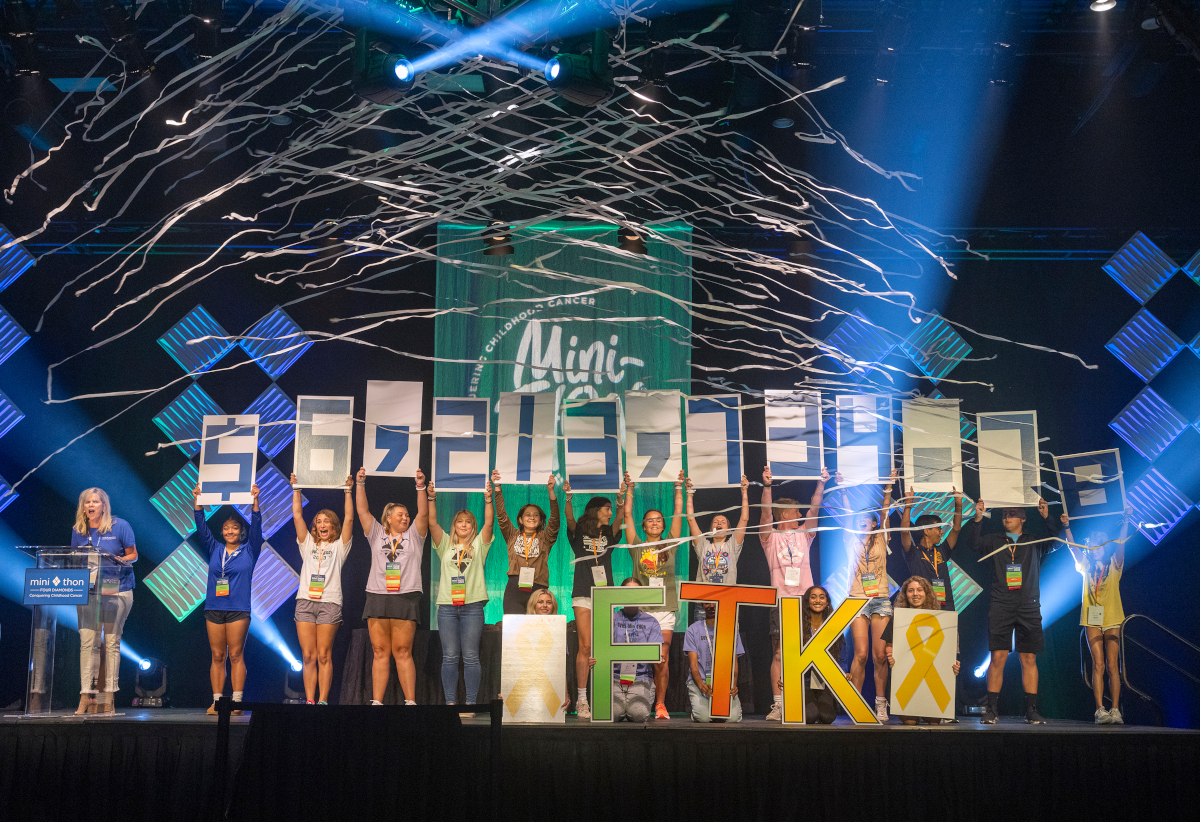 In celebration of the 30th anniversary of Four Diamonds Mini-THONs and in recognition of the $64 million impact the student fundraising events have made to advance the mission of Four Diamonds, Penn State today announced the naming of the Penn State Health Children's Hospital Treehouse Café Courtyard in honor of Four Diamonds Mini-THONs.
This morning, students from hundreds of school districts across five states gathered at the annual Mini-THON Leadership Summit to celebrate raising $6,213,734.78 during the 2022-2023 school year for the fight to conquer childhood cancer. Each year, student leaders and advisors gather at the day-long summit to learn from each other, collaborate and get organized as they plan Mini-THON activities for the coming school year.
All money raised through Mini-THON events benefits Four Diamonds to assist families with children being treated for cancer at Penn State Health Children's Hospital, and to fund innovative research at Penn State College of Medicine in pursuit of a cure for all childhood cancers.
Throughout the 2022-23 school year, student leaders and volunteers from 225 schools in Pennsylvania, Delaware, Maryland, New Jersey and Virginia mobilized to execute Mini-THON fundraisers and events that raised the $6.2 million, a 7 percent increase from the previous year's total.
Mini-THON is a Four Diamonds program coordinated by K-12 students at schools in Pennsylvania and surrounding states. Modeled after the Penn State IFC/Panhellenic Dance Marathon (THON), the multi-hour, interactive events engage hundreds of thousands of students each year to raise money that benefits Four Diamonds. The funding supports Four Diamonds families at the Children's Hospital through high-quality pediatric cancer care and financial support, as well as funding research for new treatments and cures for all childhood cancers. Since its beginning in 1993, the Mini-THON program has contributed more than $64 million to conquer childhood cancer.
"I'm so inspired each year by these student leaders who are our partners in the fight," said Suzanne Graney, executive director of Four Diamonds. "Their commitment to Mini-THONs and the generosity of our communities are making a difference in the lives of patients at the Children's Hospital."
The Mini-THON Leadership Summit is presented annually by Four Diamonds in collaboration with presenting sponsor MI Windows and Doors, by Miter Brands. Additional support for the event is provided by Graphtech, Hershey Entertainment and Resorts, PNC and the Wickes Foundation.
More information about Four Diamonds Mini-THON is available here.
If you're having trouble accessing this content, or would like it in another format, please email Penn State Health Marketing & Communications.