Meet Hershey Medical Center's newest four-legged superhero: Thor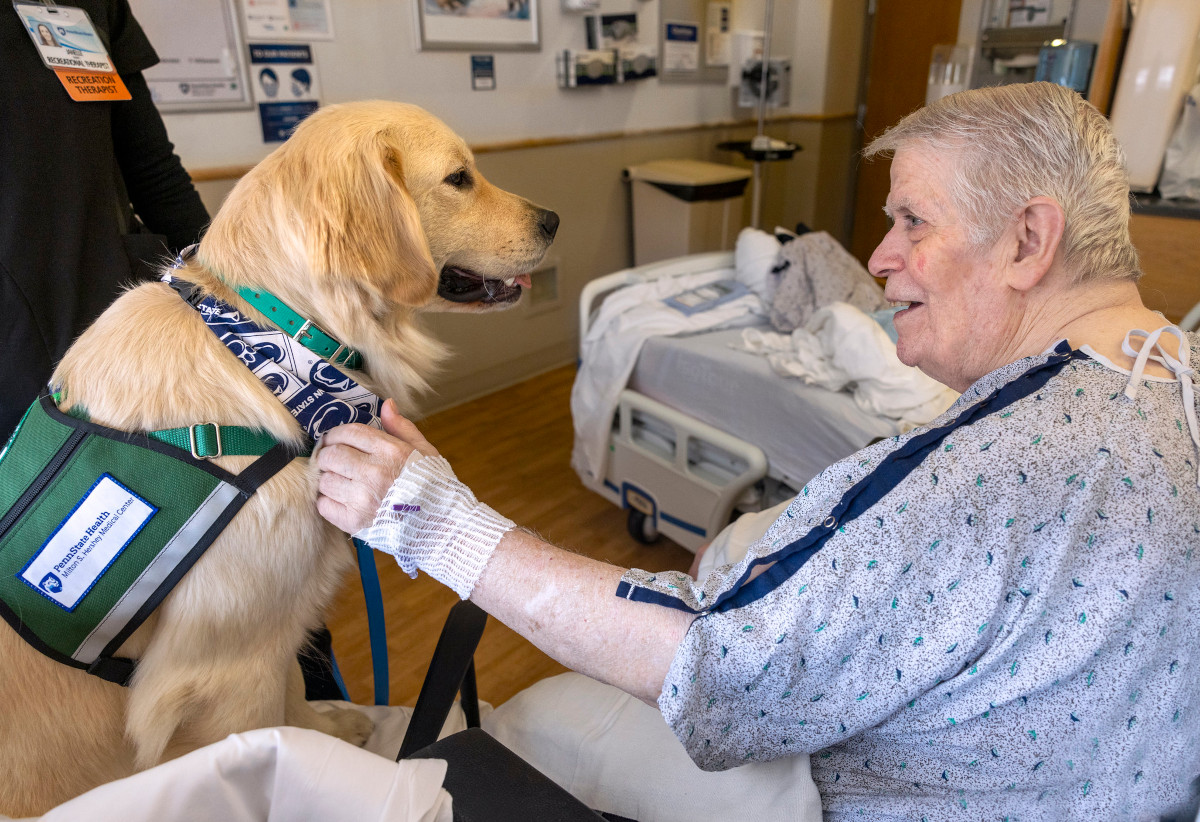 Adult patients at Penn State Health Milton S. Hershey Medical Center have a new four-legged superhero to help with their healing. Thor, the newest addition to the Milton S. Hershey Medical Center's facility dog program and the first dog dedicated to adults, started on the job this week. He is helping adult patients in acute care at Hershey Medical Center and inpatients at Penn State Cancer Institute. Thor is the brother and litter mate of Captain, a golden retriever who began working in Penn State Health pediatric specialty clinics in 2022.
Thor works with his primary handler, Janelle Krantz, a recreational therapist, and his secondary handler, Alyson Yost, a clinical staff leader. Thor will assist patients with dementia and memory loss, as well as inpatients undergoing treatment at the Cancer Institute. He will work with Krantz and Yost as part of Hershey Medical Center's I-MOVE initiative, helping patients to get out of bed and move around during their time in the hospital. The I-MOVE program helps patients with their recovery, including decreasing the length of patient stays and increasing patient satisfaction.
"We're so happy Thor is joining our team! His unique skill set and comforting presence will be a big benefit to our adult patients," Krantz said.
Thor was raised by Canine Assistants in Georgia. Krantz and Yost traveled there to meet Thor and learn how to integrate him into their daily tasks while maintaining safe patient care.
Hershey Medical Center became the first hospital in Pennsylvania to establish a facility dog program in 2016 when its first employee, a golden retriever named Kaia, started on the job. Since its inception, Pilot, a black golden retriever, Captain, a golden retriever and Skye, a golden retriever, have also joined the team. Kaia, Pilot, Captain, Skye and Thor are full-time employees of Hershey Medical Center and Penn State Health Children's Hospital. Each of them spends 40 hours a week at work with their primary handlers, with time allowed for downtime, naps and walks.
The facility dog program is separate from the Pet Therapy Program, which continues to have an important presence in both the Children's Hospital and adult hospital. The two programs have different kinds of training and help patients in different ways. Facility dogs undergo extensive training to work in a health care environment and provide emotional support, as well as learn specific tasks to help patients cope with major and minor hospital procedures. Pet therapy dogs offer companionship and a calming and therapeutic influence for patients.
Thor is joining Kaia, Pilot, Captain and Skye thanks to support from the Simpson Family Facility Dog Program Endowment and a generous gift from Barbara Dashiell. The facility dog program is sustained by ongoing funding from many donors including the inaugural anonymous benefactor who helped purchase the first facility dog. The Kelso Facility Dog Endowment, in honor of their dog, a Belgian Malinois named Kelso, provides support across the program, including the cost of caring for the dogs and their eventual retirement.
Gifts like these advance the University's historic land-grant mission to serve and lead. Through philanthropy, alumni and friends are helping students to join the Penn State family and prepare for lifelong success; driving research, outreach and economic development that grow our shared strength and readiness for the future; and increasing the University's impact for families, patients, and communities across the Commonwealth and around the world. Learn more by visiting raise.psu.edu.
If you're having trouble accessing this content, or would like it in another format, please email Penn State Health Marketing & Communications.