Penn State Health, Mid Penn Bank commit to partnership that will raise more than $1 million for Department of Urology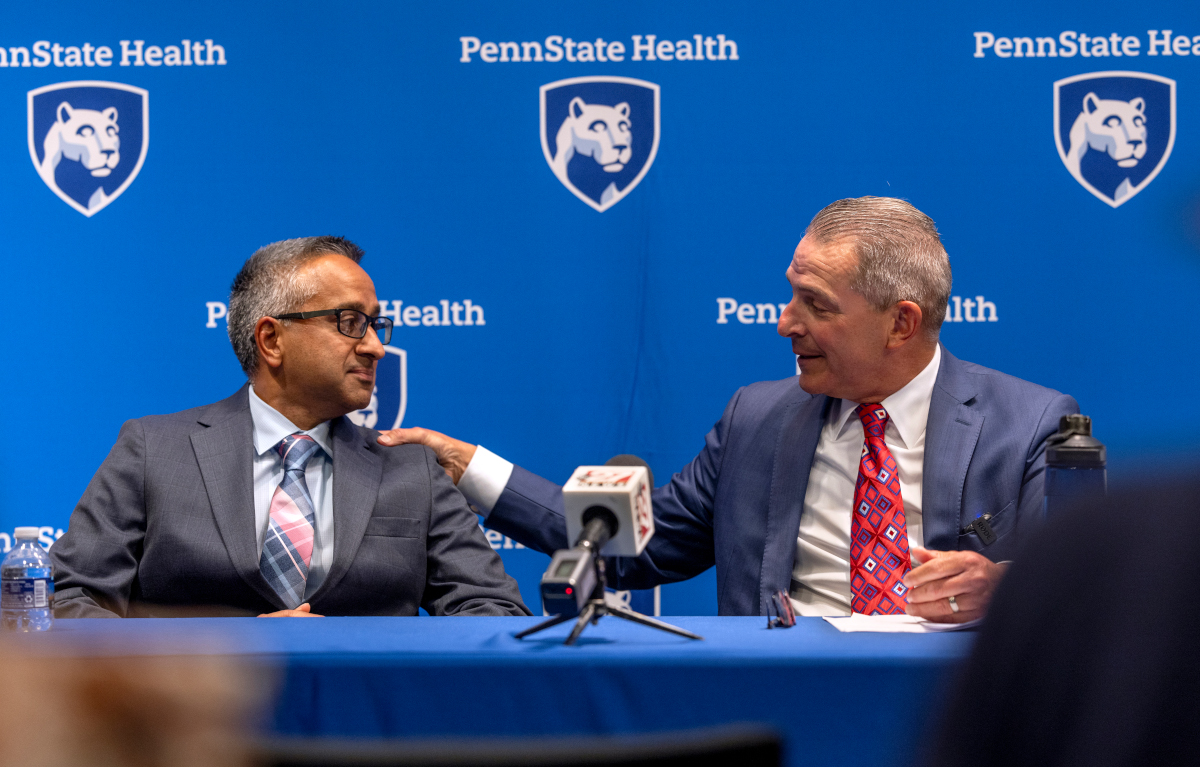 Penn State Health and Mid Penn Bank are strengthening their commitment to supporting life-changing care and increasing cancer research in central Pennsylvania. As an expansion of the organizations' No Shave November partnership, Mid Penn Bank has committed to lead a campaign over the next four years that will bring their fundraising total since 2020 to $1.1 million.
"We're proud to deepen our long-time partnership with Penn State Health and the College of Medicine and contribute to our shared goal of improving men's health," Mid Penn Bank President and CEO Rory Ritrievi said.
Each November since 2016, participants from both organizations have ditched their razors and grown their facial hair with the goal of raising cancer awareness and starting conversations about prostate health. In 2022, they collectively raised a record-breaking $241,000 for men's health and cancer research. Today, Mid Penn Bank committed to leading the campaign that will build on the success of previous efforts and raise $1.1 million by 2026.
Money raised supports the Department of Urology's involvement in the Pennsylvania Urologic Regional Collaborative (PURC), a quality-improvement initiative that connects urology practices in a physician-led, data-sharing and improvement collaborative aimed at advancing the quality of diagnosis and care for patients with prostate cancer. PURC's goal is to improve the care of people in central Pennsylvania who are suspected of having or have been diagnosed with prostate cancer.
"We're so grateful that Mid Penn Bank has joined us as a champion for men's health," said Dr. Jay Raman, interim chair of the Department of Urology at Penn State Health Milton S. Hershey Medical Center and Penn State College of Medicine. "Community partnerships are important in growing awareness, educating our communities and getting men the care they need."
This commitment also supports the research of physician-scientists in the Department of Urology that focuses on cancer care in the aging population, addresses cancer disparities in minority populations and increases genetic testing of cancer patients to better determine risk and personalize therapies. In addition to supporting cancer research, the money helps provide free prostate cancer screenings for the community, supports mission-based work by the department to underserved areas regionally and nationally and makes available educational conferences for patients and health care professionals covering elements of cancer prevention and screening.
"Philanthropy is absolutely vital to medical research. This support helps dedicated researchers uncover groundbreaking, lifesaving treatments for prostate cancer and other diseases affecting men's health," said Dr. Kevin Black, interim dean of the College of Medicine.
In honor of Mid Penn Bank's leadership and financial commitment to this fundraising effort, Penn State will name the second-floor outpatient clinic at Penn State Cancer Institute the Mid Penn Bank Outpatient Clinic.
Gifts from community partners like Mid Penn Bank advance the University's historic land-grant mission to serve and lead. Through philanthropy, alumni and friends are helping students to join the Penn State family and prepare for lifelong success; driving research, outreach and economic development that grow our shared strength and readiness for the future; and increasing the University's impact for families, patients, and communities across the commonwealth and around the world. Learn more by visiting raise.psu.edu.
If you're having trouble accessing this content, or would like it in another format, please email Penn State Health Marketing & Communications.