Safety first, growth always: Camp Lionheart gives pediatric heart patients a chance at normalcy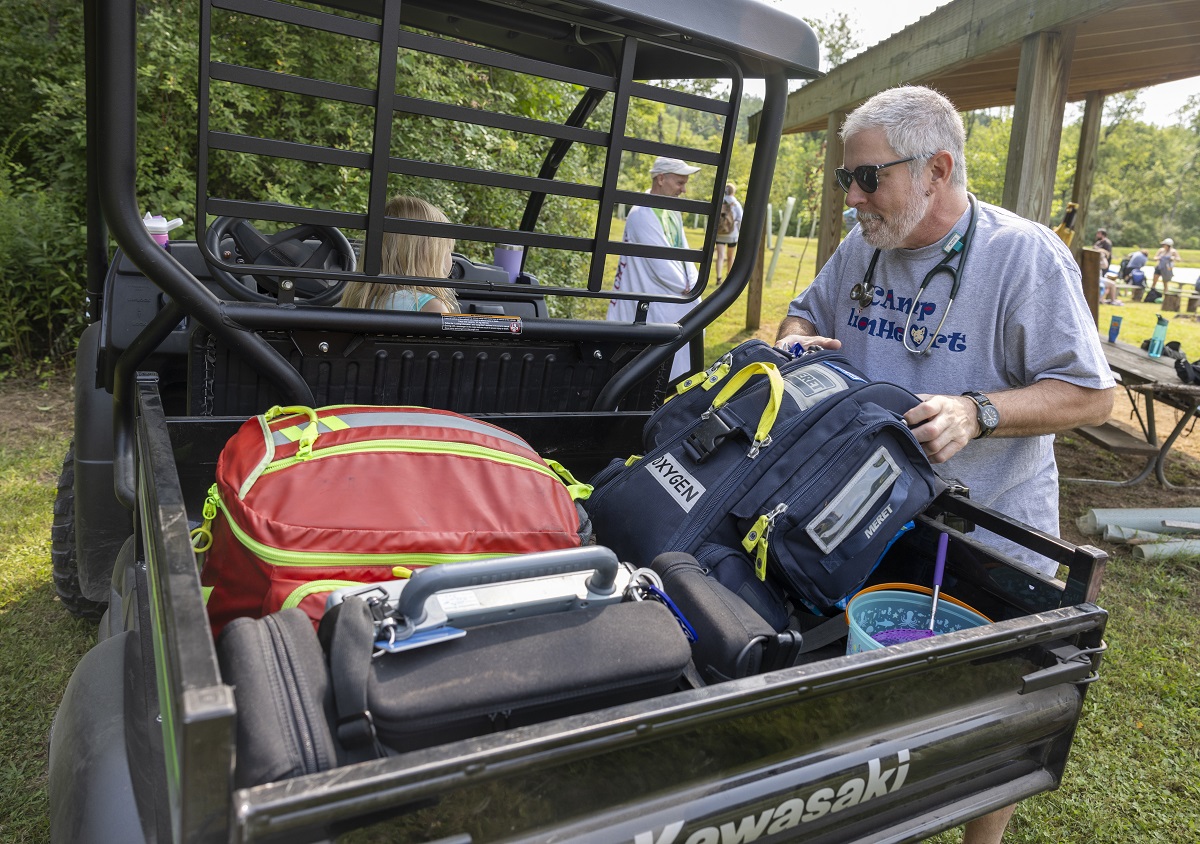 Just after breakfast, the kids of Camp Lionheart sang songs and then marched down a path in the direction of the lake – no different from what children have been doing at Camp Kirchenwald in Colebrook, Pa., for more than 50 years.
They walked along laughing about TV shows and gossip. Friendships, some only days old, had already begun to seem like they might stretch into forever. So far at the summer camp – a joint venture of Penn State Health Children's Heart Group and Ellie's Heart Foundation ─ they'd climbed, ziplined and biked together. And now came another adventure ― an honest-to-goodness kayak ride.
When they clambered aboard their boats and shoved off, the scene was the same as others taking place at thousands of summer camps around the country.
But look closer. A utility vehicle rumbled past and parked a few yards away. Adults lifted hulking canvas bags from it and placed them nearby on a picnic table. The machine inside one of the bags could supply oxygen if someone were to stop breathing. Another could help analyze exactly what's going on with someone's heart should it suffer an attack.
The guy with the big grin and Camp Lionheart T-shirt spilling over khaki shorts was really a veteran flight paramedic. One of the grown-up counselors was a Penn State Health cardiologist, who, like all of the campers, was born with a life-threatening heart defect.
But the biggest giveaway that Camp Lionheart isn't your typical summer camp are the looks that sometimes materialize in the campers' eyes. For some, these friendships are miracles. This kayak ride means more than a little summer fun. For some, it's a first time on a boat. Others live with an omnipresent fear that it could be their last. For all of them, it's a rite of passage in a week of them – a touch of normalcy for which they've struggled all their lives.
For eight years, Camp Lionheart has taken precaution after precaution to give kids with heart defects and their families a weeklong respite. Behind the campfires, sing-alongs and nature hikes, safety is a meticulously designed machine that's so well-oiled you barely know it's there.
That's the point, after all.
Fans and protectors
Saulius Elertas, a cheerful man who is among the camp's most ardent supporters, wasn't thrilled the first time he went to Camp Lionheart. The Life Lion flight paramedic was "voluntold" to go one day when his partner called in sick. In those days, the team sent a critical care truck to the camp every day to serve as a safeguard. The job fell to him, and he grumbled about it.
But Elertas fell in love immediately. Soon, he was taking vacation time just to be part of Camp Lionheart. Today, he's a camp director of sorts. "I don't like titles," he said.
During their day jobs, Elertas and his counterparts work the line between life and death. Emergencies have mercifully bypassed Camp Lionheart every year, but outside of camp, he's helped transport attendees during medical emergencies.
Camp Lionheart is a chance for paramedics like him to see the other side. Here, they aren't helping patients fighting to survive, they're helping kids have the times of their lives.
The packs
During the kayaking adventure, Elertas carried several canvas bags that follow the campers on every adventure throughout the week.
One includes oxygen and a mask along with emergency medications that can revive someone suffering from a cardiac arrest. The contents of other bags include a machine that can act as a defibrillator, a pacemaker and can take snapshots of heart activity as a line that rises and falls in jagged points. Another bag includes basic life-support equipment, like stethoscopes, blood pressure cuffs and dressings for wounds.
Before the week starts, each camper undergoes a rigorous check in. They're weighed, so Elertas and the others can determine exact dosages of emergency medications if they're needed. Complete medical histories are obtained. Parents bring medicine cabinets full of pills and prescriptions, and detailed schedules are drawn up to administer them. Every camper has their own drawer in one of the camp offices which contains everything, so all the information is up-to-date and in one place.
The closest Level I Trauma Center is the Milton S. Hershey Medical Center – 25 to 30 minutes by car.
In eight years, none of the precautions and equipment has been necessary for an emergency. Campers have scaled rock walls, gone through rigorous rope courses and pedaled up and downhill on bicycles – sometimes surprising themselves with what they can do.
What's used on occasion are the "Boo-boo packs" that all the counselors carry. They're fanny packs that contain simple first aid and EpiPens for kids who might experience a serious allergic reaction. It's the kind of thing that would be useful at any campground, regardless of need.
But the specialized equipment, always tested, updated and refreshed, has sat in the background, unused.
Why they do it
After paddling around the lake, the campers headed back to their rooms to get ready for lunch. A surprise was waiting for them.
Several broke into wide smiles and wrapped their arms around Dr. Vincent Aluquin, director of pulmonary hypertension and single ventricle services for the Children's Heart Group. On this day, he's traded in his white coat for the Camp Lionheart T-shirt.
Five of the kids are Aluquin's patients. But from the greetings and conversation, he looks more like an uncle. "How's your mom?" Aluquin asks. "How's school?"
"It really boosts their confidence," Aluquin says of Camp Lionheart. Some of his patients who came as campers have grown into counselors. Now they're talking about heading off to college and their jobs.
It's an opportunity to see them interacting in the world, which, along with satisfying what appears to be a nearly paternal pull toward his patients, helps him as a clinician. Camp Lionheart campers have a chance to know and understand more about their own conditions, he says.
From a physiological standpoint, the benefits are obvious. What could be better than fresh air and exercise?
"Proving to the kids in an environment like this that they can do these things encourages them to be active when they get home," said Dr. Elizabeth Adams, a pediatric cardiologist at Penn State Health Children's Hospital. Adams was herself a pediatric cardiology patient, then worked as a paramedic before she attended medical school. There wasn't anything like a Camp Lionheart when she was growing up.
But exercise is only part of the reason why Aluquin recommends as much as possible that his patients spend a week in the Londonderry Township woods.
While loaded to the gills with adventures, attendees also learn about their conditions. For example, this year a doctor dissected a pig heart and ran wires through it to show how a catheterization might work.
Camp Lionheart helps kids understand what's going on. The cause of the scars on each of their chest isn't a mystery – it's a tangible thing they're living with.
Knowing about it, and knowing that other kids just like them are living the same kind of life, gives the campers something more than fresh air and fun. It gives them power over their own lives, Elertas says.
"I am not a parent," said Elertas, standing near the campers he's come to love over the past several years. "I have no parenting qualities to me or anything. But to see these kids have a new normal …" He smiles.
Click the image below for a gallery of photos.
If you're having trouble accessing this content, or would like it in another format, please email Penn State Health Marketing & Communications.