Hershey Medical Center Emergency Department uses virtual intensive care services to enhance patient monitoring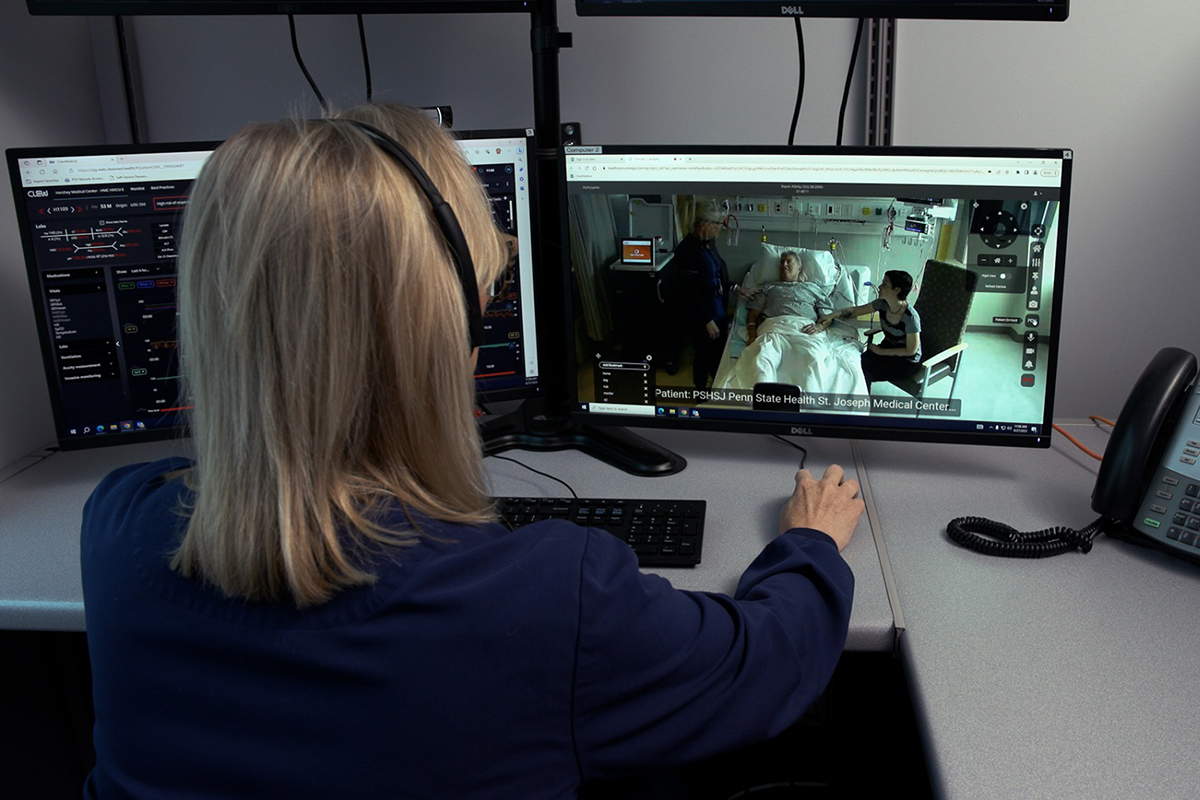 Emergencies are never virtual, but virtual care is now part of Emergency Department services for patients at Penn State Health Milton S. Hershey Medical Center.
In mid-July, virtual Intensive Care Unit services were added to 10 beds in the Emergency Department at the Milton S. Hershey Medical Center. Specially trained critical care nurses remotely monitor the conditions of critically ill or injured patients via high-definition audio and visual equipment and provide regular check-ins. Smart alarms alert the bedside team of urgent situations.
"The software we use constantly provides data on each patient," said Chris LaCoe, vice president for Penn State Health Virtual Health. "Its sophisticated algorithms immediately tell us who's getting sicker and who's getting better, so we can focus on who needs the most care," he said.
Virtual ICU services are helpful in addressing any limited hospital bed capacity. If patients are being held in the Emergency Department until a hospital bed becomes available, LaCoe said, they can be carefully monitored by virtual care staff, reducing demand on the Emergency Department as new patients arrive.
The expansion represents another important use of virtual health care, said James Fenush, vice president for Nursing Emergency Services and Clinical Support Services at Hershey Medical Center. "We have approximately 200 patients arrive in our Emergency Department each day, and virtual ICU services help nursing staff serve patients more effectively by adding an extra set of eyes," he said.
Virtual nursing staff are able to monitor patients on a 1-to-50 basis depending on acuity, LaCoe said, enhancing overall capacity to review patient conditions efficiently and continuously.
The telehealth equipment was added to 10 beds strategically grouped near a large nursing station in the 70-bed Emergency Department. Virtual health leadership worked with the department to determine the best location for the equipment based on workflow, Fenush said. Currently, an average of two patients receives virtual care each day in the Emergency Department, with that number expected to rise.
"The expertise provided by the critical care telehealth staff supports the excellent care we are already providing in the Emergency Department," Fenush said. The expansion enhances efficiencies and satisfaction levels among staff, while simultaneously providing an extra layer of safety for patients, he added.
"Patients may not always be aware they are receiving virtual health care because of their condition, but when families learn of the technology, how we use it and that it's staffed by Penn State Health employees, they're comforted," LaCoe said.
If you're having trouble accessing this content, or would like it in another format, please email Penn State Health Marketing & Communications.