A New Era Begins: Karen E. Kim, MD, MS, is Dean of Penn State College of Medicine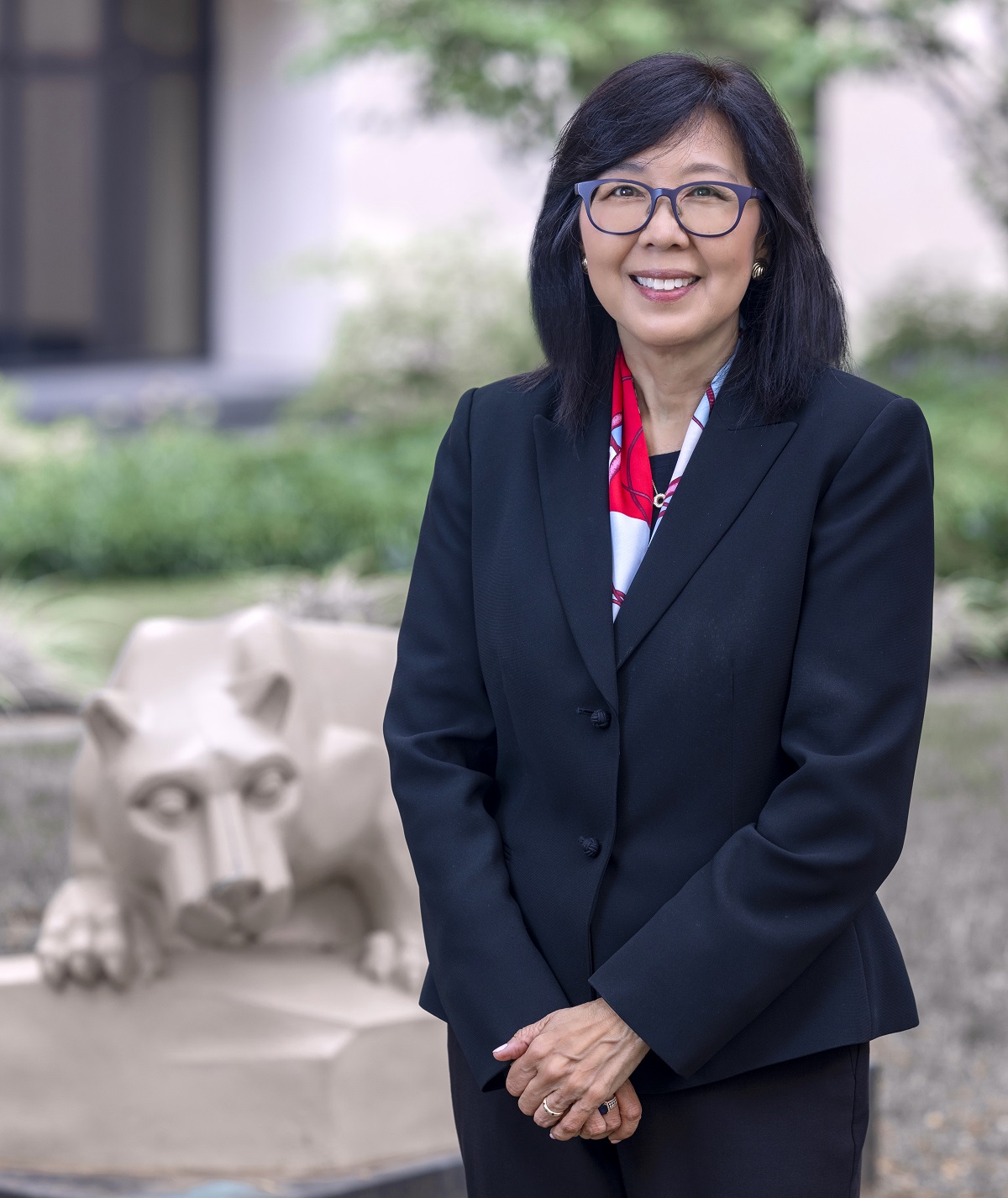 Today, Karen E. Kim, MD, MS, the Dorothy Foehr Huck and J. Lloyd Huck Chair in Rural Health Research and Professor, started her tenure as the dean of Penn State College of Medicine. Kim brings more than 25 years of wide-ranging clinical, educational and research expertise with her to Hershey.
"I am excited and honored to be the new dean at the College of Medicine," said Kim. "The admiration faculty, staff and students have for Penn State is palpable and its reputation as a leading public research university is outstanding. To have the opportunity to join this esteemed institution is incredible – I am excited to build on my colleagues' success and further Penn State's impact across Pennsylvania and beyond, including among underserved rural and underrepresented populations."
Kim will lead the College of Medicine in furthering its education, research and clinical missions, and will maintain and continue to build a strong culture of innovation and team-based interdisciplinary collaboration. As Physician in Chief, Kim will play a critical role in shaping the clinical environment of the academic health system, including how the College's academic research, education and innovation missions enhance equitable and inclusive clinical care.
"Penn State University is internationally recognized as a powerhouse in innovation and research with direct benefits to its constituents," said Kim. "Our local community members have access to world class treatment and care through our academic health system because of the scientific discoveries happening at the College of Medicine. Our educators and researchers are among the top in their respective areas and they are training your next doctor right here in your backyard. That type of community impact is rare and can be found here at the College."
As dean, Kim will lead a college of about 1,400 faculty, 1,600 full- and part-time staff, an enrollment of approximately 1,000 students (medical, physician assistant and graduate) represented at both the Hershey and University Park campuses, approximately 590 resident trainees and 140 fellows as part of the learning community at Penn State Health Milton S. Hershey Medical Center.
Prior to joining Penn State, Kim served as the Vice Provost for Research and Senior Research Officer at the University of Chicago, the Sara and Harold Lincoln Thompson Chair and Professor of Medicine, and Associate Director of the University of Chicago Comprehensive Cancer Center. During her tenure as Vice Provost for Research, Kim collaborated with divisions, schools, centers and institutes across the University and national laboratories to establish strategic research priorities, significantly increase interdisciplinary research and funding success and enhanced broader impact through inclusive innovation.
Kim is a nationally recognized leader in health disparities research, curricular innovation and public policy. Her research focuses on the rigorous development and evaluation of multi-level strategies to advance cancer health equity among marginalized and vulnerable populations. A core focus of Kim's career has been her work as founder and director of the University of Chicago Center for Asian Health Equity, an academic community partnership and the only research center dedicated to the study of Asian and immigrant health disparities in the Midwest. She established the center to provide an innovative national platform for advancing health of underserved communities through community-engaged health research, training and policy strategies. Under her direction the center has helped to meet critical community needs, focused on addressing research challenges that impact vulnerable populations and advocating for inclusive innovation.
"Similar to Pennsylvania, Illinois communities are majority rural and much of my research has focused on addressing cancer prevention among hard to reach rural communities" said Kim. "A big priority for me will be to mobilize the collective resources across the academic medical center, University Park, the commonwealth campuses and community to tackle complex issues facing rural communities locally, regionally and nationally."
Kim's depth and breathe of experience will be important to address these challenges. Kim currently leads one of the nation's largest pragmatic trials focused on multilevel interventions to increase colorectal cancer screening among underserved and rural populations. With extensive expertise in community-based participatory research (CBPR), dissemination and implementation science, intervention and minority health research, Kim is supported by the Centers for Disease Control and Prevention, the National Cancer Institute Beau Biden Cancer Moonshot Initiative, and the Department of Health and Human Service's Office of Minority Health and the National Institutes of Health.
In addition to her research, Kim is deeply committed to civic engagement and has dedicated significant time to advancing health through service to numerous nonprofit organizations and national boards. Kim has been nationally recognized for her advocacy and policy work and received the International Women's Leadership Award, the Chicago Foundation for Women Impact Award and the Cancer Prevention Laurel for Increasing Health Equity.
Of note, Kim is the College's first woman dean and the only current Korean American woman serving in such a role nationally.
Learn more about Dr. Kim and the College of Medicine
If you're having trouble accessing this content, or would like it in another format, please email Penn State Health Marketing & Communications.