Forging a new future: Tuition reimbursement helps lab manager advance her career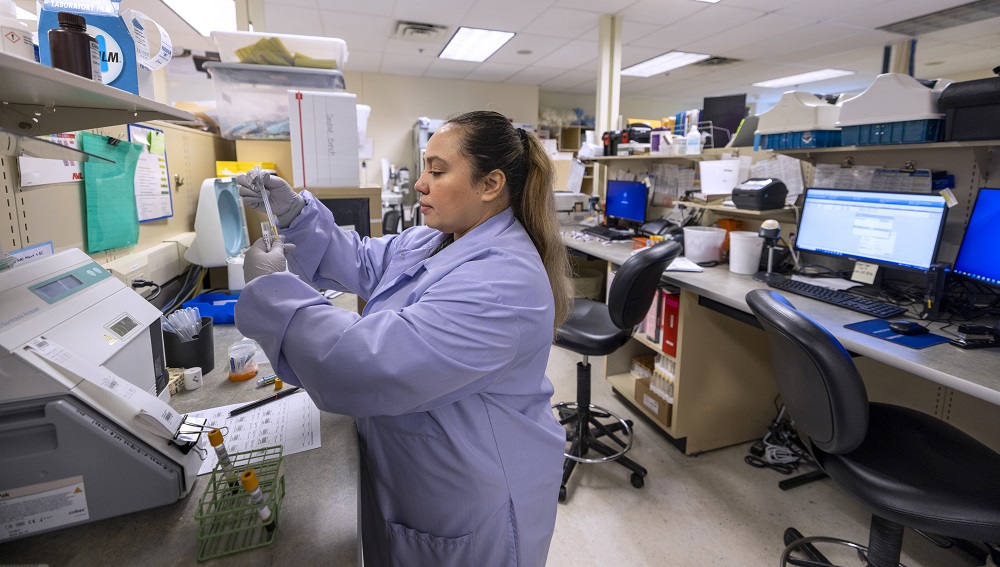 Using the power of education to shape her destiny
When Osiris Martinez-Urquilla arrived in the United States from El Salvador in 2004, she was hopeful for what this new beginning would mean for her future. Education has always been important to her as a means of paving her way in the world and providing for her family back home. But she never predicted how far she would come.
Nearly 20 years later, she is the core manager at Penn State Health St. Joseph Medical Center's laboratory and is pursuing her master's degree in medical laboratory science leadership. She's accomplished a lot since joining Penn State Health, thanks, in part, to its tuition reimbursement program and the support of her work family.
Opening new doors
Martinez-Urquilla came to the United States with a few years of educational experience in laboratory science but without the necessary certifications or English skills to find employment right away. The oldest of nine siblings, she was committed to supporting her entire family financially and using a career in science to do it. She dove into the first step for success: learning English. She spent three years in English as a second language classes and attending multiple courses in different community colleges before moving to Reading, Pa., to begin pursuing her dream.
In 2007, Martinez-Urquilla enrolled at Reading Area Community College to earn her associate degree as a medical laboratory technician. She completed a clinical rotation with St. Joseph Medical Center as part of the program and earned a full-time position on the night shift, a role she held for over six years.
St. Joseph Medical Center offered its employees tuition reimbursement for continuing education classes. She decided to take advantage of it, returning to school yet again in 2012, this time to earn her bachelor's degree. Whenever she wasn't working, she took online classes with the University of Cincinnati and earned her degree in 2015. With encouragement from her manager, Linda Gallagher, she leveraged her new certification to get promoted to lead laboratory technologist on the day shift.
"Osi has been one of those go-to staff members," Gallagher said. "She was with us through the pandemic to guide our laboratory through a challenging time with very high-volume testing, both inpatient and outpatient. She's the kind of person who gives 200% every day."
Uplifted by community
Nearly 10 years later, Martinez-Urquilla is still thriving. Throughout her career, her Penn State Health family has supported her in a multitude of ways. Gallagher, the laboratory's regional director, has guided her through multiple promotions and new responsibilities. Her colleagues have helped through good times and bad, including funding a trip back to El Salvador to attend her grandmother's funeral in 2016 and cheering her on at her U.S. citizenship ceremony in 2019.
The unwavering support of Martinez-Urquilla's surrogate family at Penn State Health has allowed her to continue providing for her family in El Salvador. She came to the U.S. so she could offer her younger brothers and sisters greater opportunities and better futures. Now, her youngest sister is turning 19 and is about to enter nursing school.
A year and a half ago, Martinez-Urquilla was again promoted, taking on the role of manager in the laboratory. Her skills were soon put to the test during the College of American Pathologists' rigorous accreditation process. She successfully led the lab staff through the on-site inspection and now oversees operations across two different departments in the laboratory. Continuing to take on new leadership responsibilities, she also fosters a team dynamic built on mutual respect.
Continued education has always been on the horizon for Martinez-Urquilla and thanks, in part, to the loyalty and backing of her co-workers she decided to go back to school one more time. Learning new skills to become an even better manager for her team, Martinez-Urquilla is currently working toward her master's degree in medical laboratory science leadership using Penn State Health's tuition reimbursement program. She has already completed her first semester.
Asked what has kept her at Penn State Health for over 15 years, Martinez-Urquilla says she can't imagine working anywhere else. "The best part of this job is the people and doing this work for the community.  Testing and diagnoses play a crucial role for both doctors and patients. We take pride in the significance of our work and the positive impact it has on improving the lives of others."
Investing in our employees
All eligible Penn State Health employees can take advantage of tuition reimbursement. If you're interested in working toward a degree or certificate, you have the option of attending a college or university other than Penn State and being reimbursed for 100% of your base tuition, up to $5,250 per calendar year. Employees at Penn State Health Milton S. Hershey Medical Center and their dependents can enroll in courses at Penn State and affiliate locations and receive a 75% tuition discount.
Find out more here for career opportunities with Penn State Health.
If you're having trouble accessing this content, or would like it in another format, please email Penn State Health Marketing & Communications.
Subscribe to our email newsletter