Penn State Health dedicates newly named Mid Penn Bank Outpatient Clinic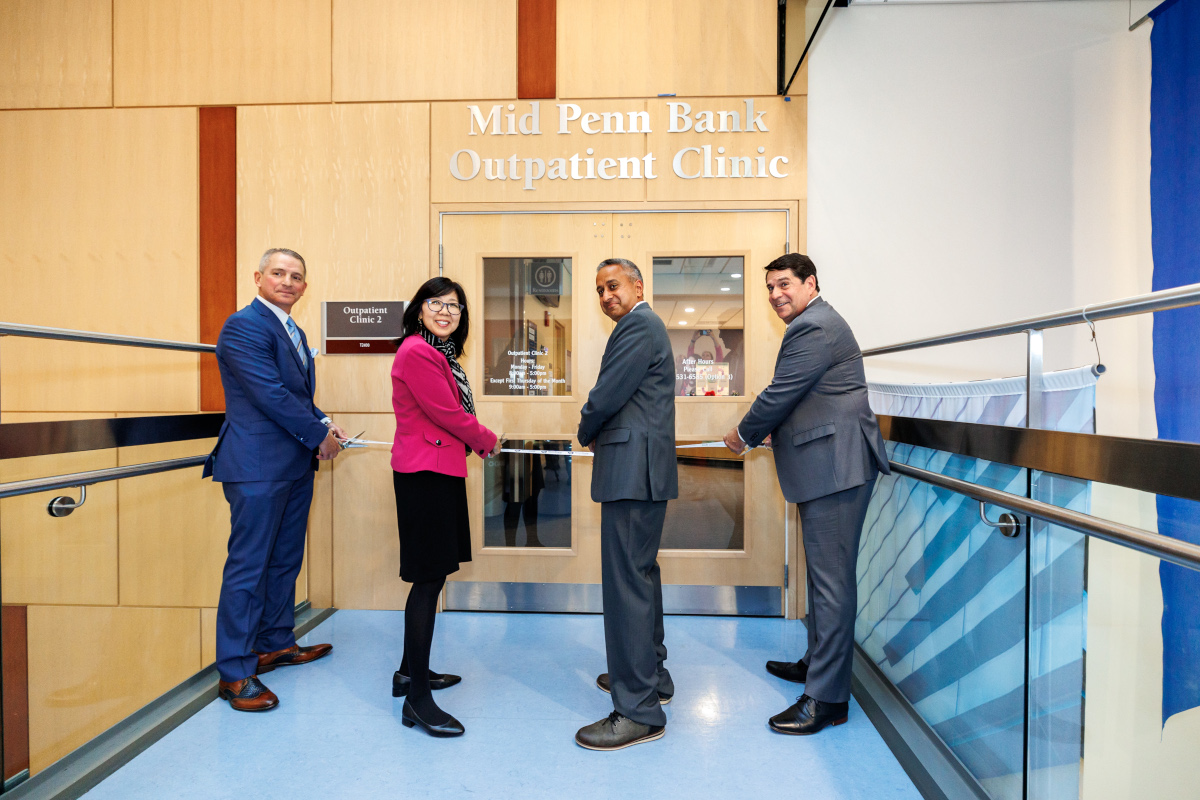 In honor of Mid Penn Bank's $1.1 million fundraising commitment and in celebration of its partnership with Penn State Health to support men's health and increase cancer research, Penn State Cancer Institute has renamed its second-floor outpatient clinic. The Mid Penn Bank Outpatient Clinic will support patients undergoing cancer care. Leaders from both organizations gathered Tuesday evening to dedicate the space.
"The value of fundraising in healthcare is immeasurable," said Dr. Karen Kim, dean of Penn State College of Medicine. "The generosity of partners like Mid Penn Bank that contributes to furthering research and patient care deserves this kind of recognition."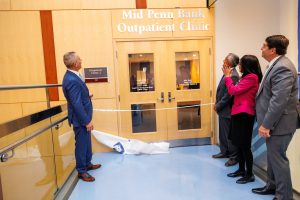 As an expansion of the organizations' No Shave November partnership, Mid Penn Bank announced in August their commitment to lead a campaign over the next four years that will bring their fundraising total since 2020 to $1.1 million. Money raised supports the Department of Urology's involvement in the Pennsylvania Urologic Regional Collaborative (PURC), a quality-improvement initiative that connects urology practices in a physician-led, data-sharing and improvement collaborative aimed at advancing the quality of diagnosis and care for patients with prostate cancer. PURC's goal is to improve the care of people in central Pennsylvania who are suspected of having or have been diagnosed with prostate cancer.
"We are flattered to have this formal marker of our partnership with Penn State Health," said Rory Ritrievi, president and CEO of Mid Penn Bank. "While we are not doing this to promote Mid Penn Bank, we are happy to name this space and give patients the confidence that there are companies behind them in their battle. We want our community to know we are here for them, that we stand with them, and support them during their healthcare journeys."
This commitment also supports the research of physician-scientists in the Department of Urology that focuses on cancer care in the aging population, addresses cancer disparities in minority populations and increases genetic testing of cancer patients to better determine risk and personalize therapies. In addition to supporting cancer research, the money helps provide free prostate cancer screenings for the community, supports mission-based work by the department to underserved areas regionally and nationally and makes available educational conferences for patients and health care professionals covering elements of cancer prevention and screening.
"We're so pleased to dedicate this space in honor of Mid Penn Bank," said Dr. Jay Raman, interim chair of the Department of Urology at Penn State Health. "They have been our greatest champion through the No Shave November effort, and with their longstanding support we are bettering care for men in our region and advancing cancer treatments."
Gifts from community partners like Mid Penn Bank advance the University's historic land-grant mission to serve and lead. Through philanthropy, alumni and friends are helping students to join the Penn State family and prepare for lifelong success; driving research, outreach and economic development that grow our shared strength and readiness for the future; and increasing the University's impact for families, patients, and communities across the commonwealth and around the world. Learn more by visiting raise.psu.edu.
If you're having trouble accessing this content, or would like it in another format, please email Penn State Health Marketing & Communications.