Penn State Health's work with school health assessments pays dividends for students, communities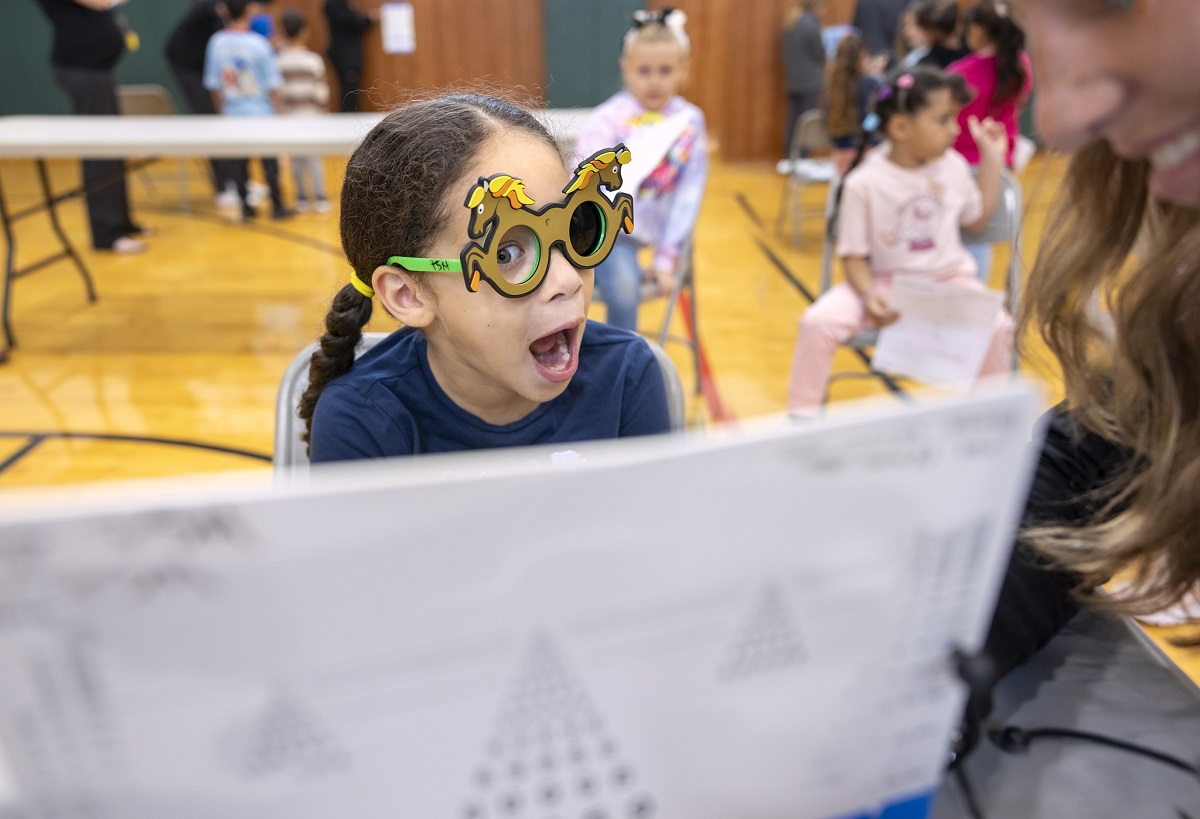 As the day started on Sept. 26, dozens of grade school children marched into the gym at Henry Houck Elementary School in Lebanon for an early fall test.
This one didn't require studying, and nobody marked any wrong answers with a red pen. But the stakes were high just the same ― not only for the children, but for the communities in which they live.
Volunteers and nurses with clipboards weighed them and measured their heights. They asked them to look through glasses with cartoon birds, horses or tigers on the frames and pick out different shapes drawn on posters, or find the drawing of a house from a page awash with multicolored dots. Then, the grownups told each of them that they'd done a good job and sent them back to class. The next day, they would come back for a hearing test.
The annual health screenings, a requirement of the Pennsylvania Department of Health, have been performed at Lebanon School District in partnership with Penn State Health since 2013. Data gleaned from the gym that morning will help some students clear impediments to learning they might not otherwise have found – often because they can't afford or can't access the regular checkups they need.
Every three years, the health system completes a Community Health Needs Assessment that aids its efforts to target areas that don't have enough resources. Parts of Lebanon County are among the regions that need additional assistance, including neighborhoods served by Henry Houck Elementary School.
Win-win-win
According to the 2021 assessment, Lebanon County had the lowest median household income for the entire region surveyed – $60,281. Among children under 18, only 9.5% in the county have health insurance. In a region where less half say they have regular access to a primary care doctor, these early checks become important.
"The younger you catch health concerns with a child, the better their outcomes will be," said Community Health Nurse Tara Simmons.
Penn State Health's involvement creates a win-win-win scenario. The work takes a little pressure off school nurses like Toni Henning, the health coordinator for Lebanon Area School District, whose department is in charge of providing vision, height, weight and hearing assessments for about 5,000 students in the district throughout the year. It provides the health system with the information it needs to better allocate community health resources.
And, most importantly, it gets help to the students.
"These screenings can take school nurses the entire school year to complete," Visco said. "Ashley Visco, Penn State Health community health director. "By assisting the school district with them, we're able to identify needs in the children early in the school year and get them the tools they need to learn."
A 2020 study by the National Institutes of Health determined that academic performance is intrinsically tied to vision – children who can see better learn better.
You did great!
For first-grader Lyannsdiel Escalera-Concepcion and lots of the other kids, it's a blast, but Escalera-Concepcion looks like he has no trouble finding fun.
When Aliyah Oberly, a volunteer from the Medical Assistant program at the Lebanon County Career and Technology Center, holds up two cards, one of which contains a thinly veiled letter E, and asks the boy with the wavy hair and the smile missing a few baby teeth to choose, he gets it right. He asks to do it again. He gets it right again. He keeps going. Oberly can't resist. "OK, last one," she says, but then Escalera-Concepcion takes the cards from her, and suddenly it's her turn to pick.
Oberly was one of about two dozen volunteers and nurses there to help. "Penn State Health Community Health organizes these assessments, but it takes over 100 nurse leaders and students for us to screen the entire Lebanon School District," Visco said.
Penn State Health partners with Penn State Health Milton S. Hershey Medical Center's Department of Nursing leadership and Emergency Department and Penn State College of Nursing, who also help with the tests. Each event requires between 10 people for kindergarten and 1st graders and 25 people for mass screening days. Tests for scoliosis, an abnormal spine curvature, are also performed.
Penn State Health provides health screenings at Logos Academy and Urban Lighthouse in Harrisburg as well.
After testing all of the students, Henning goes through the results and finds children with concerns like vision impairment. Nobody tells the kids they didn't do well during the test. "We always say, 'You did great!'" Simmons said.
Silly glasses see a lot
Henning and her team sends a list of children with problems considered to be a priority to Simmons, who calls the family and invites them to a Penn State Health vision clinic in partnership with the Lebanon Free Clinic if they have difficulty accessing a vision appointment or do not have insurance.
The screening often finds large numbers of children who need vision help, Simmons said. On one occasion, they found a child who had a detached retina and needed immediate assistance. Penn State Health Ophthalmology was able to get the child access to care in the clinic the next day.
The overall effect of their work is profound, Simmons said. The lives of the children in the gym that morning could be markedly improved by the games they play with the silly glasses.
"It's tough for kids to be in class and not be able to see the board or hear what the teacher is saying," Visco said. "But by identifying and addressing these concerns early on, we can assist with opening up the classroom for them."
Helping families overcome disparities in health care is part of the Penn State Health strategy to improve wellness and disease prevention. Learn more in the Penn State Health Community Health Needs Assessment and Implementation Plan.
Click the image below for a gallery of photos.
If you're having trouble accessing this content, or would like it in another format, please email Penn State Health Marketing & Communications.