2022 Penn State Cancer Research Day: An Event for the Trainees and by the Trainees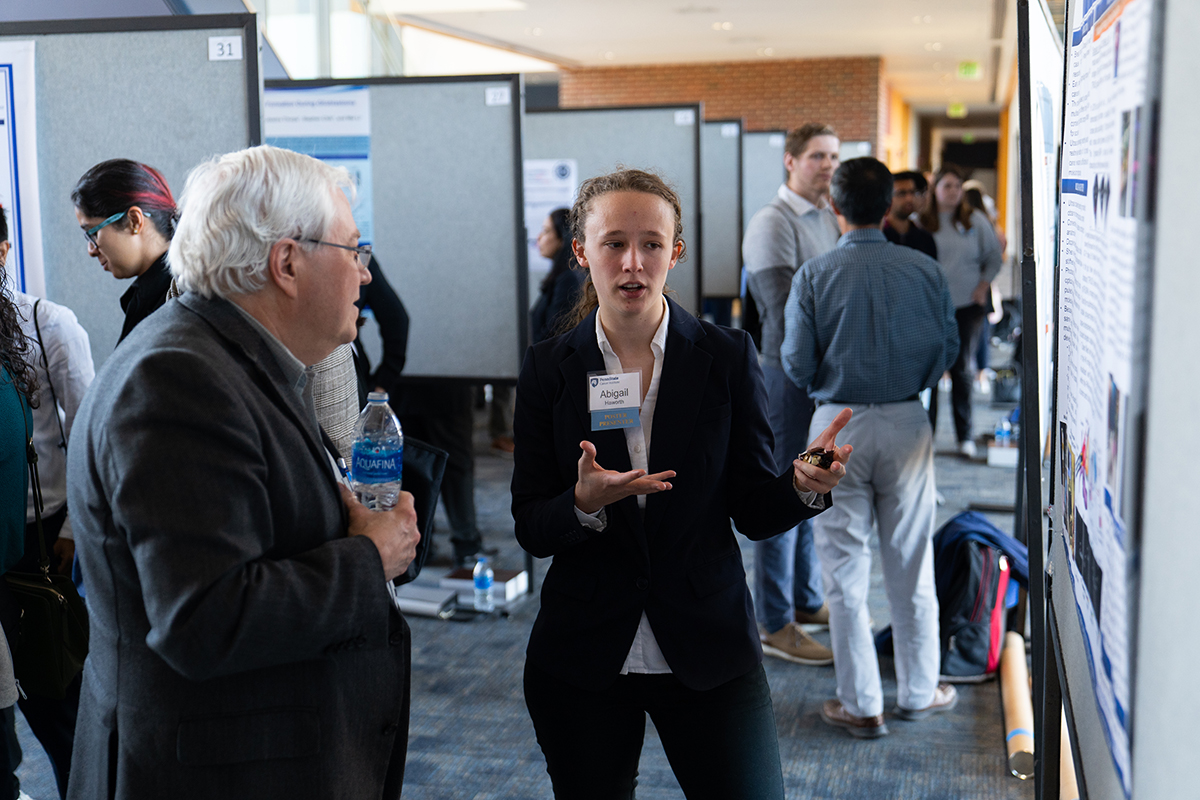 On Oct. 15, the Penn State Cancer Institute's (PSCI) Cancer Research Day enjoyed its greatest attendance in the event's five-year history, with 117 attendees including faculty, staff, and primarily trainees consisting of undergraduate, graduate, and medical students and postdoctoral scholars. In addition to record-breaking attendance, something else was different about this year's event. Through the course of the last year, more than 70 trainees have joined the PSCI as affiliate members and become involved in the PSCI's scientific programs. The Cancer Research Day Committee seized the opportunity to involve these new members in the planning and facilitation of the 2022 event. Cancer Institute affiliate members Angel Baroz, Debarati Bhanja, Larry Cheng, Maryknoll Linscott, Meghana Matur and Lauren Pomerantz, representing both the Hershey and University Park campuses, volunteered as planning committee members, event session facilitators and event ambassadors.
"It was a great learning experience, inviting keynote speakers to the event and having to make adjustments and pivot when faced with logistical challenges," said Linscott, an MD/PhD student at Penn State College of Medicine. Linscott was actively involved in the event planning committee and made major contributions including securing a keynote speaker and advocating for poster awards to encourage trainee participation. At the event, Linscott introduced the keynote speaker, Shannon Maude, MD, PhD, assistant professor of pediatrics at the Children's Hospital of Philadelphia and the University of Pennsylvania School of Medicine.
Both the PSCI affiliate membership category and Cancer Research Day were created by the Cancer Research Training and Education Coordination (CRTEC) Core, led by CRTEC associate director, Kristin Eckert, PhD. With these two initiatives, the CRTEC team aims to highlight cancer research by trainees from all disciplines, to provide cancer research career information and to build a community of Penn State cancer research trainees from all career stages. Involving trainees and listening to their perspectives helps the CRTEC team identify gaps and develop innovative ways to improve PSCI training experiences.
Highlighting Trainee Research
Cancer Research Day has consistently provided opportunities for undergraduate, graduate and medical students, and postdoctoral scholars to share their cancer research and network with other researchers. Linscott and Fenghua Qian, a veterinary and biomedical sciences graduate student, were selected as speakers in recognition of their PSCI Travel Awards. The PSCI's Travel Awards provide financial support for Affiliate Members to present their research at national conferences within the cancer community. Linscott's research focused on breast cancer and Qian's research centered around leukemia therapy.
Other trainee speakers and their topics during Cancer Research Day:
Upendar Golla, PhD, acute myeloid leukemia treatment
Melanie Potiaumpai, PhD, exercise vs. stem cell transplants
Miaolu Tang, necrosis in malignant brain tumors
Hannah Wilding, adult brain metastases arising from lung, breast or melanoma primary cancers
The poster session provided a wide range of research topics to explore and offered a great opportunity for networking among all researchers and faculty. Posters from 31 trainees were presented and four others were shared by the PSCI's Organic Synthesis Shared Resource, and the College of Medicine's core facilities including, Flow Cytometry Shared Resource, Advanced Light Microscopy Core, and the Biomedical Research Core Facilities.
Event Feedback and Impact
In the post-event evaluation survey, students noted that the opportunity to network with others involved in cancer research and the lessons learned about research and careers from the trainee speakers were the most meaningful aspects of the event. Students found learning about the projects of their peers to be very motivating. Faculty enjoyed the opportunities to see their students presenting research and to interact with the students during the poster session. Most attendees expressed that the experience confirmed or increased their interest in cancer research careers.
"As a speaker, it was a tremendous opportunity for me to improve my presentation skills and have a platform to communicate my journey to becoming a cancer researcher," Linscott commented. She added, "Most importantly, I love learning about the research that we conduct here at Penn State and the impact that we make in the lives of cancer patients."
Looking Ahead
The PSCI's CRTEC Team plans to grow the involvement of affiliate members in the planning and facilitation of future Cancer Research Day events and other program activities, to ensure the voice of trainees are heard as the program continues to improve trainee career and professional development support. Penn State trainees who are actively engaged in cancer research are encouraged to become PSCI affiliate members so they can stay informed about offerings and become involved in the cancer research community here at Penn State.
If you're having trouble accessing this content, or would like it in another format, please email the Penn State College of Medicine web department.