Boateng recognized for Exceptional Moments in Teaching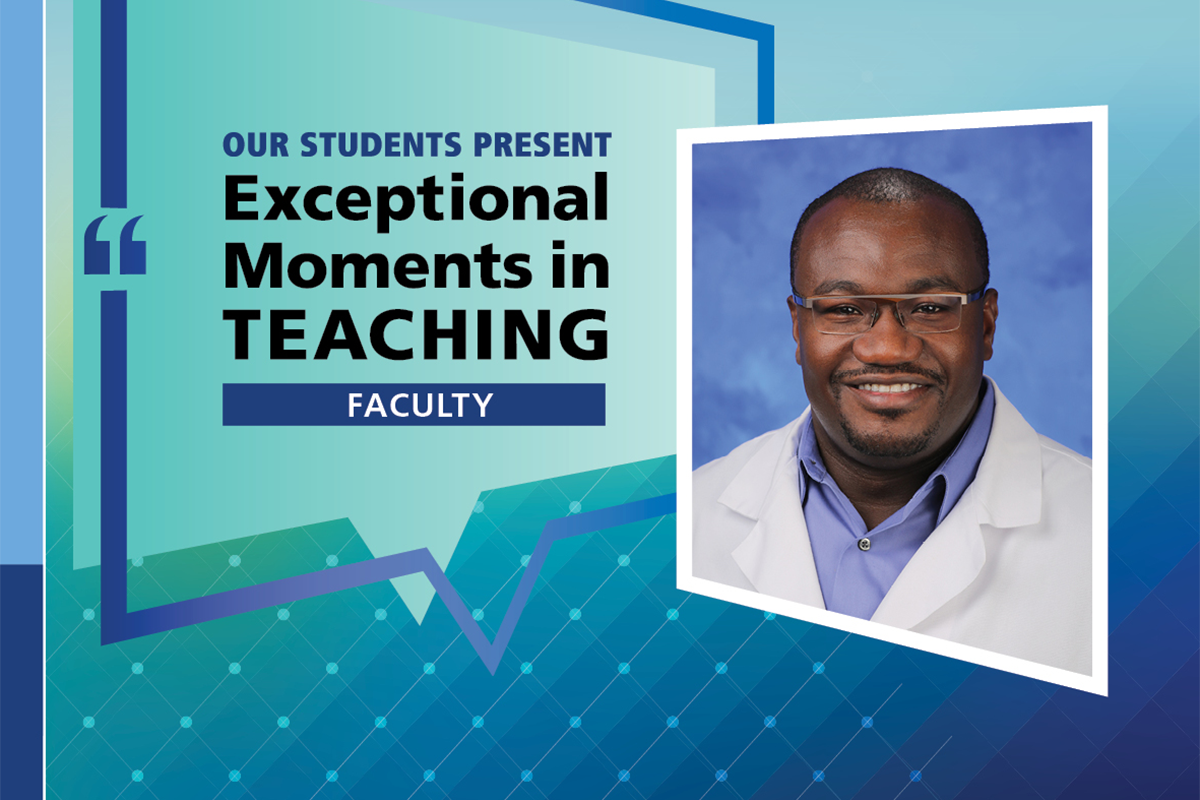 Dr. Henry Boateng, associate professor of orthopedics and rehabilitation in the Department of Orthopaedics and Rehabilitation, Division of Trauma, is featured for February in the "Exceptional Moments in Teaching" program.
"Dr. Boateng allowed me to participate in surgeries in a way I had never been offered before," a current student wrote. "I felt like part of the team and that I was contributing to patient care in a meaningful way. He also had a very meaningful conversation with me about how we carry on when things don't go the way we want in the operating room. It was a valuable lesson that I will carry with me throughout my medical career."
Boateng has been with Penn State Health for the past 12 years, with a focus on adult and pediatric orthopedic trauma and hip preservation, with research interests in pelvic fractures and periarticular fractures. He received a bachelor's degree in biology from Johns Hopkins University, Baltimore, and his master's in infectious disease from the Johns Hopkins Bloomberg School of Public Health. Boateng completed his medical degree at Georgetown University School of Medicine, Washington, D.C.; his residency in orthopedic surgery at John Hopkins Hospital; and a Harvard orthopedic trauma combined fellowship at Massachusetts General and Brigham and Women's hospitals in Boston. He has also completed an apprenticeship on pediatric and adolescent hip preservation at William Beaumont Hospital, Detroit.
Boateng has received numerous teaching awards and is a resident mentor who truly values the opportunity to teach and learn from the next generation of doctors. He is involved in several research projects related to clinical outcomes following traumatic injuries and has published multiple articles and book chapters. Boateng has a strong interest in relief work and service to the local and international communities, including the Haiti Relief Mission, the Bethesda Mission and LionCare in Harrisburg and an annual medical mission to Ghana. He is a member of the international forum of the Orthopaedic Trauma Association.
Penn State College of Medicine's Office for a Respectful Learning Environment recognizes exceptional faculty, residents and fellows with the monthly "Exceptional Moments in Teaching" program. Each month, one faculty member and one resident/fellow are highlighted for their contributions. College of Medicine students are invited to submit narratives about faculty members, residents, nurses or any other educators who challenge them and provide an exceptional learning experience using the online nomination form.
The Office for a Respectful Learning Environment fosters an educational community at Penn State College of Medicine in which all learners and educators feel supported, challenged, valued and respected. It serves all learners at the College of Medicine: medical students, graduate students, physician assistant students, residents and fellows.
See previous faculty and resident/fellow honorees here.
If you're having trouble accessing this content, or would like it in another format, please email the Penn State College of Medicine web department.