College of Medicine recognizes endowed faculty appointments at Dean's Spring Lecture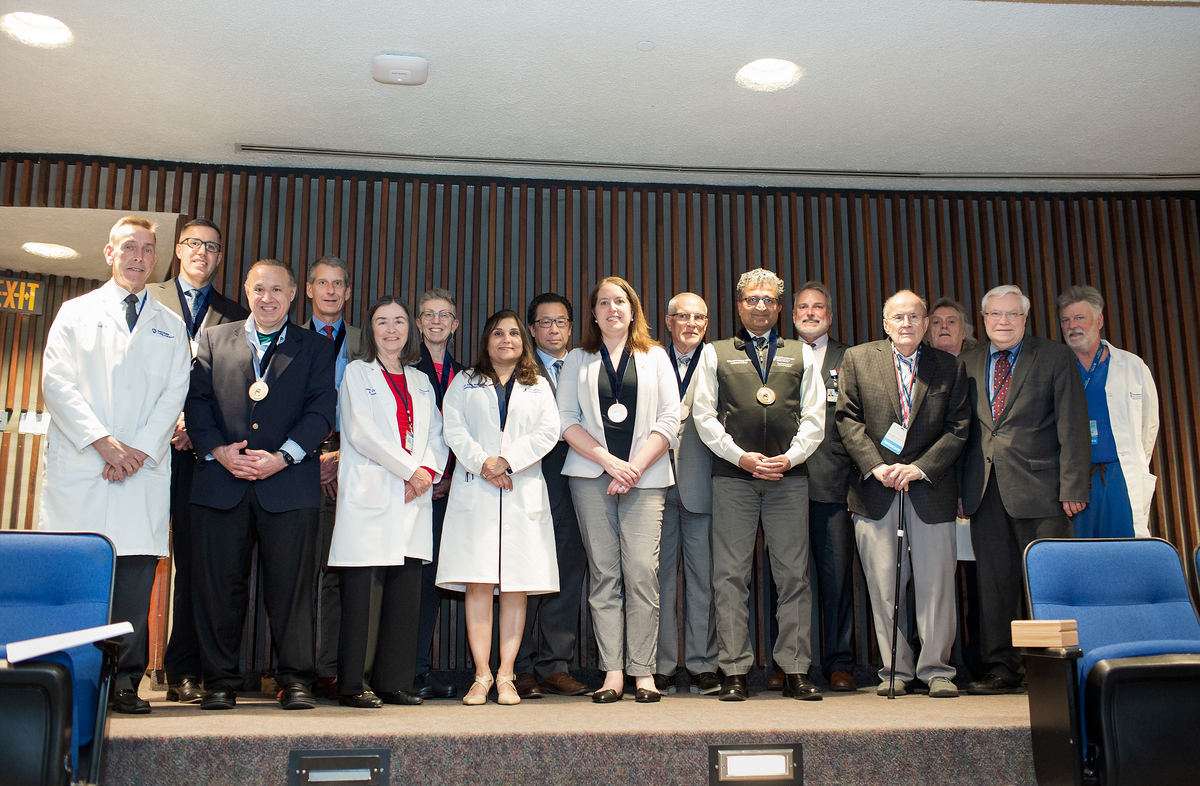 Kevin Black, MD, interim dean of Penn State College of Medicine, recognized the holders of endowed faculty positions prior to the Spring 2023 Dean's Lecture on Tuesday, May 9 and presented professorship and chair medallions to several faculty who have been newly appointed since 2021.
Endowed faculty positions, most often established by individual donors that stand among Penn State College of Medicine's strongest and most loyal supporters, are essential to help the College recruit, recognize and retain the best teachers, clinical and research leaders and mentors.
Nominated by their department chair and dean of the College and approved by the executive vice president and provost of the University, holders of these appointments strengthen the College and advance its mission of enhancing quality of life through improved health, the professional preparation of those who will serve the health needs of others and the discovery of knowledge that will benefit all. The endowed appointments provide the holders with significant, sustainable funds to advance their teaching, research and service.
"I am continually amazed by the ambitions and accomplishments of our faculty," said Dr. Black. "It is a great honor to be able to recognize some of these outstanding leaders with endowed faculty appointments that will enrich our entire academic community. Many of these endowments are donor funded, and I extend my deepest thanks and appreciation to the generous alumni, faculty and friends who have invested in the College in this substantial and meaningful way. Their support makes new discoveries, fruitful collaborations and innovative programs possible, and their philanthropic vision helps us define what medicine means.
"Together, we are Penn State College of DOING GOOD AND DOING BETTER Medicine."
Below is a list of the faculty who have been appointed to endowed positions since 2021, with their appointment date. Faculty Affairs manages the appointment and review process for endowed faculty appointments.
Endowed Chairs
Thiru Annaswamy, MD – Rocco Ortenzio Chair of Physical Medicine and Rehabilitation (Jan. 1, 2023)
April D. Armstrong, MD – C. McCollister Evarts, MD, Chair of Orthopaedics and Rehabilitation (July 1, 2021)
Suming Huang, PhD – Chair of Four Diamonds Epigenetics and Gene Regulation Research Program in Pediatric Oncology (Jan. 1, 2023)
Mitchell Machtay, MD – Chair in Cancer Clinical Research (Nov. 1, 2022)
Amyn M. Rojiani, MD, PhD – University Chair in Pathology (May 1, 2021)
Thomas D. Samson, MD – Chester Ray Trout Chair in Pediatric Surgery (June 1, 2022)
Cheryl Thompson, PhD – Chair in Cancer Population Sciences Research (Nov. 1, 2022)
Yatin Vyas, MD – Children's Miracle Network and Four Diamonds Chair in Pediatrics (Nov. 1, 2021)
Endowed Professorships
Verghese T. Cherian, MD – Julien E. Biebuyck, MD, Professor of Anesthesia (July 1, 2022)
Kofi Clarke, MD – Graham H. Jeffries Professor of Medicine (Jan. 1, 2022)
Michael H. Creer, MD – Laurence M. Demers Professor in Pathology (May 1, 2022)
Charles Davis III, MD, PhD – James E. Bobb Professor in Orthopaedics and Rehabilitation (May 1, 2022)
Johnny Hong, MD – Steven and Sharon Baron Professorship in Surgery (May 1, 2023)
Monika Joshi, MD – Professor in Cancer Clinical Investigation (Nov. 1, 2022)
Andrew Kowalczyk, PhD – Department of Dermatology Endowed Professor (Aug. 8, 2022)
Eric M. Pauli, MD – David L. Nahrwold Professor of Surgical Education (March 2, 2021)
Behzad Soleimani, MD – William S. Pierce, MD, Professor of Cardiac Surgery (June 21, 2022)
Tiffany Whitcomb, DVM – C. Max and Sylvia S. Lang Professor in Comparative Medicine (Jan. 1, 2023)
Bernice Hausman, PhD – Garner James Cline Professor of Humanities in Medicine (Feb. 1, 2023)
Endowed Early Career and Career Development Professorships and Faculty Fellowships
Dara Babinski, PhD – Ling and Esther Tan Early Career Professor in Psychiatry (March 1, 2021)
Theodore Cios, MD – Faculty Career Development Professor in Anesthesiology (July 1, 2022)
Matthew Evans, MD – Career Development Professor in Hematology (Sept. 1, 2021)
Jonathan Halem, DO – Garfield B. Russell, MD, Career Development Professor in Medical Education (July 1, 2022)
John Levenick, MD – Margot E. Walrath Career Development Professor in Gastroenterology (Jan. 1, 2022)
Jennifer McCall-Hosenfeld, MD – Kenneth V. and Eleanor M. Hatt Faculty Fellow in Internal Medicine (Nov. 2, 2021)
Sonal Sharma, MD – Donald E. Martin Career Development Professor in Anesthesia and Pain Medicine (July 1, 2022)
If you're having trouble accessing this content, or would like it in another format, please email the Penn State College of Medicine web department.