General surgery resident Patel recognized for exceptional teaching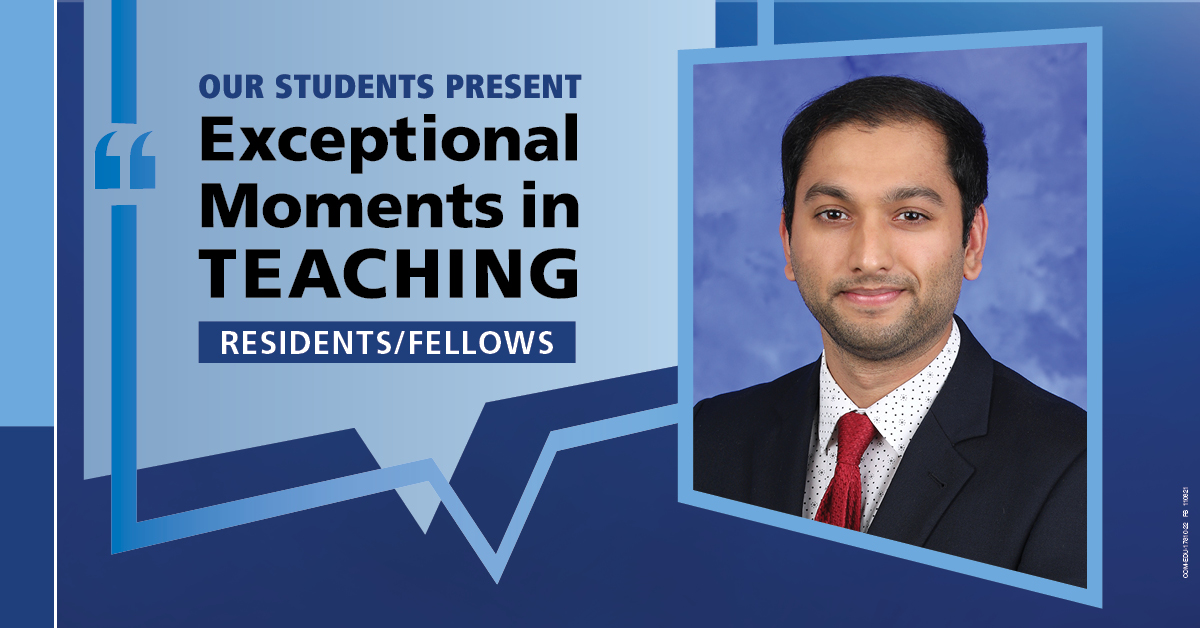 Dr. Jay Patel, a general surgery resident at Penn State Health Milton S. Hershey Medical Center, was recognized in November 2021 as part of the Exceptional Moments in Teaching program of Penn State Health and Penn State College of Medicine.
"Dr. Patel was the most helpful resident I met during my surgery rotation," a current student wrote. "He taught me many things, ranging from how to write a brief operative note to how to do a running subcuticular stitch.
"Dr. Patel often asked me relevant questions before cases in order to check my current level of knowledge but would also ask me 'bonus' questions in order to challenge me. Throughout my time working with him, he always treated me with the utmost respect as a learner and was incredibly patient, even when he was extremely busy or dealing with a stressful situation. He is a fantastic teacher."
Patel is a fourth-year general surgery resident, originally from Vienna, Va. He attended undergraduate and medical school at Virginia Commonwealth University and will be applying for a cardiothoracic surgery fellowship this year. In his free time, Patel enjoys traveling, the outdoors, music and drumming.
Penn State College of Medicine's Office for a Respectful Learning Environment recognizes exceptional faculty, residents and fellows with the monthly "Exceptional Moments in Teaching" program. Each month, one faculty member and one resident/fellow are highlighted for their contributions. College of Medicine students are invited to submit narratives about faculty members, residents, nurses or any other educators who challenge them and provide an exceptional learning experience using the online nomination form.
The Office for a Respectful Learning Environment fosters an educational community at Penn State College of Medicine in which all learners and educators feel supported, challenged, valued and respected. It serves all learners at the College of Medicine: medical students, graduate students, physician assistant students, residents and fellows.
See previous faculty and resident/fellow honorees here.
If you're having trouble accessing this content, or would like it in another format, please email the Penn State College of Medicine web department.