Penn State Human Research Protection Program awarded reaccreditation
The Human Research Protection Program at Penn State has once again been awarded full accreditation from the Association for the Accreditation of Human Research Protection Programs Inc. AAHRPP accreditation is voluntary and represents the highest international standard for the protection of participants in research.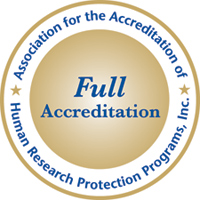 According to AAHRPP, "To earn accreditation, organizations must show they have built extensive safeguards into every level of their research operation and adhere to high standards for research."
Penn State has been accredited continuously since 2006. The accreditation is awarded to the entire University, which includes the Institutional Review Board (IRB) program in the Office for Research Protections and the Human Subjects Protection Office at Penn State College of Medicine.
"The IRB is a key component of AAHRPP accreditation, but the accreditation process is much broader," said Candice Yekel, associate vice president for research and director of the Office for Research Protections. "AAHRPP accreditation really looks at the whole system of human research protections: the researchers, our post-approval reviews, sponsored programs, our education, and outreach. We are gratified that Penn State was again awarded full accreditation. As the institutional official, I am proud of our team for the work that went into this achievement."
Leslie Parent, vice dean for research and graduate studies in the College of Medicine, added, "AAHRPP accreditation is an affirmation of the high-quality work we are doing in the protection of human research participants at Penn State. Achieving this important designation is evidence of the dedication of our faculty and staff at the College of Medicine and across the University."
Read more about the reaccreditation in this Penn State News story.
If you're having trouble accessing this content, or would like it in another format, please email the Penn State College of Medicine web department.