'Let Hope Grow' artwork unveiled at ALS Clinic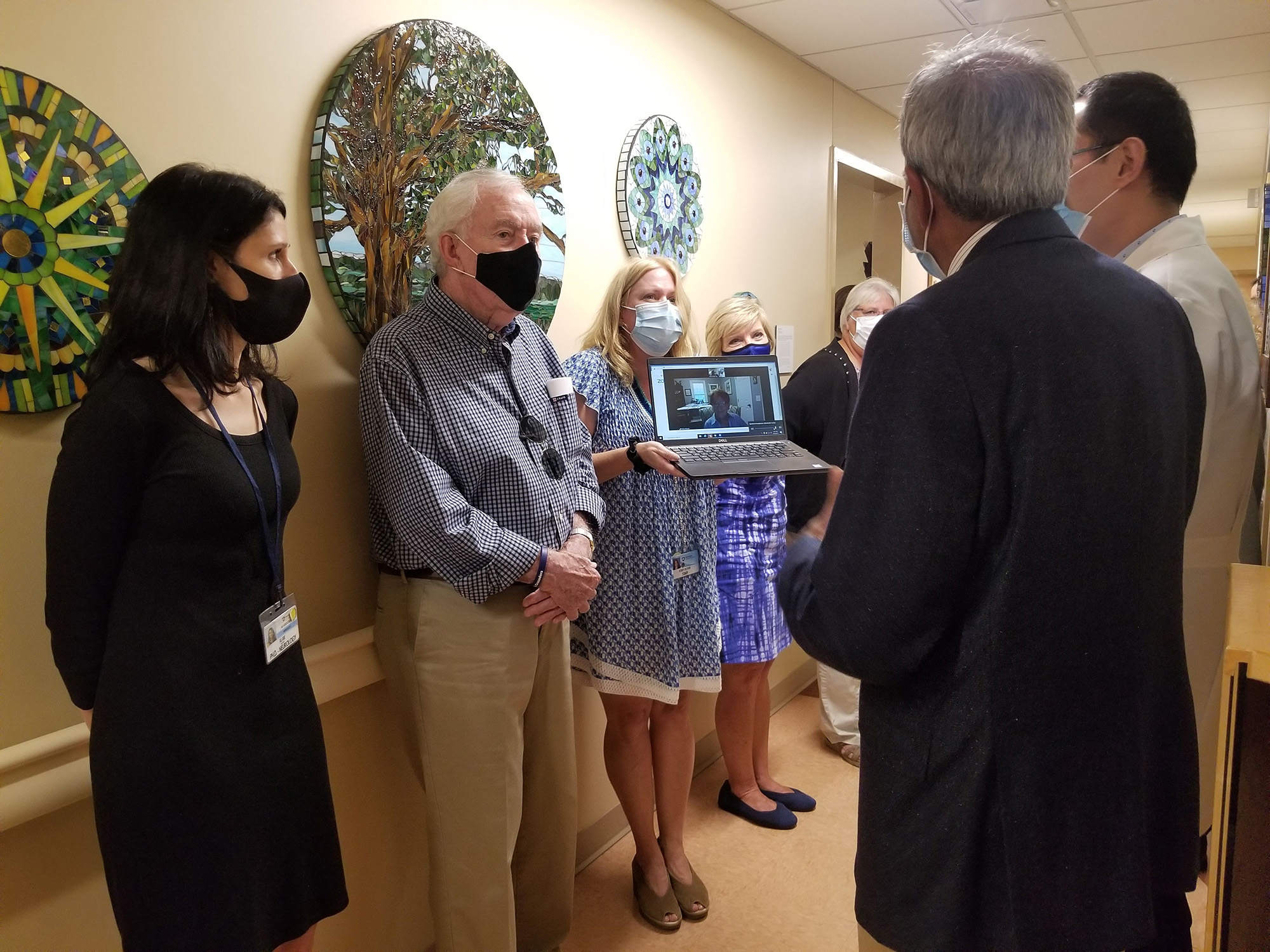 New artwork in a hallway of the neurology suite reflects the aesthetics that appeal to ALS Clinic health care providers, staff, patients and caregivers: nature, color, hope, cycles of life, and a sturdy, sheltering oak. Fine Artist Debra D'Souza combined all of these themes into a collection of mosaic glass and created "Let Hope Grow" for the long hallways of the clinic at 30 Hope Drive.
Center Stage Arts in Health, part of the Penn State College of Medicine Department of Humanities, joined with the Penn State Health ALS Clinic to collaborate on a process of choosing new artwork for space. ALS Clinic individuals were instrumental in providing guidance on the type of art that would best appeal to the people who pass through these hallways every day.
Members of the ALS support group, along with the employees of the clinic, voted on themes and medium. Keen on samples showing shimmering views of trees and leaves, they chose the artist who used nature and mandalas in this collection of mosaics. Mandalas are circular designs, with a center around which revolves an organized, repeating design. The design of the mandala represents wholeness and symbolizes unity in the world and unity in people's personal lives.
Xiaowei Su, MD, PhD, assistant professor of neurology, said, "This artwork is a direct result of everyone's joint ideas. I especially like how the mandala individual pieces create the whole – that really drives home the idea that entire clinic and entire community contributed to the artwork. In Asian culture, mandalas are drawn in the sand and then blown away to represent impermanence but the ideas that they represent are permanent."
Clinical Nurse Specialist Susan Walsh, who coordinates patient care for the clinic, said, "The ALS Association helped make this possible. The orchestrated collaboration with our patients and families is so meaningful." Patients and families of the focus group visited the clinic to witness the unveiling.
Center Stage Director Claire de Boer said the group who came together to guide this process of selecting art did it beautifully. "The arts help to support us emotionally. We have a way to reflect how the families and caregivers are involved and make sense of it all."
D'Souza, of Minnesota, studied with master mosaicists worldwide. Her mosaic art is featured in multiple local, regional and national exhibitions, and it is in several permanent collections, including at Stanford University, Penn State, Health Partners, Mayo Health System and Marshfield Clinic.
"This project for Penn State Health Milton S. Hershey Medical Center has a special place in my heart, as one of my life-long friends was recently diagnosed with ALS," D'Souza said. "I created these mosaics to bring some peace and beauty for all who view them. I hope that my artworks will share love to the patients, families, the medical team, and caregivers."
If you're having trouble accessing this content, or would like it in another format, please email the Penn State College of Medicine web department.