Matthew Coates featured in Crohns & Colitis Foundation national webinars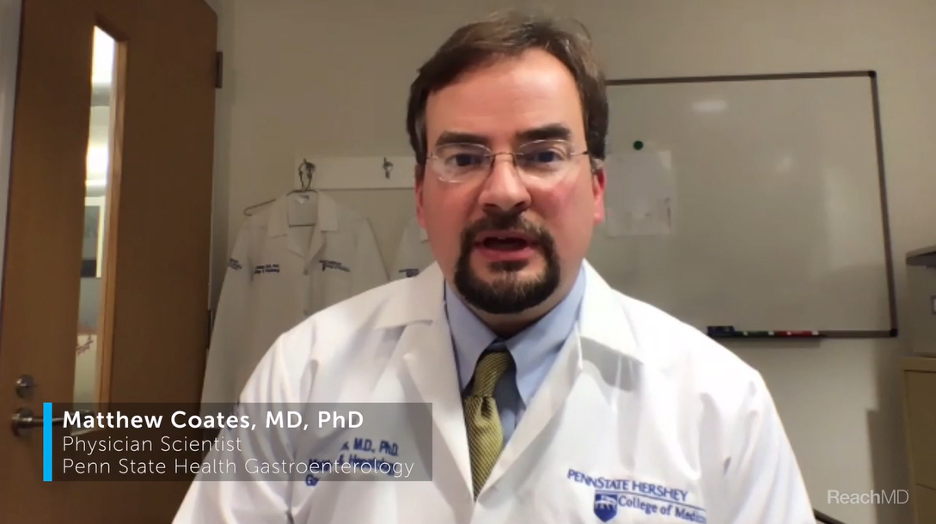 Matthew Coates, MD, PhD, associate professor of medicine and pharmacology, has collaborated with the Crohns & Colitis Foundation on two national webinars.
The webinars focus on pain management while living with irritable bowel disease (IBD) and are a valuable source of knowledge for those living with IBD, said Coates, who also serves as the research director for the Division of Gastroenterology and Hepatology within the Penn State College of Medicine's Department of Medicine. Abdominal pain is common in IBD patients, Coates said, and managing that pain can be very challenging.
"Patients and providers are frequently looking for help to more effectively identify and treat sources of abdominal pain in this setting," he said. "Their perspectives and capability of addressing things can vary considerably, though, and that's why it was important to provide talks tailored for each of these groups."
Sharing this information on a national platform, Coates added, was appealing for a couple important reasons.
"First, you are able to reach a larger and more diverse audience," he said. "Secondly, it reinforces to our own patients that we have unique expertise in these fields that make Penn State a special place to receive care."
View the "Living with IBD: Pain and Fatigue" webinar
View the "Counteracting Chronic Pain in Patients with IBD" webinar
If you're having trouble accessing this content, or would like it in another format, please email the Penn State College of Medicine web department.