Nurses thrive at Magnet-designated Penn State Health Milton S. Hershey Medical Center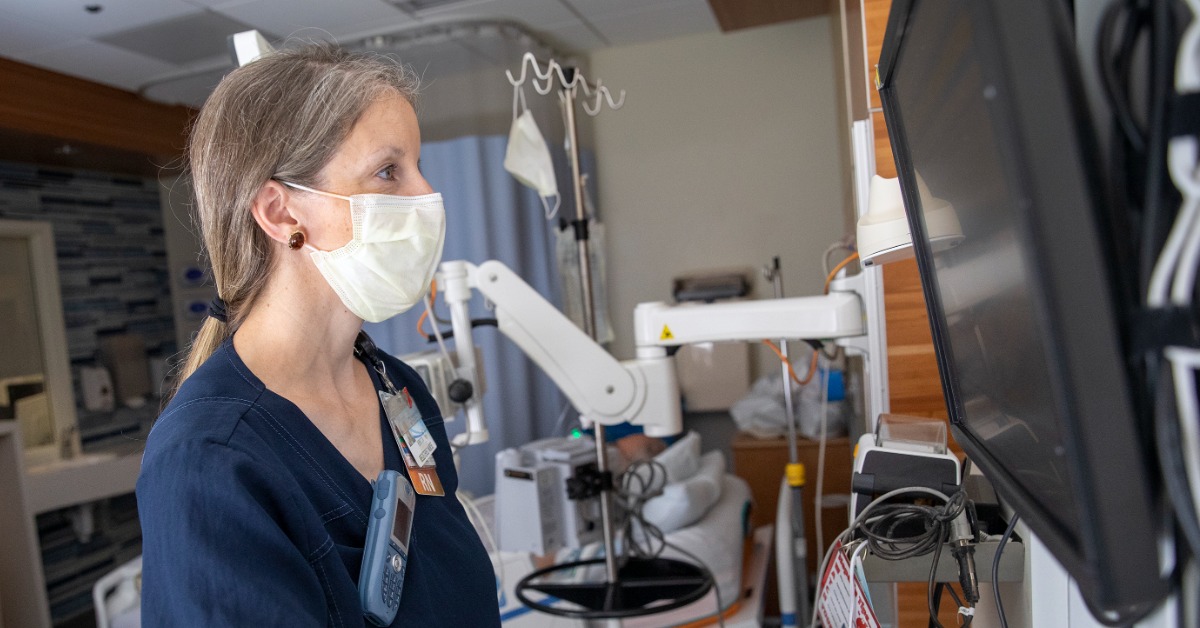 Caregiving can take a lot out of nurses. Add in a global pandemic, and the stakes are even higher.
Although every hospital attempts to meet that challenge, Penn State Health Milton S. Hershey Medical Center believes its Magnet recognition by the American Nurses Credentialing Center (ANCC) ensures it raises the bar when it comes to supporting its nurses.
"We expect a lot out of our nurses, but we're also here to support them fully in their work," said Stephanie Wachter, the hospital's Magnet program director. "We, as nurse leaders, take it upon ourselves to understand and be responsive to our nurses' needs and ensure they have the resources they need to get the job done."
Hershey Medical Center's focus on nursing excellence has earned it four continuous Magnet designations since first earning formal recognition in 2007 – an honor that only 116 hospitals in the world have achieved. Each time, they had to provide documented evidence to demonstrate how staff members sustained and improved Magnet concepts, performance and quality over the four-year period since the organization received its most recent recognition.
The ANCC established the Magnet recognition program in 1994. Less than 9% of registered hospitals in the U.S have earned the designation. Research has shown Magnet hospitals deliver exceptional patient care outcomes, where supportive nurse leaders create a culture that empowers nurses, values their contributions, encourages professional development and supports nursing leadership.
"At Hershey Medical Center, we've created an environment where nurses are allowed to practice at the top of their professional license," Wachter said. "When they have the tools and the resources to practice at that level, positive patient outcomes naturally follow."
Nurses are improving patient outcomes through an increased focus on education at Penn State Health Obstetrics and Gynecology. OB-GYN nurses participated in a quality project that looked at what they're doing to advance care in their clinic. Highlighted by appraisers during the most recent Magnet site visit, the project is an example of how nurses play a vital role in the outpatient setting, according to Lindsey Reese, registered nurse clinical supervisor.
"We really like to educate patients. It is part of our passion in women's health and OB and a huge benefit of Magnet designation," she said. "When I'm interviewing nurses, we discuss how we involve the whole staff in solutions. It is something they appreciate. They aren't just a number here."
In 2005, when Rebecca Hornberger joined the hospital as a graduate nurse, she was asked to choose a shared governance council on which to participate. She chose the Research Council. Today, she serves as its chair.
"The expectation is that you own your practice at Hershey. There is a responsibility to contribute to that shared governance that goes on in a hospital to push Magnet status forward," said the Heart and Vascular Progressive Care Unit nurse. "Our council comes together every month, and we talk about evidence-based practice and how to continuously innovate. For me, that's a huge satisfier."
Magnet designation shows that Hershey Medical Center's leadership is committed to creating an environment where nurses at all levels can thrive, Wachter said.
"We come to work, day after day, wanting to do the right thing and be the best we can for our patients," she said. "That's part of the tradition here within the Department of Nursing."
Read more stories about our team.
Learn more about career opportunities with Penn State Health.
If you're having trouble accessing this content, or would like it in another format, please email the Penn State College of Medicine web department.