Patient-centric clerkship guides future physicians at Penn State College of Medicine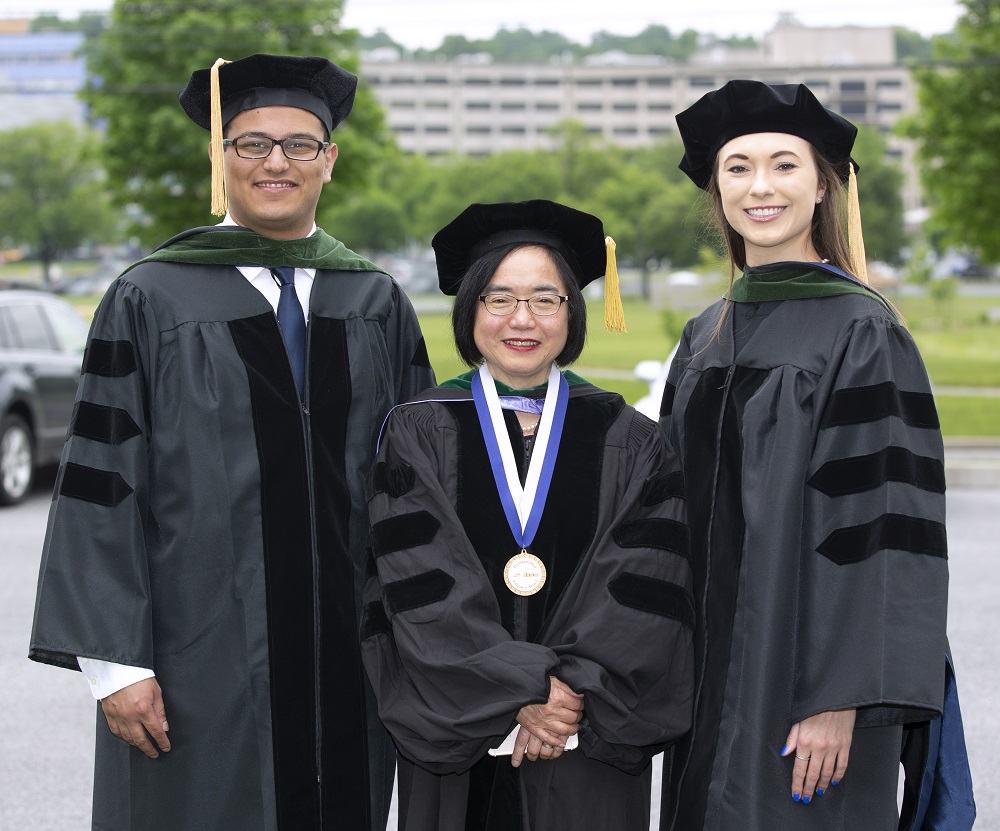 Penn State College of Medicine faculty helped medical student Sarah Stovar gather enough knowledge to become a family medicine provider in just three years.
But a local woman Stovar met at an internal medicine clinic taught her a lesson just as important as she embarks on her career — what it means to be a patient.
The two might never have met were it not for the Longitudinal Integrated Clerkship (LIC). The one-year program allows College of Medicine students to work with the same patients during the course of year. Stovar and the patient forged a relationship that carried them both through the daunting labyrinths of cancer treatment.
Stovar's clerkship was unlike more traditional training at Penn State College of Medicine, said Dr. Shou Ling Leong, assistant dean for pathways innovation, director of LIC and associate vice chair for education. Rather than rotating in and out of various disciplines, the program pairs students with the same doctor mentors and group of patients for a year.
"The LIC really promotes patient-centric care," Leong said. "The medical students get to know their patients very well, which helps them to be more empathetic physicians."
Stovar developed a rapport with the woman the first day they met. Stovar asked her new friend if she could follow her throughout her final year. The woman agreed.
One day, Stovar received a phone call. Her patient had gone to a Penn State Health clinic for a routine mammogram. Doctors discovered a tumor.
"She wanted me to be there as she received her treatment," Stovar said. The woman, who was divorced and lived alone, had few people to support her.
Stovar stayed with her throughout the day of her surgery and held her hand during her postoperative treatment.
Stovar also helped her patient understand what was happening. "It opened my eyes to the need for communicating clearly to patients," she said. "Making sure they understand exactly what I mean."
Dr. Peter Zaki, who will be a resident in radiation oncology at the University of Washington in Seattle, was one of the first College of Medicine LIC graduates, completing his clerkships at York Hospital.
Like Stovar, Zaki said the program helped him learn how to manage chronic disease and develop connections with patients.
It also helped him find a new career path. Zaki thought he wanted to be a surgeon but chose to follow patients in radiation oncology.
One of his patients was hospitalized for shortness of breath secondary to the recurrence of a tumor. "Despite not being able to offer a cure," Zaki said, "I found that being present at the patient's bedside provided him a meaningful amount of comfort.
"I believe that moments like these shaped my specialty interest as I begin my medical career," he added.
That guidance is a big part of LIC's value, Leong said. Connections developed between students and providers allow them to delve deeper into what they're learning.
Connections also could lead to more students returning to work at Penn State Health, Leong said. Stovar, for example, matched into the Penn State Health Family and Community Medicine Residency.
"Like coaches, physician teachers get to know the students over time," Leong said. "Knowing students allows them to customize the teaching and helps them to be the best doctors they can be."
If you're having trouble accessing this content, or would like it in another format, please email the Penn State College of Medicine web department.