Patients find this prescription for therapy is music to their ears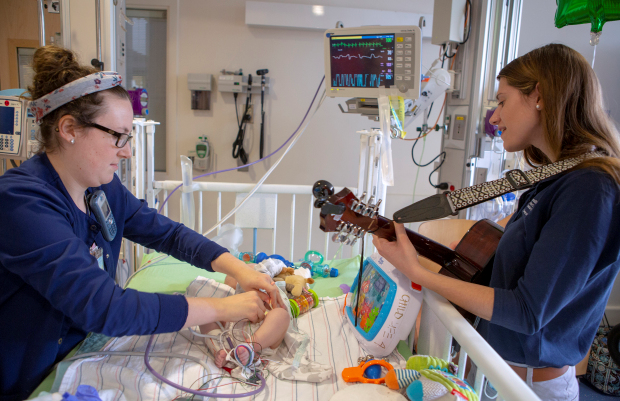 By Carolyn Kimmel
After 12 days in the hospital, Hershey resident Anita Heckert could tell her optimism was waning, so when her occupational therapist suggested music therapy, she was game.
"To have someone come and spend time with me that didn't involve needles, drawing blood or an MRI was very appealing," said Heckert who was in Penn State Health Milton S. Hershey Medical Center for complications due to colon cancer.
As Jan Stouffer, board-certified music therapist with the Music Therapy Program at the Milton S. Hershey Medical Center, quietly played guitar, she gave Heckert an ocean drum to play.
Hundreds of small ball bearings in the drum combined to sound like gentle waves at low tide coming across the sand—and transported Heckert back to a happy day years ago when she and her sister, each with their small sons, visited Assateague Island and frolicked on the beach with six wild ponies splashing nearby.
As Stouffer encouraged her to remember the strong and faithful mother she had been in that moment, she reminded her, "That person still exists—you are that person." The encounter served as a turning point in Heckert's emotional outlook.
"I knew I was profoundly sad before, and I knew I felt very, very different after music therapy," Heckert said. "I hadn't been feeling strong at all, but seemingly effortlessly, Jan gave that gift back to me. I can go back to that very pleasant feeling Jan brought to me, and I can now say that I will get through this."
By manipulating the elements of a song, music therapists help control a patient's pain and anxiety, ease adjustment to the hospital setting and promote rehabilitation, Stouffer said.
"Our bodies are rhythmic beings," she said. "Our heart beats and blood flow are rhythmic, and when we are exposed to music with rhythm, our bodies want to become synchronized with the rhythms in our environment."
Working under therapy services, the music therapists respond to physician consults, creating an individualized treatment plan to address physical, emotional, cognitive and social needs.
"I have worked with unresponsive patients on a ventilator, and they don't open their eyes and can't tell me if the music is helping, but it has been the case repeatedly that I play sedative music, and their respiratory rate calms even further," Stouffer said.
She is currently involved in a study led by Dr. April Armstrong, an orthopedic surgeon, to determine if music therapy interventions added to standard surgical care reduce pre- and postoperative pain and anxiety in patients undergoing total joint replacement of the shoulder, as compared with patients who receive standard of care without music therapy.
See more photos of the music therapy team at Hershey Medical Center on Flickr.
The study is still in early stages, but Armstrong said, "Informally, my patients have told me they appreciate the music therapy efforts and the experience."
Beyond helping with anxiety and pain, familiar music is so deep seated in the brain that it can trigger muscle memory, helping patients move and speak better, Stouffer said.
Stouffer won a Penn State Health Inspire award in October—given to employees who exemplify the values of respect, integrity, teamwork and excellence—for music therapy she gave to a dying patient. It meant so much to the family and their loved one, who had herself loved music.
"Mine is such an insignificant role compared to what the nurses do, but live music does really change the atmosphere in the room, bring down tension and increase the ability of everyone to function," Stouffer said.
At the other end of life's spectrum, board-certified music therapist Marissa Aulenbach works with children on pain control and relaxation, emotional coping and functional developmental skills. Song writing and singing also can be a great way to help children express their feelings, she said.
"I'm not a musician entertaining—I'm truly a part of the therapy team, working on individual goals for that child and family," said Aulenbach, whose position is funded by Children's Miracle Network. "We may work on upper extremity movement by reaching up high to grasp a maraca, or on cognitive skills by singing the animals and their sounds in 'Old McDonald Had a Farm.'''
With teenagers, she can manipulate favorite songs to become the therapy they need to relax, or they can create digital music together using an iPad.
She too can assist at end of life, recording a child's heartbeat as a keepsake or providing a meaningful family song for their journey.
"Music therapy is very valuable, and we're fortunate to have these resources, made possible in part by a generous community via Children's Miracle Network and Four Diamonds," said Gil Pak, operations director for the Department of Pediatrics at Penn State Health Children's Hospital. "Families benefit as well because it shows them a way to interact with their child over music, and they can take that skill home with them."
Aulenbach often coaches families, "It doesn't matter if you're musically inclined—your voice is the one your baby loves."
If you're having trouble accessing this content, or would like it in another format, please email the Penn State College of Medicine web department.