Penn State College of Medicine recognized as leader in professional identity formation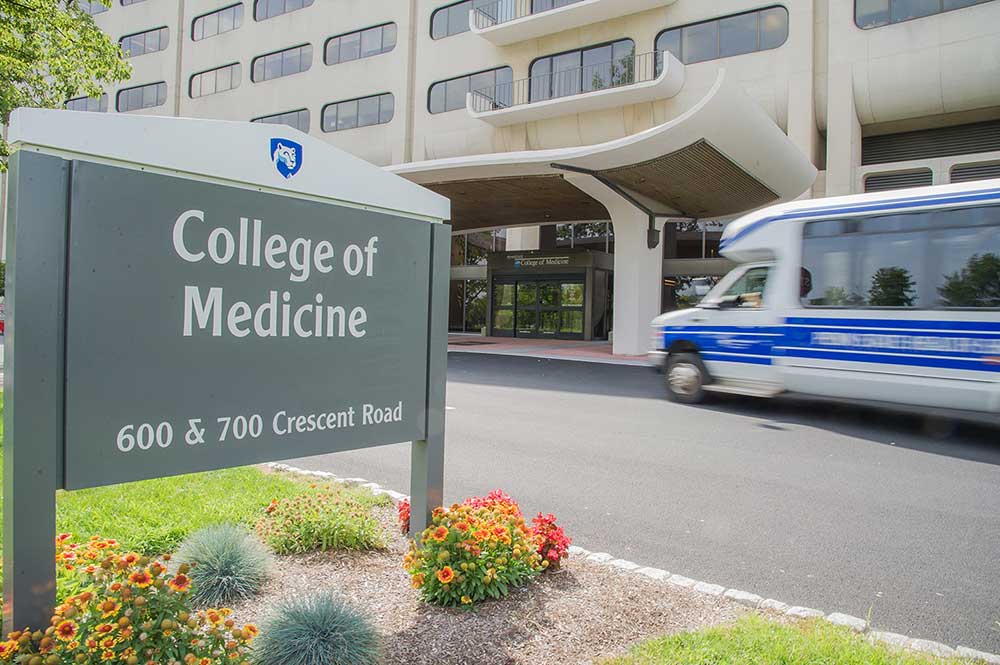 College is one of eight medical schools selected to join Millennium Conference
A prestigious health care conference selected Penn State College of Medicine to join its multidisciplinary discussions from May 2 to May 4 because of its commitment to combining humanities with systems-based practice.
The Millennium Conference 2023, co-sponsored by the Association for American Medical Colleges and the Carl J. Shapiro Institute for Education and Research at Beth Israel Deaconess Medical Center, invited Penn State College of Medicine to join seven other medical schools on the dais to discuss professional identity formation.
The College incorporates the topic across its curricula. At the University Park campus, for example, faculty have partnered with the Palmer Museum of Art to create a longitudinal museum-based arts and humanities curriculum that encourages students to look deeper, ask clarifying questions and reflect.
The College of Medicine focuses on the intersection of humanities and practice in forming practitioners' professional identities. That helps create future physicians who think, act and practice in ways that embody the skills and attitudes needed for 21st-century medicine. Health systems science is also a key goal in the College's strategic plan.
"The College of Medicine was competitive for this conference based on our groundbreaking work done in both understanding and guiding professional identity formation, as well as our history in building upon previous Millennium Conferences to produce substantive change in a variety of areas including curriculum reform, simulation, medical education research, critical thinking and value-based care," said Paul Haidet, MD, MPH, Distinguished Professor of medicine, humanities and public health sciences, who will be part of the College's conference delegation.
Representatives from the College of Medicine have attended the conference several times over the years, most recently in 2013, and have established a track record of leveraging momentum to create substantive change in education.
Attendees say previous conferences energized them. What they learned led to significant curriculum reforms and ultimately helped speed the establishment of the College's state-of-the-art simulation center. Past attendees also say the event led them to create the director of medical education research position and establish curricular threads in both critical thinking and value-based care.
In selecting the conference participants, the selection team said they were impressed by the College's commitment to professional identity formation, the representation of senior leadership and expertise, and the willingness to integrate insights from the conference into local initiatives.
"I feel honored to attend this prestigious event," said Rebecca Volpe, PhD, associate professor of humanities, who will be part of the College of Medicine's delegation. "I'm looking forward to the opportunity to explore the established concept of professionalism through newer lenses such as, for example, critical theory, which invites us to interrogate the ways that power, privilege and oppression play a role in the everyday lived experiences of physicians and patients."
Mark Stephens, MD, associate dean for medical education and professor of medicine and family and community medicine, Britta Thompson, PhD, associate dean for evaluation and assessment and professor of medicine, and Jasmine Geathers, MD/PhD candidate, will also join the College of Medicine delegation.
The request for applications netted nearly 30 medical school teams throughout the U.S. and Canada. Fellow accepted attendees alongside the College of Medicine include Harvard Medical School, Case Western Reserve University School of Medicine and NYU Grossman School of Medicine.
The Millennium Conference runs from Tuesday, May 2, through Thursday, May 4, at the Babson Conference Center in Wellesley, Mass.
If you're having trouble accessing this content, or would like it in another format, please email the Penn State College of Medicine web department.