Hershey Medical Center and Penn State College of Medicine earn U.S. Green Building Council award for power system reliability and sustainability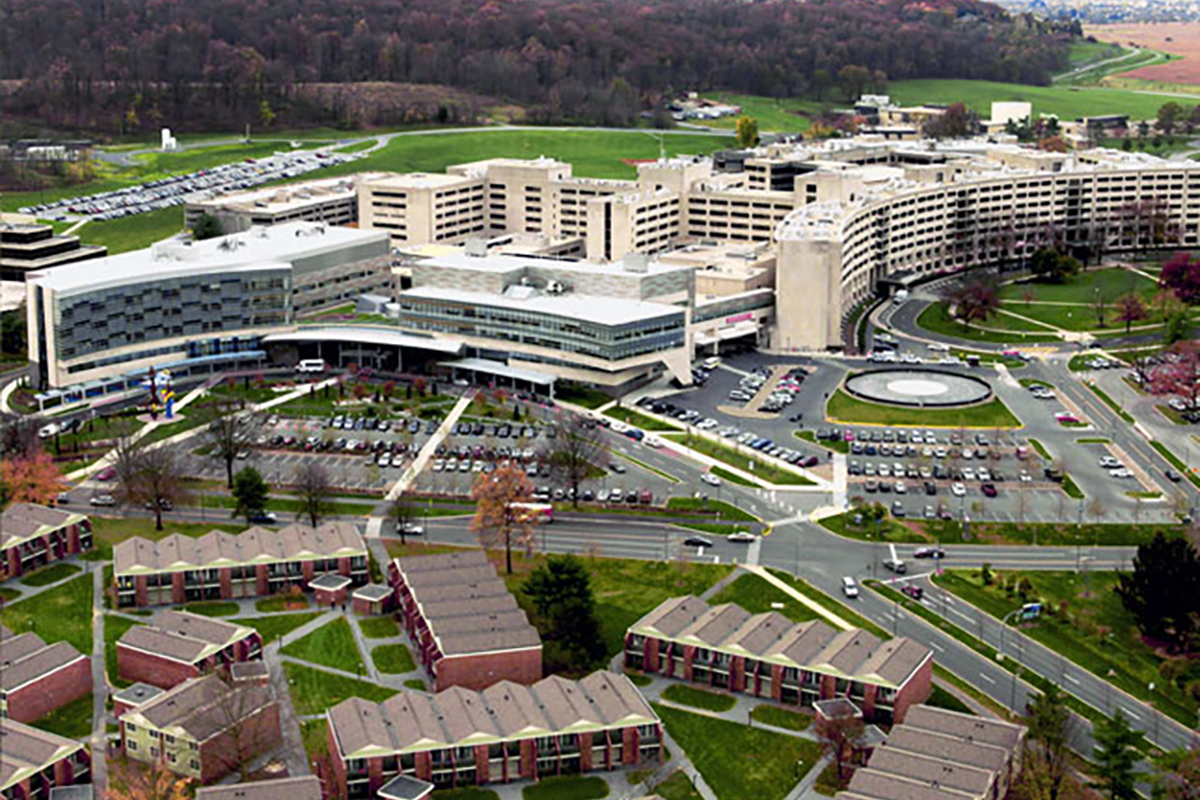 Penn State Health Milton S. Hershey Medical Center and Penn State College of Medicine were recognized for energy efficiency and weather resiliency by the U.S. Green Building Council on Oct. 26. The Honorable Katherine Hammack, director of special projects for the council, presented a plaque for Performance Excellence in Electricity Renewal (PEER) platinum certification during a ceremony on Oct. 26.
For more than 20 years, the Milton S. Hershey Medical Center and the College of Medicine have invested in an energy savings program and significant upgrades to the campus' energy-efficient infrastructure. "The program has resulted in a total savings of $20 million," said College of Medicine Interim Dean Dr. Kevin Black. "Our campus has also reduced its annual energy consumption by more than 20% and its carbon footprint by 35%."
"It is our responsibility to our patients and communities to continue providing reliable, lifesaving medical care in the event of a power outage," said Deborah Addo, executive vice president and chief operating officer for Penn State Health and interim president of Hershey Medical Center. "Hershey Medical Center is committed to having uninterrupted access to a fully functional power grid equipped with backup systems. In addition, thoughtful energy management can improve our region's overall health. It is, simply, the right thing to do."
Hershey Medical Center's microgrid generates significant savings and carbon reduction. In addition, its underground power lines ensure electrical service during floods and winter storms. As a result of the project, the campus' overall fuel use efficiency increased from 51% to 75%. The project has produced an annual cost savings of $3.8 million and reduced carbon dioxide emissions by 22 kilotons annually.
A U.S. Green Building Council award judge said the project featured "a comprehensive, step-by-step approach that will enable the medical center to continue learning about its energy use and production and continue making improvements."
Assistant vice president of facilities Marv Smith, facilities compliance manager Mark Heisey and campus energy engineer Kevin Kanoff were recognized for their work on the PEER certification application. Representatives from the Commonwealth of Pennsylvania Department of Environmental Protection (DEP) and the Pennsylvania DEP Energy Programs Office also attended the event.
If you're having trouble accessing this content, or would like it in another format, please email the Penn State College of Medicine web department.