Penn State Hershey dedicates new Children's Hospital building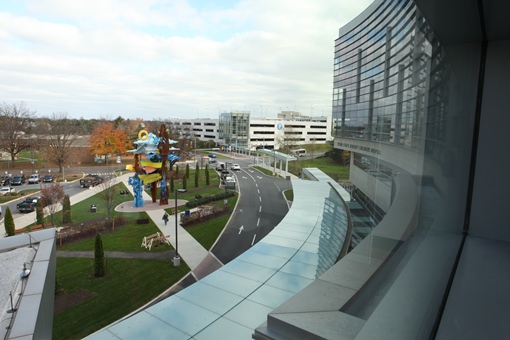 Penn State Milton S. Hershey Medical Center celebrated a new era of comprehensive patient- and family-centered care with the dedication today of the new, freestanding Penn State Hershey Children's Hospital.
In an event highlighted by the moving remarks of Kevin and Lauren Brobson, grateful parents of Claire Brobson, and the cutting of a colorful "paperdoll" ribbon, Children's Hospital leadership welcomed legislative dignitaries, donors, and patient families to a facility that will complement the high-quality of care already provided by Penn State Hershey pediatric specialists.
"The new Penn State Hershey Children's Hospital building has become a reality through the support of generous donors, government and community partners and the tireless dedication of our caring physicians and staff," said Harold L. Paz, MD, chief executive officer for Penn State Milton S. Hershey Medical Center and Health System, Penn State's senior vice president for health affairs and dean of Penn State College of Medicine. "When we open this new building to patients in January, it means children and families in central Pennsylvania will have a world class pediatric facility to match the comprehensive and compassionate care they have come to expect from us."
     >> "Fun Facts" about the new Penn State Hershey Children's Hospital building
Work began on the new freestanding Children's Hospital building in November 2009. The new Children's Hospital is six floors – a ground floor and five above ground – and 263,000 square feet of space designed to promote a model of care that is focused on the unique needs of sick children and their families. It also includes areas focused on wellness and prevention.
"The new home of our Children's Hospital is a building that embodies and fulfills our commitment to providing care that is centered on the needs of the patient and his or her family," said A. Craig Hillemeier, medical director of Penn State Hershey Children's Hospital and vice dean of clinical affairs. "We sought significant input from patients, families, and staff during the design to ensure that the building would most effectively serve those who need and use it."
The IFC/Panhellenic Dance Marathon Pediatric Cancer Pavilion, made possible with a $10 million commitment from the IFC/Panhellenic Dance Marathon (THON), will offer private space for kids undergoing inpatient or outpatient cancer treatment, and clinicians expanded capabilities to offer clinical trials and experimental treatment options.
"It was a blessing to have access to doctors and nurses with the medical knowledge and technology to fight pediatric cancer," said Lauren Brobson. "It was comforting that the care and treatment offered here in our own community extended beyond Claire's medical needs and reached our entire family."
The new building houses five dedicated pediatric operating rooms, a cardiac catheterization lab, two procedure rooms and a pediatric radiology space. The state-of-the-art pediatric intensive care unit is supported by a $5 million gift from the Donald B. and Dorothy L. Stabler Foundation. All patient rooms are private and designed to comfortably accommodate the whole family as well as allow staff to monitor patients while maintaining a family's privacy and quiet time together.
Other amenities designed to encourage healing and to let kids be kids, even while at the hospital, include a performing arts area, a meditation space, interactive play areas, a learning wall and healing gardens, including a "green" roof on the third floor. The building incorporates natural light in most spaces and architectural details and finishes that evoke the natural world, such as the "waterfall" window on the east end of the building, and large wall images of plant and animal life that adorn many public areas. A safety store and a family resource center provide all parents in the community with the tools and information they need to help keep kids safe and healthy.
The $207 million Children's Hospital building is part of a $239 million project that also included an expansion to the Centerview Parking Garage and a new Support Services Building.
Philanthropic gifts of more than $75 million—including a $25 million commitment from Highmark and an $8 million gift from local philanthropists Jeanne and Ed Arnold—helped make the new building a reality.
If you're having trouble accessing this content, or would like it in another format, please email Penn State Health Marketing & Communications.