New traffic pattern near Medical Center's Emergency Department begins Dec. 4
A new traffic pattern on the Penn State Health Milton S. Hershey Medical Center campus from University Drive to the Emergency Department (ED) will begin on Monday, Dec. 4 to accommodate the ED expansion project. Motorists are asked to follow the signs and use caution when driving in the area.
One section of the M2 parking lot adjacent to the ED and Penn State Cancer Institute will be closed until construction is complete in spring 2019. Cancer Institute patients have been informed that free valet parking is available to individuals receiving treatments and those who have a handicap placard.
The $29.2 million expansion and renovation project will add approximately 24,000 square feet of patient care and support space by spring 2019. The addition is being built to the north and east of the existing ED footprint, changing the entrance and patient registration area and repurposing about half of the space now occupied by the Cancer Institute's Healing Garden. Construction barriers are now in place along the ED hallway parallel to the Healing Garden.  The ED will remain in operation throughout the project.
(Click on the image below to view a larger version of the map.)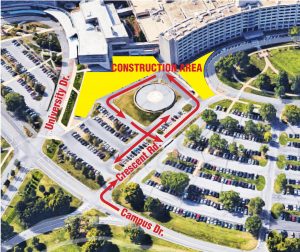 If you're having trouble accessing this content, or would like it in another format, please email Penn State Health Marketing & Communications.