Hazelton honored for Exceptional Moments in Teaching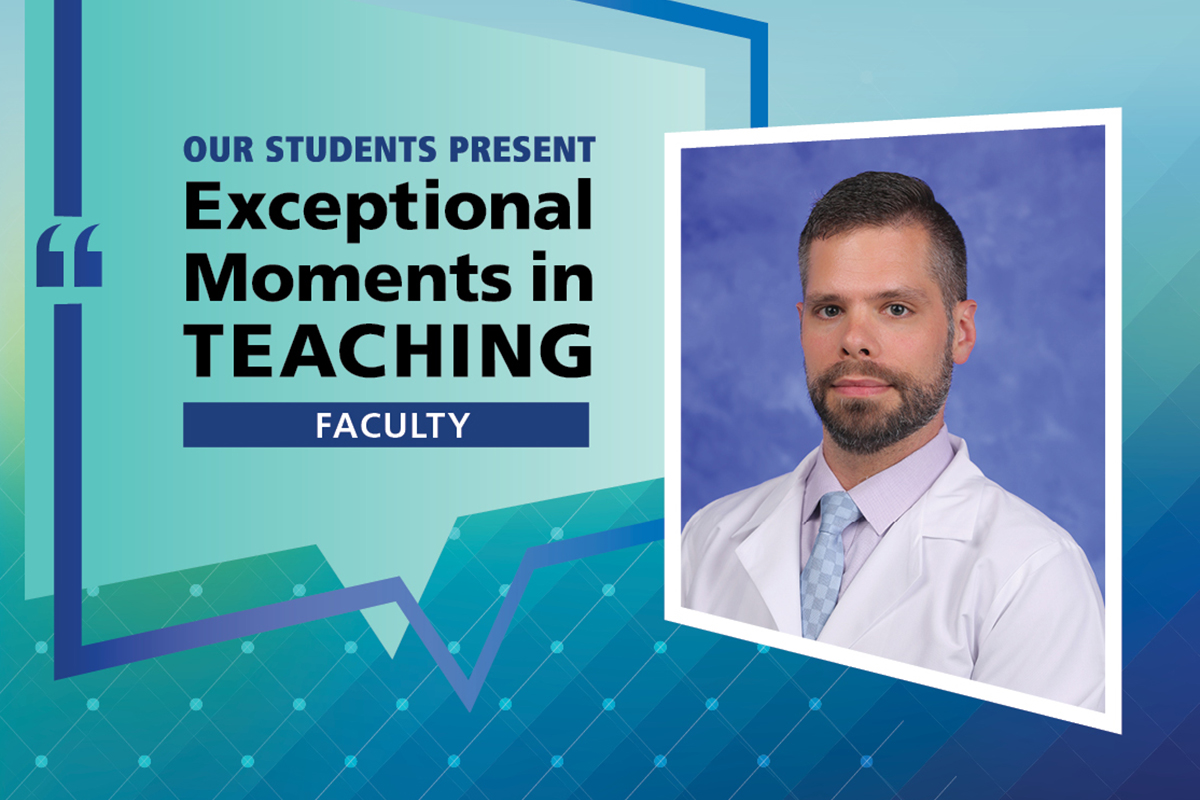 Dr. Joshua Hazelton, a physician in the Department of Surgery, Division of Trauma, Acute Care and Critical Care Surgery, is featured for August in the "Exceptional Moments in Teaching" program.
"Dr. Hazelton saves lives while sharing his knowledge and expertise to allow for the future of trauma surgery," a current student wrote. "He includes medical students in real-life patient care, creating opportunities for hands-on learning.
"As a medical student, the best instruction we can receive is on how to focus our learning to be relevant to our patients' care. Good teachers give you clear, direct and timely feedback that can be applied to the current situation at hand. Exceptional teachers also do this, but their impact lasts for continuous future improvement. Dr. Hazelton is an exceptional teacher."
Hazelton completed his medical degree and residency in general surgery at Philadelphia College of Osteopathic Medicine, followed by a fellowship in trauma and surgical critical care at Cooper University Hospital in Camden, N.J., where he remained as faculty for five years before joining the Hershey Medical Center faculty. Hazelton has coauthored over 50 peer-reviewed manuscripts. His current research interests involve studying the effects of whole blood transfusions in the resuscitation of trauma patients, as well as examining health disparities in minorities' access to trauma care.
His teaching philosophy centers around early involvement and empowerment of medical students as part of the surgical team and focusing on supervised autonomy for surgical residents in the operating room. In his free time, he enjoys hiking and playing sports with his son and reading about early American history.
Penn State College of Medicine's Office for a Respectful Learning Environment recognizes exceptional faculty, residents and fellows with the monthly "Exceptional Moments in Teaching" program. One faculty member and one resident/fellow are highlighted each month for their contributions. College of Medicine students are invited to submit narratives about faculty members, residents, nurses or any other educators who challenge them and provide an exceptional learning experience using the online nomination form.
The Office for a Respectful Learning Environment fosters an educational community at Penn State College of Medicine in which all learners and educators feel supported, challenged, valued and respected. It serves all learners at the College of Medicine: medical students, graduate students, physician assistant students, residents and fellows.
See previous faculty and resident/fellow honorees here.
If you're having trouble accessing this content, or would like it in another format, please email Penn State Health Marketing & Communications.