Penn State Health dedicates first official headquarters at 100 Crystal A Drive
Penn State Health today marked the dedication of 100 Crystal A Drive as the first official headquarters of the organization, with a special unveiling of a Nittany Lion statue.
Joined by employees from Penn State Health corporate services, CEO Steve Massini unveiled the temporary Nittany Lion, which will be replaced in spring 2020 by a permanent Lion statue outside the building's main entrance.
In 2018 as Penn State Health identified a need for space off the Milton S. Hershey Medical Center campus to house its corporate service employees, the Crystal A property became available, when The Hershey Company began consolidating its corporate footprint to 19 East Chocolate Ave., in downtown Hershey. Moving these staff to the Crystal A property provides additional space to expand clinical and clinical support services on the Hershey Medical Center campus.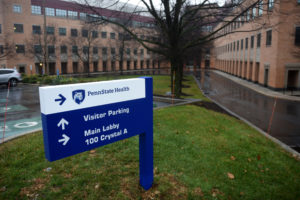 Penn State Health officially took ownership of 100 Crystal A, two other buildings and about 51 acres at Crystal A Drive on Dec. 2.
"This is a significant milestone in the evolution of Penn State Health," Massini said. "This historic building, which means so much to this community, is no longer rented space. It's truly our home. It's the place where we're going to work together to help build the future of health care in the region. That's a very good thing not only for us, but for those we serve who live in, work in or visit our community."
The six-story, 210,000-square-foot building is home to 520 Penn State Health employees, including staff in human resources, finance, supply chain, marketing and communication, community relations, information services and executive functions.
If you're having trouble accessing this content, or would like it in another format, please email Penn State Health Marketing & Communications.