Dodge recognized for Exceptional Moments in Teaching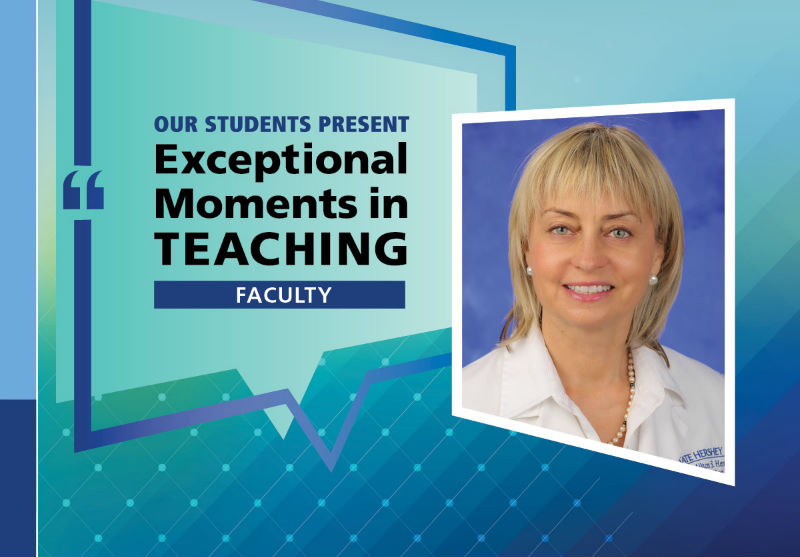 Dr. Daleela Dodge, associate professor of surgery and humanities, is featured for March in the "Exceptional Moments in Teaching" program.
"Dr. Dodge is in her element as a breast surgeon and professor at a major academic center," wrote one current student. "She made a point to teach in the OR and the clinic. She also responded back to my notes and offered useful critiques. She was very helpful in going through her clinical thinking for cases and asked questions in a non-pressured but often insightful manner.
"She wanted to make sure that every member of the team knew her surgical plan," the student added. "Her stories on the history of breast cancer treatment were also very insightful. She is someone I aspire to be and a very good role model for everyone at Penn State."
Dodge has practiced surgery in central Pennsylvania for more than three decades — first at Penn State Health Milton S. Hershey Medical Center, then in Lancaster and now at Hershey again.
Dodge serves as the associate program director of the General Surgery Residency. As part of the Humanities curriculum, she offers a fourth-year elective, which helps students hone their observational skills through the analysis of works of art. The work explores a broad range of stigmatized populations to help students improve their cultural competence.
Penn State College of Medicine's Office for a Respectful Learning Environment recognizes exceptional faculty, residents and fellows with the monthly "Exceptional Moments in Teaching" program. Each month, one faculty member and one resident/fellow are highlighted for their contributions. College of Medicine students are invited to submit narratives about faculty members, residents, nurses or any other educators who challenge them and provide an exceptional learning experience using the online nomination form.
The Office for a Respectful Learning Environment fosters an educational community at Penn State College of Medicine in which all learners and educators feel supported, challenged, valued and respected. It serves all learners at the College of Medicine: medical students, graduate students, physician assistant students, residents and fellows.
See previous faculty and resident/fellow honorees here.
If you're having trouble accessing this content, or would like it in another format, please email Penn State Health Marketing & Communications.