ValueHealth and Penn State Health announce strategic joint venture to develop high-performance surgical network
ValueHealth, LLC, a nationally recognized tech-enabled surgical platform company, and central Pennsylvania-based Penn State Health today announced a new joint venture to develop a high-performance surgical network. The strategic partnership strives to bring the highest quality outpatient surgical capabilities to the region while significantly lowering costs for patients and employers.
One of the leading university health systems in the country, Penn State Health has partnered with ValueHealth to respond to the continuing shift in the delivery of surgical care from fee-for-service to value-based.
"Penn State Health's strategic vision is to deliver accessible, high-quality, high-value care to the communities we serve," said Tom Stoessel, executive vice president and chief strategy officer for Penn State Health. "Based on what ValueHealth has been able to accomplish with other leading Health Systems across the country, we believe they are the right partner to help us deliver our vision for ambulatory surgical care to patients in our region."
The joint venture will develop a high-quality, value-based surgical network in communities across south central Pennsylvania with ambulatory surgery centers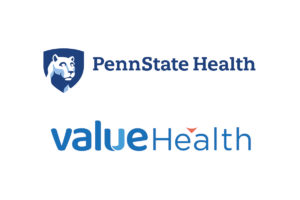 that will initially focus on orthopedics, but may expand to other surgical specialties over time. These Ambulatory Centers of Excellence will utilize ValueHealth's hyper-specialty MUVE program which includes recovery StaySuites that use a proven recovery model to reduce risk for patient readmission and post-operative complications.
ValueHealth's nationally recognized Ambulatory Centers of Excellence (ACE) program has been recognized as one of the top six Healthcare Innovations in specialty surgical care and will not only exceed national accrediting standards, but it will also meet ValueHealth's stricter clinical, quality, patient experience and financial measures.
ValueHealth and Penn State Health's joint ambulatory surgery center network will incorporate ValueHealth's payor-led, tech-enabled, data-driven digital surgical platform, currently integrated into over 30 health systems and including patient steerage, payor bundles, and warranty contracts.
"Forward-thinking health system leadership teams like Penn State Health's are leading the way in responding to the shift to value-based care as well as creating the flex capacity to deliver new levels of safe care," said ValueHealth President Don Bisbee. "Our partnership will begin a new era of innovative care, patient experience and cost reduction for central Pennsylvania by leveraging each organization's capabilities."
If you're having trouble accessing this content, or would like it in another format, please email Penn State Health Marketing & Communications.