Dermatology resident Bazewicz honored for exceptional teaching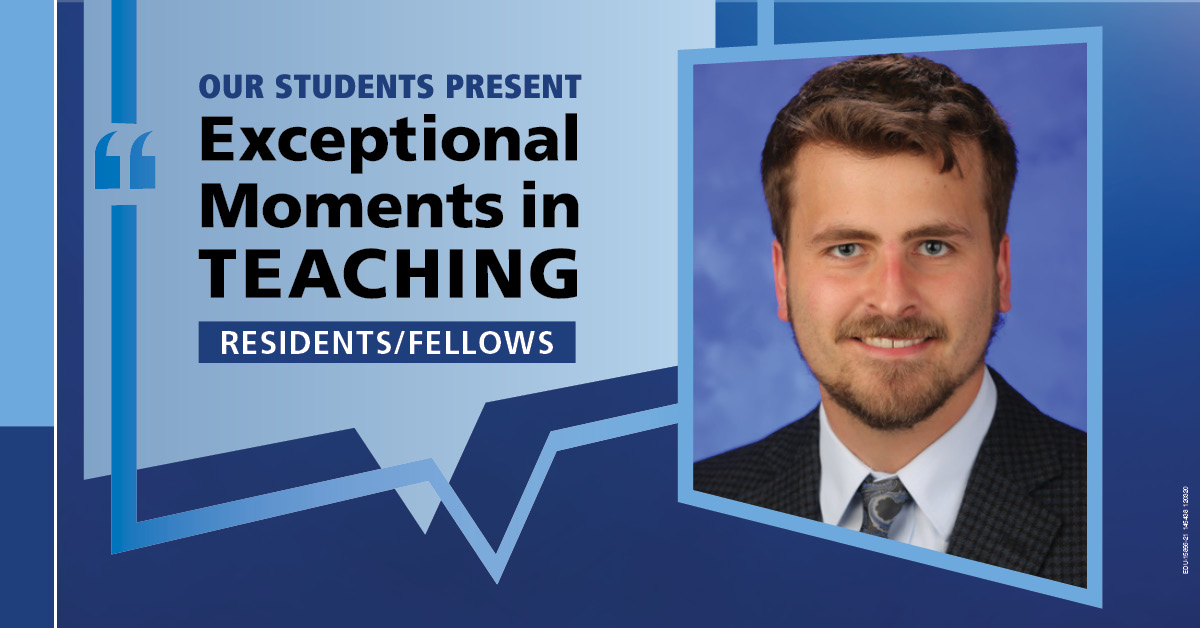 Dr. Christopher Bazewicz, a dermatology resident at Penn State Health Milton S. Hershey Medical Center, was honored in December 2020 as part of the Exceptional Moments in Teaching program of Penn State Health and Penn State College of Medicine.
"Dr. Bazewicz is a kind and compassionate physician educator," a current student wrote. "He was engaged, excited to teach and enthusiastic about making a real difference in his patients' lives. He always took time out of his busy day to teach important topics. He explained his approach to differential diagnoses based on presenting chief complaints and created a safe and supportive environment for me to ask questions. He also encouraged me to research conditions based on my interests. Dr. Bazewicz is one of the best preceptors I've had the pleasure of working with on any rotation."
Bazewicz was born and raised in Hershey. He graduated from Franklin and Marshall College in Lancaster before attending the College of Medicine. He plans to practice in central Pennsylvania and would like to continue his research with Dr. Gavin Robertson on targeted therapies for various skin cancers.
Penn State College of Medicine's Office for a Respectful Learning Environment recognizes exceptional faculty, residents and fellows with the monthly "Exceptional Moments in Teaching" program. Each month, one faculty member and one resident/fellow are highlighted for their contributions. College of Medicine students are invited to submit narratives about faculty members, residents, nurses or any other educators who challenge them and provide an exceptional learning experience using the online nomination form.
The Office for a Respectful Learning Environment fosters an educational community at Penn State College of Medicine in which all learners and educators feel supported, challenged, valued and respected. It serves all learners at the College of Medicine: medical students, graduate students, physician assistant students, residents and fellows.
See previous faculty and resident/fellow honorees here.
If you're having trouble accessing this content, or would like it in another format, please email Penn State Health Marketing & Communications.