Penn State Health employees line up for COVID vaccine
All three Penn State Health hospitals are now well underway administering the COVID-19 vaccines to employees. Frontline providers were first in line at all three facilities.
"It feels fantastic. It feels like I sort of won the lottery," said Mimi Beck, a critical care nurse who was among the first to get vaccinated at St. Joseph Medical Center. "I hope everyone feels as excited as I do, because I think we need a lot of people on board."
Click the photo below to view a photo gallery.
"Being the first one is quite the honor," said Dr. Donovan McQuaite, a resident in the Department of Anesthesia and Perioperative Medicine who received the initial dose at the Milton S. Hershey Medical Center. "It is a light in the tunnel, but the tunnel might be a little bit longer than people expect."
"A lot of hope out there with this vaccine, and right now I'm very excited that I was able to get it," said Dr. Ena Saini, an infectious diseases physician at Holy Spirit Medical Center. "I'm looking forward to being able to help my family members and my patients without the fear of getting the infection."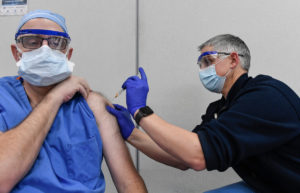 Penn State Health is distributing the vaccine according to the three-phase plan established by the Pennsylvania Department of Health, which is based on guidance from the Centers for Disease Control and Prevention. The initial phase of that plan focuses on health care workers and residents of long-term care facilities.
If you're having trouble accessing this content, or would like it in another format, please email Penn State Health Marketing & Communications.