Spirit of Children gives record $98,061 to benefit Child Life Program
Spirit of Children made its largest contribution to Penn State Health Children's Hospital ever Feb. 17 with the virtual presentation of a check for $98,061 to the hospital's Child Life Program.
Spirit of Children, a charitable program of Spirit Halloween, the nation's largest Halloween costume and party goods supplier, raised the money through its central Pennsylvania Spirit Halloween stores. The organization raised additional funds online at SpiritHalloween.com and from business partners.
All contributions collected in central Pennsylvania stores stay local to benefit kids and families in the region. To date, the Spirit of Children program has raised $659,093 for the Children's Hospital.
"We are truly grateful for Spirit of Children's extraordinary generosity again this year," said Ashley Kane, manager of the Child Life Program. "They made Halloween special for our patients and families by sending costumes and goody bags for our team to distribute, and their financial support will help ensure we can provide the best care throughout the year."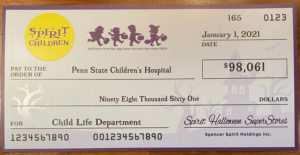 In October 2020, Spirit of Children sent care packages to all of its 147 partner hospitals in lieu of the in-person celebrations they have previously hosted. The Children's Hospital patients enjoyed reverse trick-or-treating and other contactless activities with these gifts.
Spirit of Children's financial support for the Child Life Program helps patients, parents, caregivers and siblings feel more at ease about surgeries, clinic appointments and hospital stays. It enables the Child Life team to ensure kids are meeting developmental and educational milestones while undergoing treatment by providing for distraction and relaxation tools, medical play, special events, pet therapy, playrooms and more.
Previous support from Spirit of Children enabled Child Life to welcome Kaia, the first member of the Kelso Facility Dog Program at Penn State Health Children's Hospital, and it has helped fund a full-time Child Life fellowship for a staff member focused on pediatric radiology and weekend inpatient support.
If you're having trouble accessing this content, or would like it in another format, please email Penn State Health Marketing & Communications.