'Jacintha's wall' pops up overnight to everyone's delight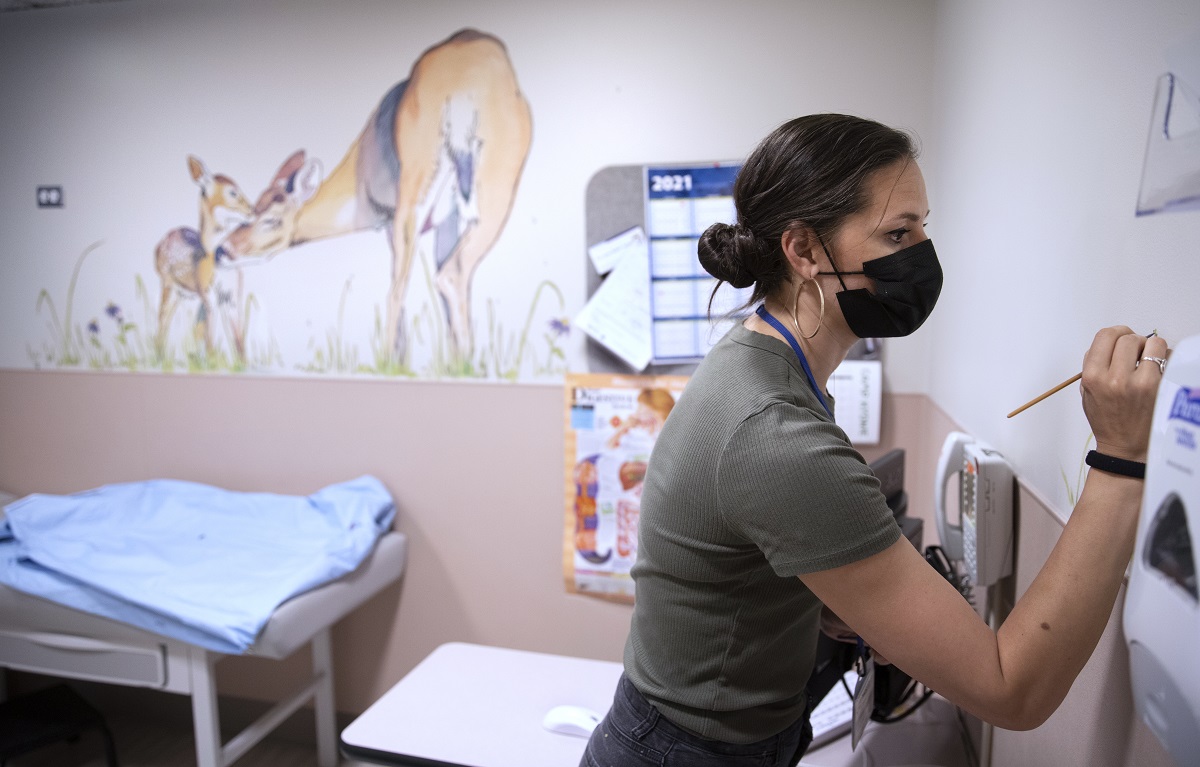 During the past year, staff and visitors to Penn State Health Pediatric Specialties in the University Physician Center might have felt like they suddenly fell into the pages of E.B. White's literary classic, "Charlotte's Web."
Because just like the astounded members of Fern Arable's family who gazed upon words spun into a spider web overnight, staff and patients were wowed by new artwork that greeted them on waiting room and exam room walls.
"The next morning when they came in, there was a new, beautiful mural," said Kerry Royer, arts manager, Center Stage Arts in Health. "It has been wondrous." Or as Charlotte would spin it, "terrific" or "radiant."
The mysterious artist this time is Jacintha Clark, who hails from Philadelphia but is no stranger to Penn State Health Milton S. Hershey Medical Center, where she has painted murals before.
"I am passionate about painting in medical centers because it allows me to be a part of healing through art," Clark said. "Healing is something we all need right now."
Clark is also passionate about interacting with those for whom she paints. To that end, she left sticky notes on the walls or wrote with chalk, asking for feedback from staff, which she incorporated into the murals.
In fact, before she ever picked up her brush, she surveyed staff to see what images and themes they thought their patients would most enjoy.
"I wrote everything down that was suggested and then found common threads to narrow it down to three choices. I spent a great deal of time making watercolors and digital paintings in three themed portfolios from the survey," she said.
The final vote from staff was Pennsylvania wildlife, and Clark wholeheartedly approved. "A mural with images of nature can influence a patient's outcome and promote engagement with various treatments," she said.
She quoted "British Medical Journal" author R. Cork on the ability of art "to provide solace, exhilaration and satisfaction… Above all it can humanize a building, infusing an often soulless and impersonal environment with affirmation."
She couldn't have said it better, she said.
After hearing a suggestion for a black and white mural that would complement the new colorful renovations at the unit, Clark said she took the opportunity to be playful and made the mural look like a giant panoramic sketch.
"By painting my mural to look like a charcoal or pencil sketch of Pennsylvania wildlife, I hoped to engage people and provide a narrative to the space," she said. "I connected many animals with little bees dancing around the waiting room since they are vital pollinators and connect us all. I also hid snails and ladybugs among the animals for children to seek-and-find and do storytelling with the artwork as a positive distraction."
Her efforts hit the mark, according to Joanna Myers, practice site manager, Pediatric Specialties.
"While walking through the hall, I have overheard patients saying, 'I want the room with the deer,' and another little girl asked if she could view other rooms to see the other animals," she said. "This project has made a major impact. It helps distract the kids when they are here for their allergy shots or other procedures that are not so fun for children."
To further engage children while they wait to see the doctor, Clark digitized her mural and made coloring sheets.
The staff has embraced the spirit of the murals, adorning the mural critters with seasonal accessories such as Santa hats or Leprechaun hats… anything to put a smile on a timid or sad child's face.
"The arts fill a gap like none other can to uplift, cheer and relax in a non-therapeutic setting," agreed Claire de Boer, the founding director of Center Stage Arts in Health, which provides arts programming to nourish well-being throughout the Milton S. Hershey Medical Center and Penn State College of Medicine community. "The arts can positively address emotions and our well-being, which is important because emotional health and physical health are tied together holistically."
Clark said the murals were a true joy to paint. "I believe these images of wildlife have the power to improve health and well-being and hopefully evoke hope for patients, visitors and staff," she said.
If you're having trouble accessing this content, or would like it in another format, please email Penn State Health Marketing & Communications.