First-, second-year Penn State College of Medicine students honored at White Coat Ceremony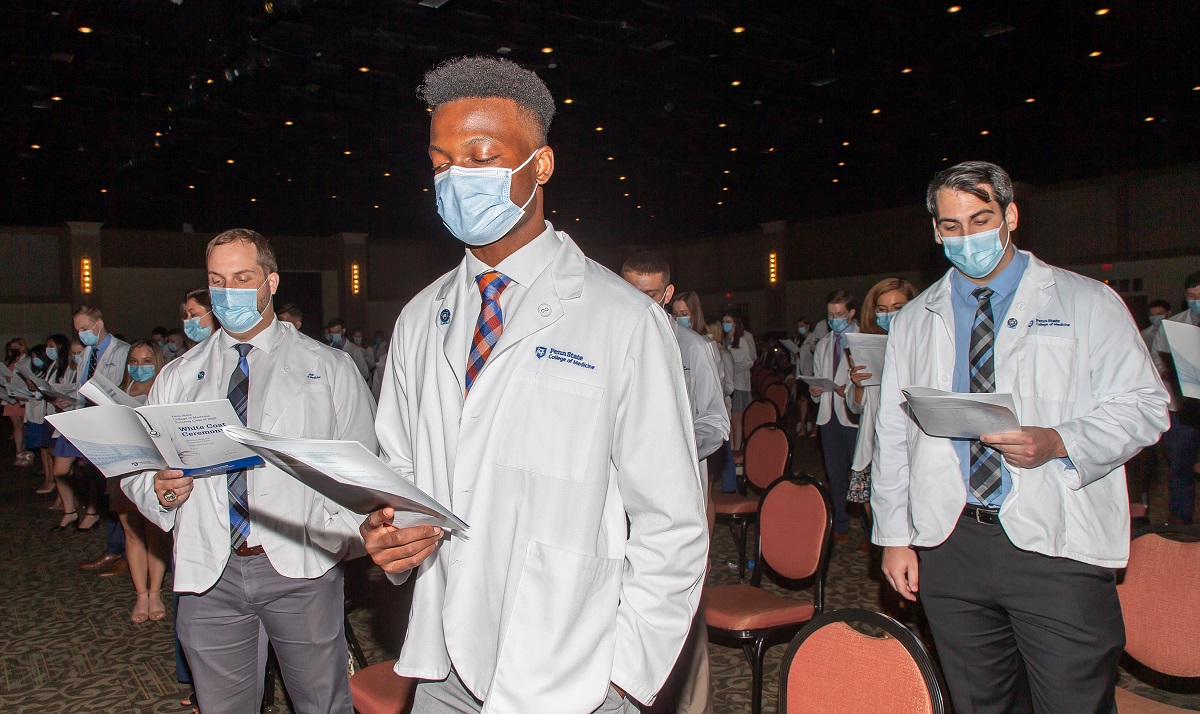 When Amy Zheng started medical school last year at Penn State College of Medicine, COVID-19 cheated her of a White Coat Ceremony.
She and her peers in the entering Class of 2020 missed out on the traditional rite of passage when first-year medical school students don their first white medical coats in an event shared by their loved ones. The ceremony traditionally happens at the start of students' journey to become a physician. But Zheng, who is from Nutley, N.J., and her 133 fellow students had the chance to celebrate in a belated ceremony on July 31 at the Hershey Lodge and Convention Center.
"I wanted this because it represents a new chapter in our medical journey. The ceremony is a reminder that what we are doing is part of a bigger purpose," she said. "It represents all the hard work and support we have received from family, friends and mentors, as well as the dedication and passion we hope to give to patients and our community in return."
The college also hosted a second ceremony that day for the 151 students in the entering Class of 2021. Students pursuing their Doctorate of Medicine (MD) and Doctorate of Medicine/Doctorate of Philosophy (MD/PhD) degrees participated.
Dr. Kevin Black, interim dean of Penn State College of Medicine, said he was happy students entering their second year of medical school could experience the ceremony. He added that they had a unique first year.
"You've experienced what it means to completely shift gears amid unforeseen circumstances and work together to find solutions," he said, referring to their studies during COVID-19. "And with that, you've also witnessed – and even helped to propel – the innovation, progress and rewards that come as a result of adaptability."
Incoming first-year students also were excited to be part of the ceremony, although for some it was a bittersweet day. Nkemjka Nwaneri of Ann Arbor, Mich., was joined by his three sisters and uncle. His mother passed away right before he graduated from the University of Michigan in 2014.
He had looked forward to the ceremony but said the reality of medical school has already sunk in because classes have started.
"I like that the White Coat Ceremony symbolizes how far we have come to get to this point," he said.
Dr. Terry Wolpaw, vice dean for educational affairs, agreed the white coats are an important symbol for students.
"I hope that each time you put on your white coat, you will remember the humility and awe of wearing it for the first time," she said. "And that by wearing this coat you are someone who will take care of the whole person, not just the disease or ailment they have."
If you're having trouble accessing this content, or would like it in another format, please email Penn State Health Marketing & Communications.