Students on pathway to graduate medical school in three years celebrate at signing ceremony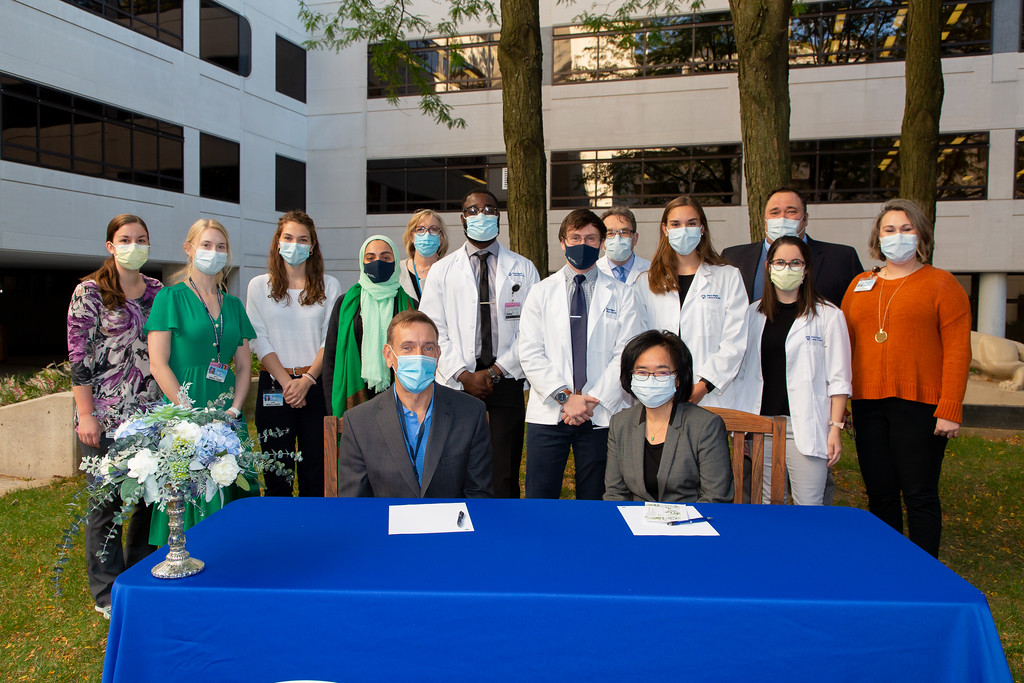 During his time in Zambia, Morris Taylor had an eye opening experience that helped lead him on a path to become a family medicine physician.
The biomedical engineering graduate planned to devote his career to making medical devices, but then during college work in Zambia, he saw how important the mission hospital was to the entire region. That, along with volunteering at an orphanage in Ghana, and an experience shadowing a family physician, changed his idea of medicine.
Taylor, who was born and grew up Ghana, is now in his second year of the Penn State College of Medicine MD Accelerated Pathways program. Instead of spending four years in medical school, he will finish the program in three years and go on to do his residency at the College of Medicine. While he has classes with his peers, he also spends part of his day at Penn State Health Medical Group―Middletown.
He and three other family medicine students and four other accelerated program students attended a signing ceremony on Sept. 29, where they formalized their commitment to the College of Medicine MD Pathways.
"The signing ceremony is monumental," Taylor said. "I am excited to be in the program and able to get my head out of the books each day and spend time in a clinic working with patients."
Dr. Shou Ling Leong, assistant dean for the College of Medicine's Pathways Innovation and a professor of family and community medicine, said the Pathways program is for students like Taylor who arrive at medical school already sure of their medical career path. She said these students usually have had rich life experiences before starting medical school that help shape their decision on a specialty.
For Makayla Lagerman, a family medicine Pathways student from Berks County, the program was appealing because she already knows she wants to work with incarcerated or homeless populations or in low-income areas. Lagerman spent time volunteering in an underserved community after graduating from college, and that experience cemented her goal.
She said the signing ceremony was meaningful and helped to remind her of the commitment she is making. Along with her classwork, she spends part of her day at Penn State Health Medical Group―Fishburn Road Specialties.
"Medical school has been hard, especially because of COVID," she said. "but the ceremony gave us a chance to celebrate."
Lagerman and Taylor will be in a graduating class of eight Pathways students in 2023. Along with the four family medicine students, there are two in emergency medicine and one each in orthopedics and internal medicine. Nine students also will graduate from the program in 2022. In all, the College of Medicine has created 12 Pathway programs, including three for PhD/Medicine students, Leong said.
"This kind of innovation speaks volumes about the College of Medicine," Leong said. "Leaders here are always thinking of ways to improve the medical school education."
Taylor said an important factor for him also is that the Pathway program allows him to cut down on the cost of medical school. He explained that without it, paying for medical school would have been more challenging.
Lagerman said she is happy the program allows her to do her residency at the College of Medicine and provides her with a way to get to know the faculty and staff well beforehand. She also likes being in a teaching role for other students who have not had clinical experience yet.
Leong said the program, which started in 2014, continues to grow.
"We want to meet the needs of our community, our state and our nation," she said. "This program says a lot about who we are as a medical school."
If you're having trouble accessing this content, or would like it in another format, please email Penn State Health Marketing & Communications.
Subscribe to our email newsletter