Orthopaedic Acute Injury Clinic's same-day service kicks teen's soccer season into gear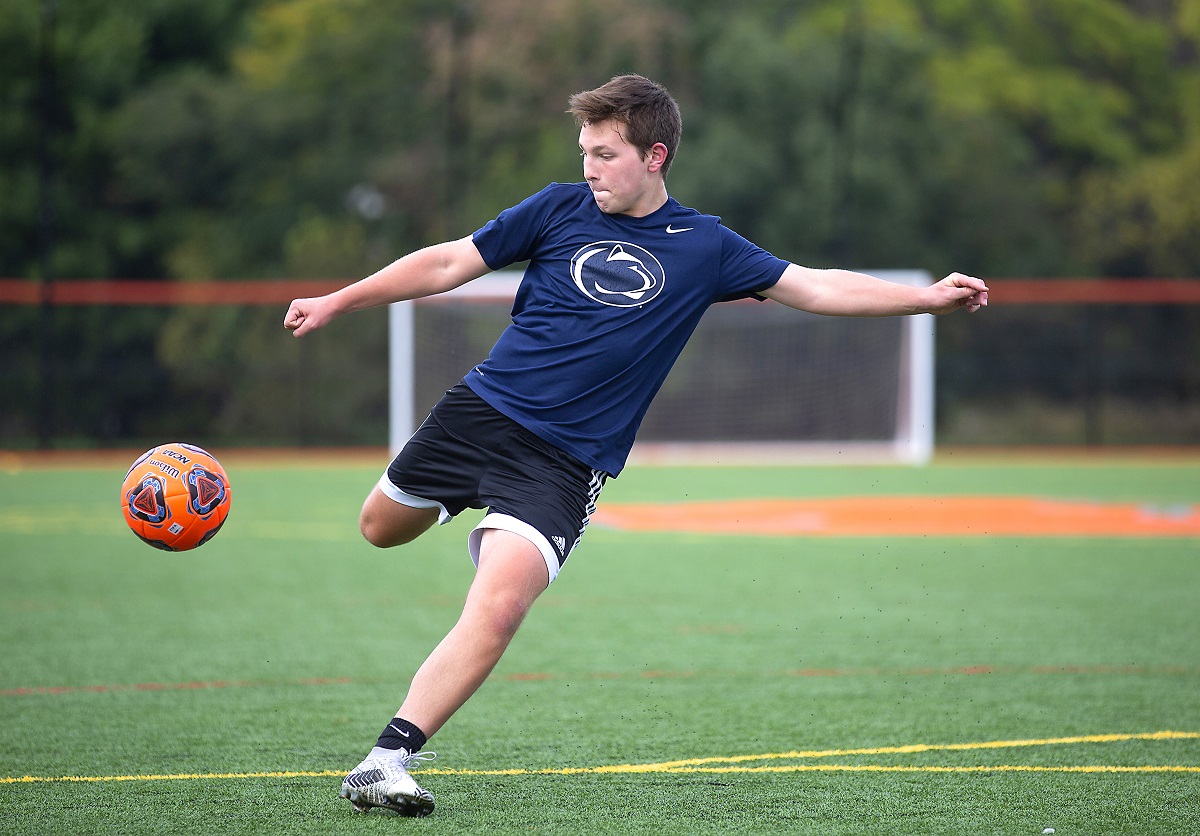 After a groin injury from overuse put Brayden Sunho's fall soccer season into question, the high school junior got an unexpected assist from Penn State Bone and Joint Institute's Orthopaedic Acute Injury Clinic.
"They got me in the same day we called," said Brayden, who spent the summer nursing an adductor strain diagnosed in June. "I was relieved."
Although he had resisted the urge to train over the summer for fall play on his high school soccer team and a club team, Brayden was ready to get his head back in the game. Unfortunately, his body was preventing him from training regularly.
That's when his dad, Do Sunho – also his coach – started looking at the dates on the calendar and realized his son would need some extra attention if he hoped to make preseason play.
Hearing the option for same-day evaluation, Do Sunho already felt hopeful.
"Brayden got a thorough strength and mobility test to look at his range of motion and strength of muscle," Do Sunho said. "The physician assistant we saw really went out of his way to listen to our concerns, and it gave us peace of mind to know Brayden's injury wasn't developing into something more serious."
The Orthopaedic Acute Injury Clinic, which opened in May, offers urgent orthopaedic care for patients 13 years and older, evaluation and treatment by orthopaedic specialists, X-rays, splints and casts, follow-up appointments and surgery scheduling, if needed.
The clinic team treats bone, joint or muscle injuries; simple fractures; sprains and strains; minor dislocations and sports injuries.
Father and son left the Acute Injury Clinic with a plan to get Brayden through to preseason ─ rest and specific running parameters that included no side-to-side cutting.
"As a coach and a dad, I'm always trying to strike that balance between pushing these guys to perform at their top level but not overwhelming them," Do Sunho said. "I have a lot of kids I coach, but I know my son the best. I wanted to afford him the chance to come into preseason as close to 100% as possible."
The plan worked. As the calendar flipped to September, Brayden was feeling strong enough to perform all the field-based drills and conditioning without limitation.
The confident striker was back. Brayden was able to cancel a planned cortisone shot and is putting shots in the back of the net.
"Soccer is an escape for me," said Brayden, who began playing at age 5. "It's just always been there and always been special to me. Now, I can look forward to a great season."
If you're having trouble accessing this content, or would like it in another format, please email Penn State Health Marketing & Communications.