Penn State team wins Big 10 Augmented Intelligence Bowl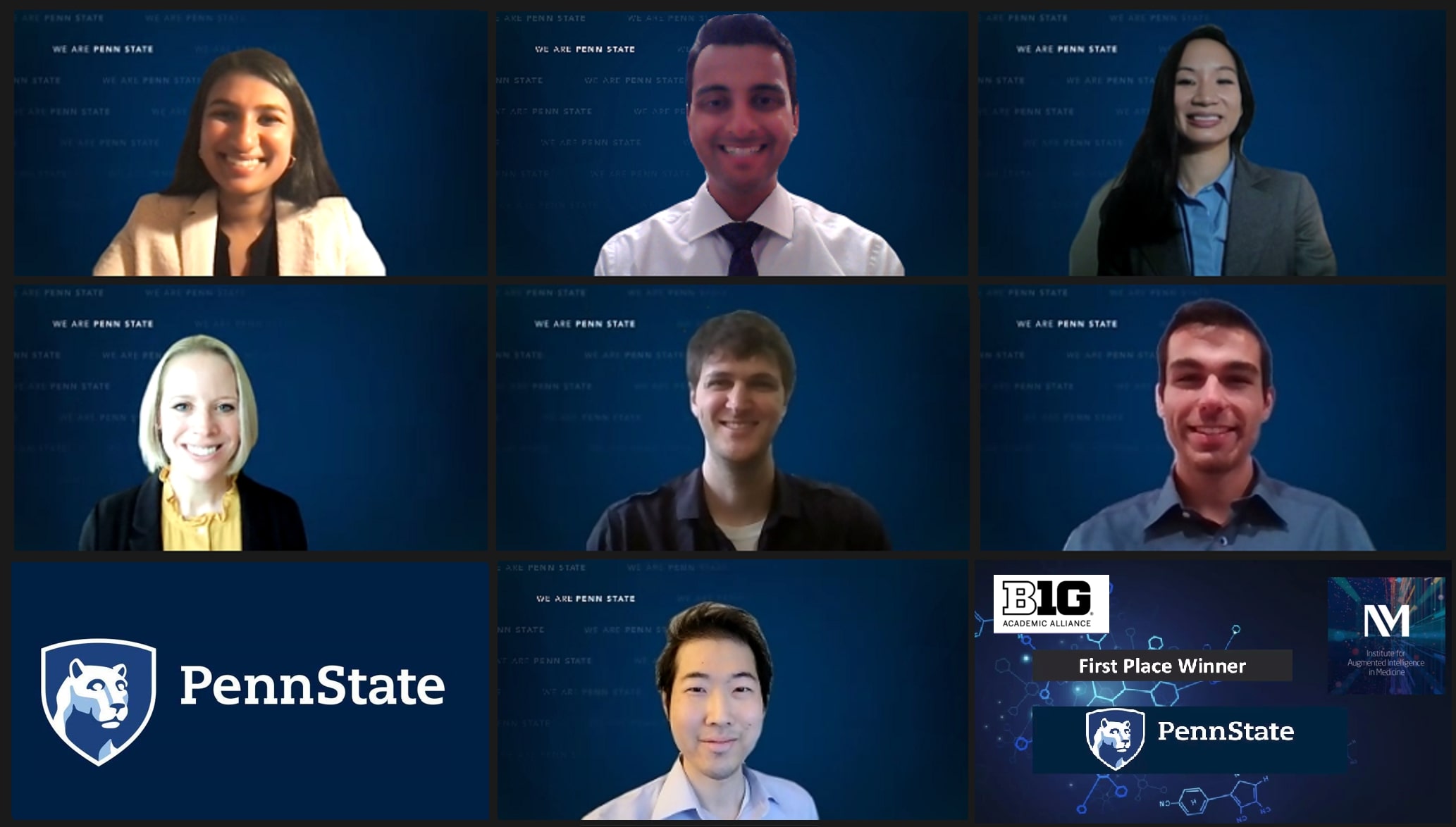 Imagine visiting a doctor's office and suddenly being able to understand all the big words in the papers they give you.
Meet "Simplify," a new system that a team of students from Penn State believes could do more than clear up bleary eyes. It could lead to better health outcomes, fewer readmissions and save the U.S. an estimated $238 billion every year. The team included students from Penn State College of Medicine.
Simplify is Penn State's entry in the first annual Big 10 Augmented Intelligence (AI) Bowl, where academic teams from around the Big 10 Conference square off to determine how artificial intelligence can create the biggest bang in reducing health disparities. The Penn State team believes using Augmented Intelligence, a facet of artificial intelligence that seeks to enhance human intelligence, can knock down health disparities around the globe.
The competition's panel of judges agreed that the Penn State team was onto something big, so they decided to award the group with first place during the Big 10 AI Bowl finals on Friday, Oct. 22. The win comes hand in hand with a $35,000 prize that will allow the team to advance their work on the Simplify software.
"When the organizers announced that Penn State had won first place in the finals, it validated all the hard work we had put in these last eight months," said College of Medicine medical student Alyssa Tuan.
The Big 10 AI Bowl was hosted by the Institute for Augmented Intelligence in Medicine at Northwestern University and aimed to raise the profile of AI across the 14 institutions that represent the Big 10 Academic Alliance, including Penn State.
In its call for competitors, organizers posed a complex question: How can AI address health disparities? Penn State relayed that call across its campuses and over 30 people responded. The College chose an interdisciplinary, cross-academic team of medical fellows, residents and graduate, medical and doctoral students from the College of Medicine and College of Information Sciences and Technology based on each member's experience and expertise.
"This particular project (Simplify) excites me because it works at improving something so fundamental to the patient-physician relationship: communication," said Nathan Cannon, a medical student at the College of Medicine. "I also believe it has the potential to enable patients to understand and take an active role in their well-being. Many of us can relate to feeling frustrated when we want to understand something so complicated it seems it's written in another language."
Dr. Jennifer Kraschnewski, the AI team's faculty advisor and professor of medicine, pediatrics and public health sciences, said by sharing the call for competitors with the Penn State community, the institution reinforced its commitment to the exploration of AI in health care, which also ties directly into the College of Medicine's strategic plan.
"Penn State has outstanding opportunities to become a leader in the use of AI given our cross-campus faculty expertise in this space … and our outstanding track record for successful interdisciplinary research," said Kraschnewski, who also serves as program director for Penn State Clinical and Translational Science Institute Project ECHO. "However, AI is only as powerful as the innovation that guides its use. Engaging our talented medical students, residents, fellows, and graduate students in programs like the Big 10 AI Bowl helps grow our College's innovation and future initiatives in this important area."
Team members say that the idea of using AI in health care could have implications in every aspect of medicine. AI can aid in the reliability and precision of diagnosis, help determine and predict which patients should receive certain therapies, and serve as an intervention tool, said Dr. Ravi Shah, cardiovascular disease fellow at the College of Medicine.
Penn State's AI team decided to focus on health literacy. Research has found that most health-related literature is written at a readability level that is too high for its intended recipients, said Neha Gupta, medical student at the College of Medicine. As many as 65% of preventable readmissions are associated with poor health literacy and inadequate understanding of discharge instructions, Gupta noted. Research shows the language can make people feel confused and powerless, she said, leading to high readmission rates, worse health outcomes and increased costs as high as $238 billion to the U.S. economy.
If patients don't understand the importance of their post-discharge treatment plan or are unsure of what their discharge instructions mean, they might not make the necessary lifestyle adjustments, medication changes or follow-up appointments, leading them right back to square one: sitting in a hospital room or doctor's office.
The team's solution to these health disparities was to create "Simplify," a software tool that analyzes hospital discharge instructions and proposes suggestions for simplified wording. It works the way word processors propose spelling and grammar edits, Kraschnewski said. The end result is better readability, boosting patient understanding and preventing hospital readmissions.
"Simplify will help to render the documents at an appropriate reading level and clarify confusing terminology," said David Foley, PhD candidate at the College of Information Sciences and Technology and a member of the Artificial Intelligence Research Laboratory. "Our goal is for Simplify to be integrated with existing workflows such that a care provider gets immediate feedback on something they've written for the patient."
The software could have even broader implications, too.
"We're hoping to improve that provider-patient relationship and also to empower the patients so they have a better understanding of their health and can ask the questions they may not have known to ask before," Shah said. "This in turn would help them avoid readmission for things that were preventable, keep themselves healthier, decrease morbidity and mortality, and ultimately save money, too."
The team, which also included Junie Liang, PhD candidate at the AI Research Laboratory, presented their Simplify concept to a panel of judges during the first round in the Big 10 AI Bowl and the field of competitors was narrowed down from eight to five teams. Penn State was among those to advance, and Simplify also took first place in the audience vote for top concept and presentation.
When the Penn State team learned that they had won first place in the finals, the feeling could be summed up in one word: "incredible."
"It feels incredible to win this competition," said Dr. Christian Park, diagnostic radiology/nuclear medicine resident in the Department of Radiology and head of AI for the Clinical Radiology Research Group. "Our success is testament to the synergy of interdisciplinary collaboration at Penn State; by combining the best and brightest from both engineering and medicine, we can achieve amazing things."
Shah agreed, adding that this type of cross-campus collaboration could pave the way for more partnerships down the road.
"Penn State has invested heavily in bringing AI to different campuses and departments, and we're hoping that this is a way to expand upon the integration between the campuses," Shah said. "If we can be successful, there will be more projects we can do in the future.
"We think this is really just the beginning."
A group of second-year medical students who worked behind the scenes to simplify hundreds of discharge instructions by hand, including Kyra Chester, Joanna Bhasker, Amanda Dubbs, Cara Pearson, Zachary High and Avisha Amarnani, also supported the team.
Learn more about the competition and Penn State team members here
Watch the Penn State AI Team's presentation here
If you're having trouble accessing this content, or would like it in another format, please email Penn State Health Marketing & Communications.