Penn State Health names Rovito vice president and physician leader for cancer services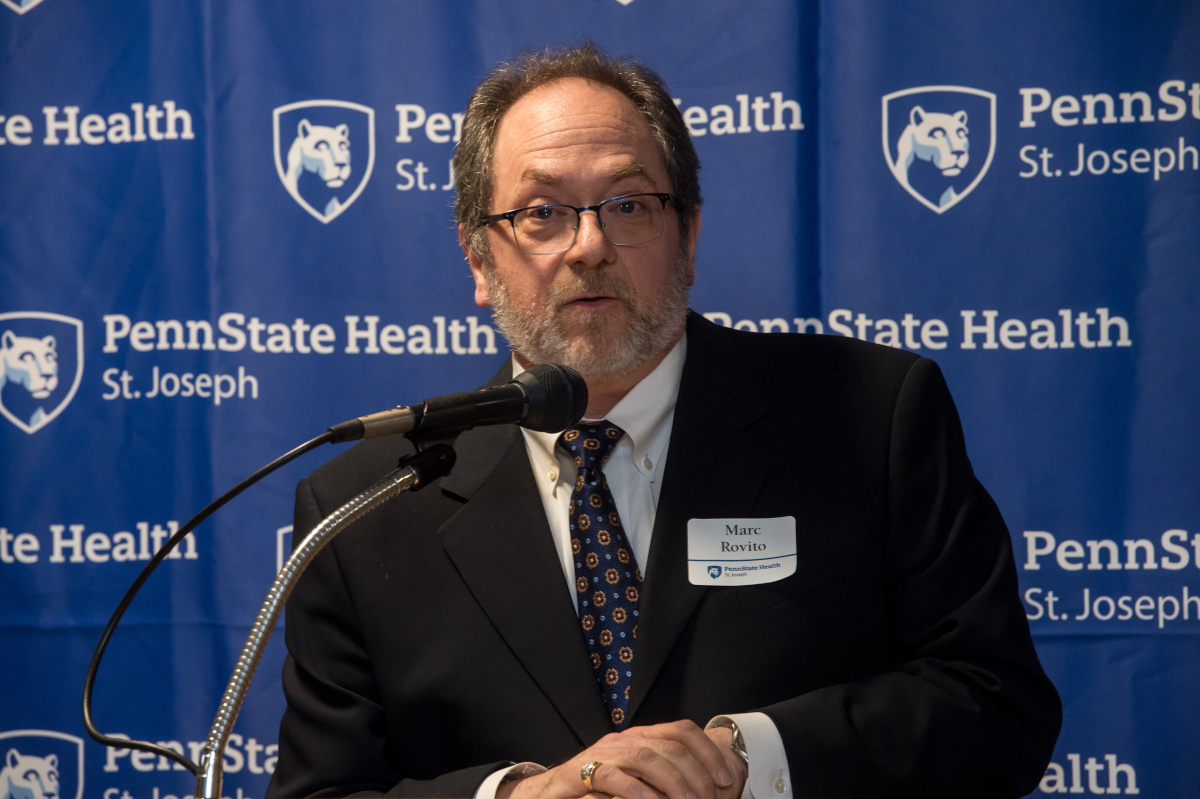 Penn State Health has appointed Dr. Marc Rovito to the newly created position of vice president and physician leader for cancer services.
The health system created the position as part of its efforts to deliver superior, coordinated cancer care across all of its hospitals and outpatient practices, ensuring that no patient needs to leave the region.
"Marc is well positioned to lead this exciting transformation of our clinical cancer care processes given his combined experience in academic, community and private practice settings," said Dr. Peter Dillon, executive vice president and chief clinical officer of Penn State Health. "As medical director of the Cancer Center at St. Joseph Medical Center, he built a record of leadership in research, clinical care and patient safety that will guide his efforts to provide the highest level of care to our cancer patients, where and when they need it."
Rovito most recently was St. Joseph Medical Center's interim vice president of medical affairs. Since first joining the hospital in 2011, he has served as St. Joseph Cancer Center medical director and cancer liaison physician. In addition to leading accreditation initiatives for the cancer care programs, he oversaw a $5.5 million addition to the Cancer Center, which included a 2,400-square-foot addition to accommodate a growing patient base, as well as a state-of-the-art TrueBeam linear accelerator.
Prior to joining Penn State Health, Rovito completed his residency and fellowship at the Medical College of Pennsylvania, where he stayed on as assistant professor of medicine and director of the Stem Cell Transplantation Program. He transitioned into private practice in Delaware County, where he was a member of a 12-provider hematology/medical oncology group, oversaw the clinical research program and was integral in the group's designation as a certified Oncology Medical Home, the first in the country.
In his new role, Rovito will work closely with Ethel Randall, administrative vice president of the cancer service line, to foster coordination across the health system's growing continuum of cancer care services. Rovito and Randall will work together to make strategic decisions about capital investments in equipment and facilities, recruitment and retention of cancer care team members and deployment of cancer care resources throughout Penn State Health's service area. Their shared focus will include continuous improvement of the patient journey, from early diagnosis, through treatment and into survivorship, as well as coordination of all Penn State Health hospitals and practice sites in the design and deployment of all clinical cancer programs.
"Penn State Health's move to create a systemwide service line for cancer care demonstrates its steadfast commitment to our patients," Rovito said. "By fostering coordination across the health system, we can ensure that no patient needs to leave the region for the advanced, personalized and consistently expert care we provide close to where they live and work."
Board certified in medical oncology, Rovito earned his medical degree from Temple University in Philadelphia. He is an assistant professor in the Department of Medicine's Division of Hematology and Oncology at Penn State College of Medicine and Penn State Cancer Institute.
"Dr. Rovito brings a wealth of clinical experience to this role, including a deep understanding and appreciation for the importance of clinical research in delivering unparalleled cancer care to our patients," said Dr. Ray Hohl, director of Penn State Cancer Institute. "I look forward to collaborating with both Dr. Rovito and Ms. Randall to harmonize our cancer clinical services across Penn State Health and support our ongoing efforts to achieve National Cancer Institute Cancer Center designation."
If you're having trouble accessing this content, or would like it in another format, please email Penn State Health Marketing & Communications.