38th Children's Miracle Network Telethon to air on WGAL8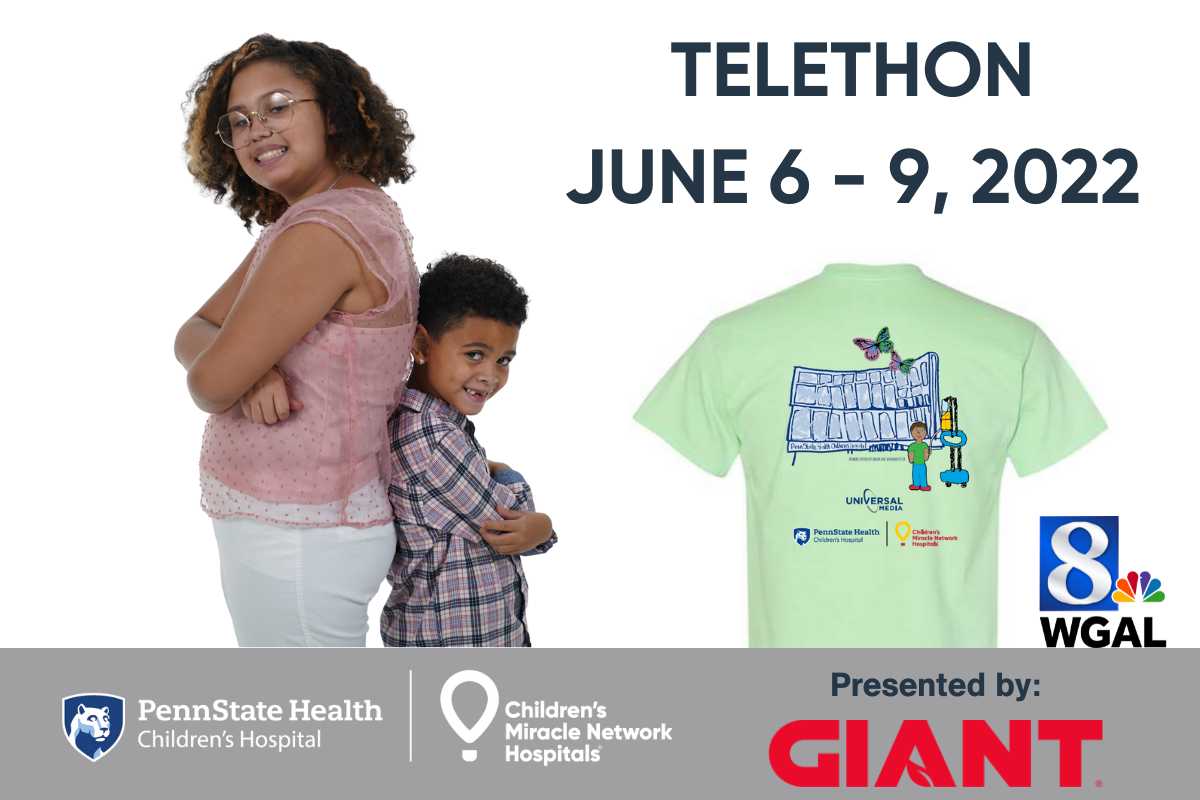 The 38th annual Children's Miracle Network Telethon benefitting Penn State Health Children's Hospital will air Monday, June 6, through Thursday, June 9, on WGAL8. Telethon segments highlighting stories of children who have received life-saving care at the Children's Hospital will air throughout the week on WGAL's regular programming followed by a finale special on Thursday, June 9, at 7 p.m. Gifts will support equipment, programs and research.
Telethon viewers will be encouraged to make a gift online at WGAL.com or CMNHershey.org. Donors who would like to give by phone may contact the CMN office at 717-531-6606 or they may mail their donation to CMN, P.O. Box 852, Hershey, PA 17033.
Among the children who will be featured are 7-year-old Xander and 13-year-old Savannah Hester of Wrightsville. Xander and Savannah have severe gastrointestinal issues and receive treatment at Penn State Health Children's Hospital. The siblings designed this year's telethon t-shirt, which will be given to donors who pledge $35 monthly. View a video about Xander and Savannah.
This year's telethon is presented by The GIANT Company, which will be matching gifts during portions of the event. Additional sponsors include Johnson Controls, The Hershey Company, Highmark, Vizo Financial Corporate Credit Union, Geico, Donegal Insurance Group, Universal Media, Shollenberger, Januzzi & Wolfe, LLP, the McClure Company and PSECU.
About Children's Miracle Network at Penn State Health Children's Hospital
Children's Miracle Network Hospitals is a nonprofit organization that has affiliations with 170 children's hospitals, including Penn State Health Children's Hospital. Gifts raised locally through Children's Miracle Network (CMN) fund equipment, patient programs and pediatric research at Penn State Health Children's Hospital, which is the only children's hospital between Pittsburgh and Philadelphia fully equipped to treat the most severely ill children of central Pennsylvania. CMN's mission to save kids' lives and improve their quality of care is part of "A Greater Penn State for 21st Century Excellence," a fundraising campaign focused on three key imperatives: Open Doors, Create Transformative Experiences and Impact the World. Learn more at greaterpennstate.psu.edu.
If you're having trouble accessing this content, or would like it in another format, please email Penn State Health Marketing & Communications.