College of Medicine receives $25 million to support faculty research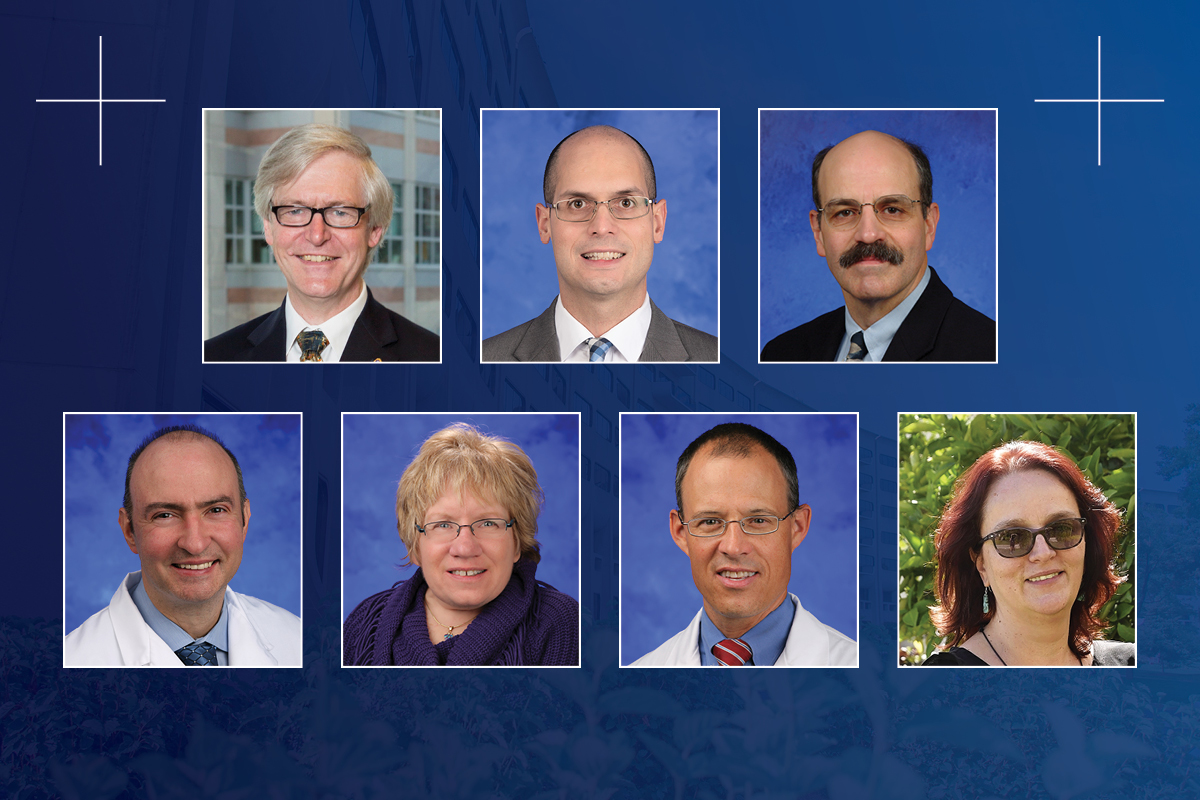 Between October and December 2022, Penn State College of Medicine researchers received 140 grants and contracts totaling $25.3 million for research.
Faculty will study new treatments for pediatric cancer and amyotrophic lateral sclerosis (ALS), compare strength training programs for aging adults and use storytelling to help encourage COVID-19 vaccination in underserved communities.
Read more about 7 projects below.
"Combatting retinal degeneration by chromatin decondensation"
Investigator: Colin Barnstable, DPhil, professor of neural and behavioral sciences and of psychiatry and behavioral health
Amount: $300,000 anticipated through December 2024
Awarded by: Research to Prevent Blindness
Goal: Cells have defense mechanisms that help them respond to stress caused by the environment or disease. Cells in the retina, a part of the eye, have condensed chromatin, or genetic material, which blocks their ability to deploy these defensive mechanisms. Barnstable and lab have found a number of drugs that can reverse chromatin condensation and release these defensive mechanisms, without causing cells to lose their function. The lab proposes to investigate this new approach to treating blinding diseases by figuring out how to deliver these drugs to the eye and testing their efficacy.
---
"Share your vaccine story"
Investigator: William Calo, PhD, JD, assistant professor of public health sciences
Amount: $248,475
Awarded by: Pennsylvania Chapter of the American Academy of Pediatrics and the Pennsylvania Immunization Coalition
Goal: Calo studies how to improve vaccine uptake, or use, among underserved communities in Pennsylvania, especially rural and Hispanic populations. Specifically, his team studies how communication, health care systems and community interventions combine to address vaccine hesitancy and improve vaccination rates. With these funds, Calo will study how personal stories from people who received the COIVD-19 vaccine influence others to get vaccinated. This project partners with 17 Women, Infants and Children (WIC) program locations to deliver a storytelling‑guided video intervention to promote COVID-19 vaccination among pregnant and postpartum women.
---
"The Biostatistics Research Center for the Impaired Awareness of Hypoglycemia Consortium"
Investigator: Vernon Chinchilli, PhD, distinguished professor of public health sciences
Amount: $829,347 ($11,662,495 anticipated through June 2027)
Awarded by: National Institute of Diabetes and Digestive and Kidney Diseases
Goal: People living with type 1 diabetes who experience repeated episodes of low blood sugar are more likely to developed a condition called impaired awareness of hypoglycemia (IAH), where they are unable to recognize the onset of low blood sugar and respond to it accordingly. Chinchilli will lead the Department of Public Health Sciences' role as the biostatistics research center for a collaborative research group called the Impaired Awareness of Hypoglycemia Consortium. The center will provide statistical, project management and stakeholder engagement support for the consortium as they conduct studies to investigate how to improve hypoglycemic awareness in these individuals.
---
"Novel strategy to reverse chemotherapy resistance in pediatric acute leukemia"
Investigator: Sinisa Dovat, MD, PhD, professor and vice chair for basic science research in the Department of Pediatrics; professor of biochemistry and molecular biology and of pharmacology
Amount: $300,000 anticipated through December 2024
Awarded by: Hyundai Hope on Wheels
Goal: Dovat aims to use precision medicine approaches to develop a new treatment strategy for pediatric acute lymphoblastic leukemia (ALL). Patients can develop resistance to chemotherapy, which can lead to relapse and death. Dovat proposes a novel strategy involving a combination of two therapies. Through testing in preclinical models, Dovat hopes to study the combinations' efficacy and also better understand how this strategy reverses resistance to chemotherapy, while also having anti-leukemia effects.
---
"Ehlers-Danlos Syndromes Research Foundation Randomized Controlled Trial Initiative"
Investigator: Jane Schubart, PhD, associate professor of surgery, medicine and public health sciences
Amount: $87,948 ($126,396 anticipated through June 2023)
Awarded by: Ehlers-Danlos Research Foundation
Goal: Schubart studies access to affordable and effective care for people with Ehlers-Danlos Syndromes (EDS), a group of under-diagnosed inherited disorders that affect connective tissues such as skin, joints and blood vessel walls. With these funds, Schubart and her team will determine the utilization of the health care system by people with EDS and the cost of their care; examine intervening events and other factors that explain why symptoms improve for some people and not others; and identify nutritional deficiencies as a starting point for potential therapeutic targeting in this population.
---
"Comparative effectiveness of brief strength and balance exercises and standard home-based group exercise for primary care patients with mobility disability."
Investigator: Christopher Sciamanna, MD, professor of medicine and public health sciences
Amount: $3,986,806
Awarded by: Patient-Centered Outcomes Research Institute
Goal: One in four older adults reports difficulty walking or climbing stairs and research shows that strength training can improve walking ability in this group — though one in five older adults do enough strength training to benefit. Sciamanna and his research team will conduct a clinical trial to evaluate their brief, home-based strength training program to a standard home program to see which is better at improving leg strength and walking ability. The team will consult a group of diverse stakeholders — including patients, primary care providers, fitness professionals, and insurance, public health and senior services organizations — throughout the study to help the researchers make decisions on how to best perform the study and share their results.
---
"Novel small molecules with neuroprotective potential in ALS: a "fly-to-human" approach"
Investigator: Daniela Zarnescu, PhD, professor of cellular and molecular physiology
Amount: $678,593
Awarded by: Congressionally Directed Medical Research Programs
Goal: Building upon prior research, Zarnescu and team seek to identify novel small molecules that could have therapeutic benefit in treating amyotrophic lateral sclerosis (ALS). The team will use powerful genetic tools and drug screening methods in fruit fly models of ALS to identify and further study molecules that may prevent motor neurons from degrading. They will test the efficacy of their identified molecules using ALS patient motor neuron samples.
---
Other awards
If you're having trouble accessing this content, or would like it in another format, please email Penn State Health Marketing & Communications.