Butler named surgical director of kidney transplant surgery at Hershey Medical Center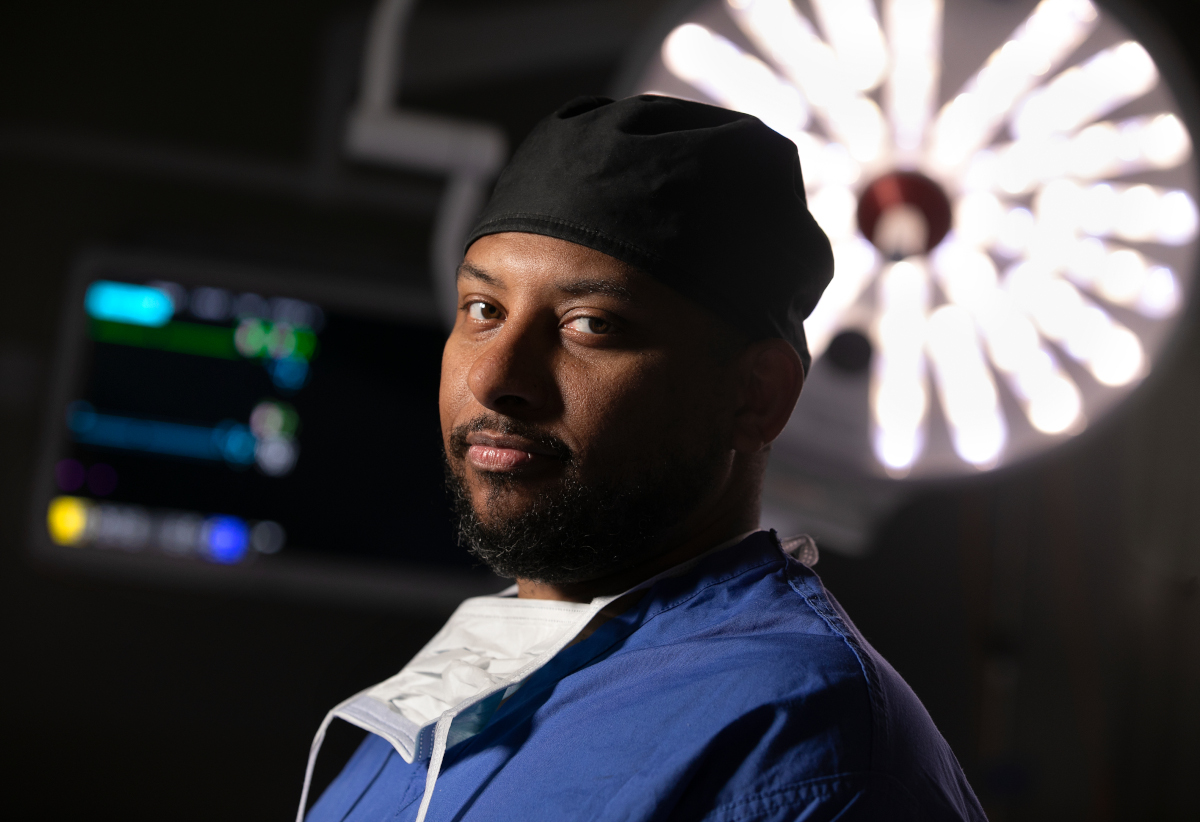 Dr. Thomas Butler has been appointed surgical director of kidney transplant surgery at Penn State Health Milton S. Hershey Medical Center, effective Jan. 16. He is one of three world-class surgeons recruited to lead the Milton S. Hershey Medical Center's new abdominal organ transplant program.
Butler joins Dr. Johnny Hong, chief of the Division of Transplantation and director of liver transplant surgery for Hershey Medical Center, and Dr. Raymond Lynch, director of transplantation quality and outcomes for Hershey Medical Center. In addition to their work with patients, the surgeons will serve as faculty at Penn State College of Medicine, helping train the next generation of world-class physicians and surgeons. They will also lead research to create innovative ways to treat patients and advocate for health policies that make organ transplantation more widely available.
Butler's experience as an attending surgeon has spanned more than a decade, with positions at Sutter Health Castro Valley (Calif.) Trauma and Critical Care, Montefiore Einstein Center for Transplantation in New York and Mineral King Medical Center in Visalia, Calif. Most recently, he was the abdominal transplant and hepatobiliary surgeon with Crozer-Chester Medical Center in Upland, Pa., and surgery clerkship director and associate professor of clinical surgery with Drexel University College of Medicine in Philadelphia. Butler also spent three years as associate program director for general surgery residency at Crozer-Chester Medical Center. His other roles have included surgeon and assistant professor with Albert Einstein School of Medicine and clinical instructor of transplant surgery with University of California, Los Angeles (UCLA).
"Dr. Butler's extensive background in general and abdominal transplant surgery provides our patients with the first-class care they deserve," said Hong. "He brings significant knowledge and research that spotlights how advancements in health equity can improve patient outcomes. His leadership and perspectives will benefit our system in our mission to provide culturally responsive, equitable care."
Butler earned his medical degree from Southern Illinois University Medical School. He completed his residency training in surgery at Eastern Virginia Medical School and fellowship in transplant hepatology at UCLA. He earned his Master of Science in clinical research methods from Albert Einstein College of Medicine and Bachelor of Science in chemistry from Howard University. He is board certified by the American Society of Transplant Surgeons and a diplomate of the American Board of Surgery. His professional memberships include The Society of Black Academic Surgeons, American Society of Transplant Surgeons (ASTS) and Member Association of Program Directors in Surgery. He is a member of the Diversity Issues Committee ASTS.
In 2021, Butler was voted by his peers as a Hepatobiliary Cancer Top Doctor of the Main Line and Western Suburbs in Main Line Today. In 2022, he was awarded a $25,000 Gift of Life grant for his investigation titled "Increasing Diversity in STEM Using a Medical Internship Week for Minority Students." Butler is a sought-after lecturer and panelist, with presentations that focus on the evolution of liver transplantation, racism in medicine and COVID pneumonia mortality and race. In 2022, Butler co-authored "The Case for Prioritizing Diversity in the Transplantation Workforce to Advance Kidney Health Equity" in the Journal of the American Society of Nephrology.
If you're having trouble accessing this content, or would like it in another format, please email Penn State Health Marketing & Communications.