Renowned transplant surgeons lead reactivation of Penn State Health Milton S. Hershey Medical Center abdominal organ transplant program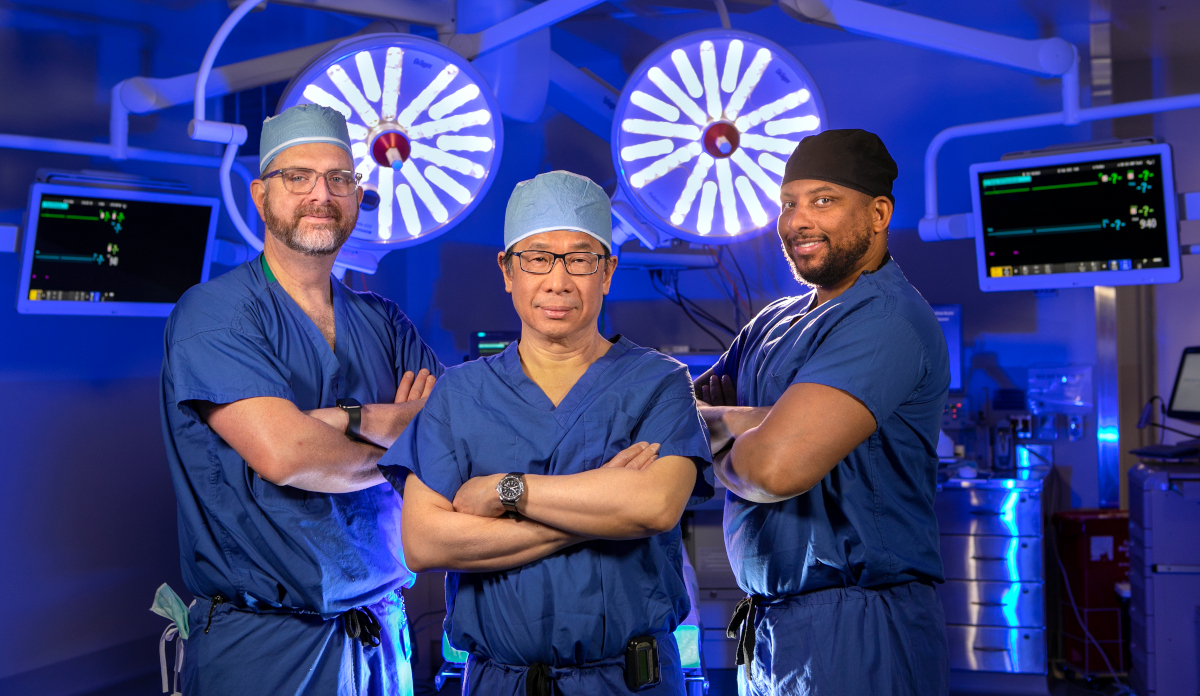 Penn State Health announced today a world-class team of surgeons will lead its new abdominal organ transplantation program at the Milton S. Hershey Medical Center. The new program fills an important health care need for central Pennsylvanians living with kidney or liver disease, adding lifesaving transplants close to home as a treatment option and completing the full spectrum of kidney and liver care already provided by medical and surgical specialists at Penn State Health.
"We voluntarily inactivated our program in April 2022 to improve it, and we've since built the abdominal transplant program the people of central Pennsylvania deserve," said Deborah Addo, chief operating officer of Penn State Health, who oversaw the project. "Our new surgeons join our medical specialty directors to lead one of the best kidney and liver care teams in the country."
Penn State Health's new team of abdominal transplant surgeons includes:
Johnny C. Hong, an internationally recognized leader in abdominal transplant and hepatobiliary surgery with a track record for building top programs, heads the Penn State Health abdominal transplant program as chief of the Division of Transplantation and director of liver transplant surgery.
Thomas E. Butler serves as surgical director of kidney transplant surgery. His clinical interests include expanding minority organ donations and equity in access to organ transplantation, as well as increasing the transplant workforce.
Raymond Lynch serves as director of transplantation quality and outcomes. Lynch is a board-certified, fellowship-trained abdominal transplant and hepatobiliary surgeon who specializes in treating patients with end-stage kidney and liver diseases.
In addition, Michelle Lorenz has been recruited to serve as program administrator for Penn State Health's transplant program, overseeing administration for both abdominal transplant and the system's high-performing heart transplant program. Lorenz is a top-tier transplant administrator and joins Penn State Health from the University of Virginia Medical Center after 17 years of transplant and related leadership roles at systems from Georgia and Tennessee to Michigan and Nebraska.
Hong has established a number of priorities for the Penn State Health program since his arrival in November, including recruitment of Butler and Lynch to the surgical team. A fourth surgeon will also join the transplant team in August. In addition, he has focused on building the foundation for a destination center of excellence for end-stage organ diseases and transplantation and expanding access to include underserved communities and patients with the most medically challenging conditions.
"Transplant surgery can provide patients a second chance at life, and we want everyone in central Pennsylvania who needs this care to know that we have built a truly exceptional multidisciplinary program they can trust right here," Hong said. "Our first priority will be achieving clinical excellence and providing the best care for our patients, and then we'll focus on ways to remove the barriers that prevent some patients from accessing the transplant services they need."
In rebuilding the abdominal transplant program under Addo and Hong's supervision, Penn State Health overhauled its administrative procedures and updated its surgical equipment. Patients who remained on the program's waiting list while it was inactive now have access to some of the best transplant surgeons in the country working alongside other physician specialists in a multi-disciplinary approach.
In addition to their work with patients, the surgeons will serve as faculty at Penn State College of Medicine, helping train the next generation of world-class physicians and surgeons. They will also lead research to create innovative ways to treat patients and advocate for health policies that make organ transplantation more widely available to patients who need it.
More about Dr. Johnny Hong: Joining Penn State Health from the Medical College of Wisconsin, Froedtert Health and Children's Wisconsin, Hong is a fellowship-trained multi-organ transplantation and hepatobiliary surgeon whose expertise spans the entire spectrum of liver transplantation, including living-donor liver transplant and hepatobiliary surgery for adults and children. He also served as medical director of liver, pancreas and intestinal transplantation at the University of California, Los Angeles. He has performed some of the "firsts" in hepatobiliary surgery, including an innovative liver surgery procedure on a two-month-old infant. Board-certified by the American Board of Surgery, Hong has demonstrated a lifelong commitment to teaching and advancing the field of transplantation and surgery, training transplant surgeons throughout the world. As a researcher, he served as principal investigator and co-investigator in National Institutes of Health-funded research studies and other peer-reviewed studies related to liver diseases and transplantation.
More about Dr. Thomas E. Butler: Butler is a board-certified, fellowship-trained abdominal transplant, hepatobiliary and robotic surgeon. His prior experience includes working at Montefiore Medical Center in the Bronx, N.Y., while also earning a Master of Science in clinical research methods and serving as an assistant professor at the Albert Einstein College of Medicine. He also was an associate program director of the general surgery residency, site director and associate professor at Crozer-Chester Medical Center and Drexel University College of Medicine in Philadelphia.
More about Dr. Raymond Lynch: Lynch was the director of public policy and community relations at Emory Transplant Center and the associate director of the Emory Health Services Research Center. His research and advocacy work focuses on equity in access to procurement and transplantation care. He has worked with the federal government and multiple transplant centers and organ procurement organizations on strategies to evaluate and improve clinical practice in organ allocation and deceased donation. Active in national transplant organizations, Lynch previously served on the American Society of Transplant Surgeons Vanguard Committee and the Organ Procurement and Transplantation Network Liver and Intestine Committee.
If you're having trouble accessing this content, or would like it in another format, please email Penn State Health Marketing & Communications.