Faculty members and parents honor a daughter's legacy through new endowed lecture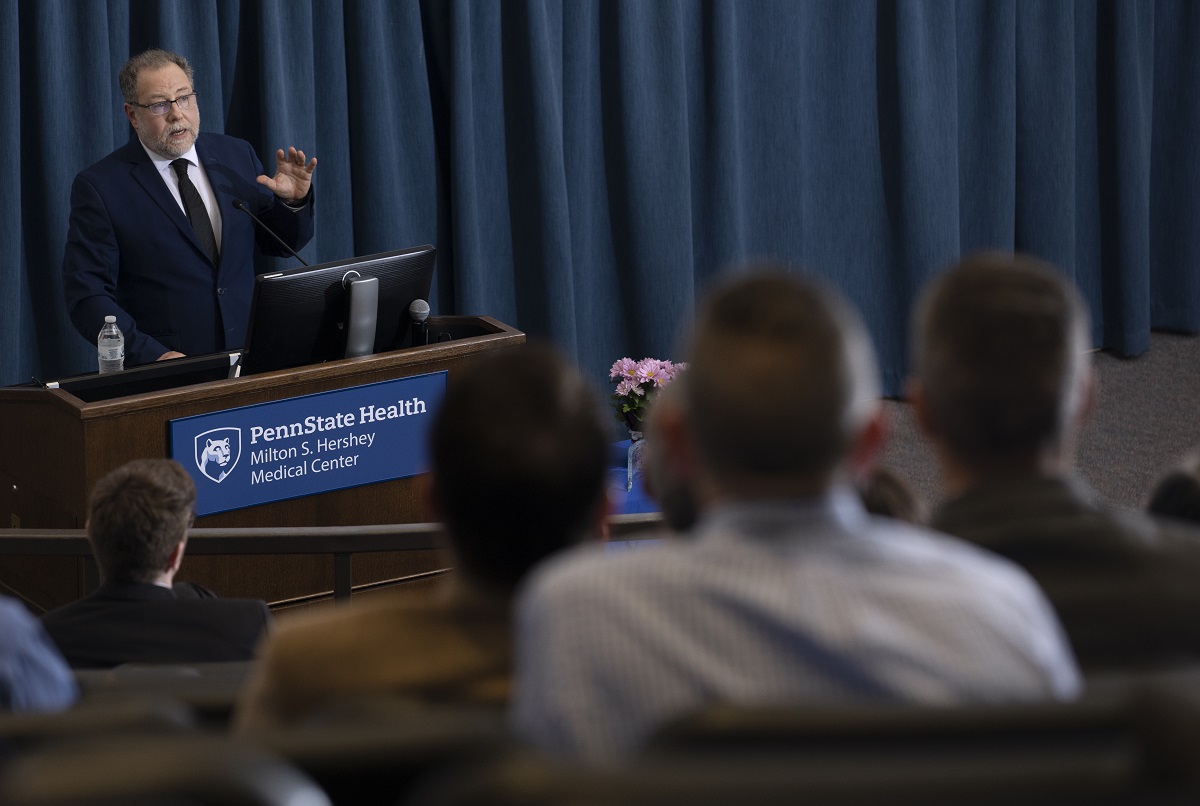 Dr. David Goldenberg, professor and chair of the Department of Otolaryngology ─ Head and Neck Surgery at Penn State College of Medicine and vice president of otolaryngology ─ head and neck surgery services for Penn State Health Medical Group, honored the life and legacy of his daughter in the inaugural Ellie Goldenberg Memorial Lecture on May 8.
In his talk, titled "From Cradle to Grave: The Lifespan of a Singer's Voice," Goldenberg described the evolution of a singer's voice over their lifetime in the context of human voice as a science and singing as an art.
Goldenberg and his wife and former College of Medicine faculty member, Dr. Renee Flax-Goldenberg, created the endowed lecture to honor the life of their daughter, Ellie, who died in an airboat accident on May 13, 2017, while on a family trip celebrating her college graduation.
The Ellie Goldenberg Memorial Lecture endowment supports events on topics related to the intersection of medicine and the fine arts.
A passion for life and singing
The day before her death, Ellie had graduated magna cum laude from the University of Miami's prestigious bachelor of fine arts program, and she was the only student in her class to be awarded the Friends of the Theatre Award by the program.
An accomplished actor and singer, Ellie Goldenberg showed early promise as a performer while a young student at Beth Tfiloh Dahan school in Baltimore. By the end of high school Ellie had performed in at least 23 productions, many of which she starred in. She also performed in community theatre. After high school, she traveled to Israel for a gap year, working with underserved immigrant populations and victims of domestic abuse.
In addition to her musical and theatrical gifts, Ellie was known for her passion, dedication, loyalty and work ethic, said her father, Dr. David Goldenberg.
"Ellie cared about those she loved like no other," he said. "She did all she could for you when you were sad, cheered you on when you succeeded and, most importantly, pushed you to be your very best self."
The family also reflected on Ellie's passion for singing. "Ellie was always singing," said her mother, Dr. Renee Flax-Goldenberg. "She would sing when she was happy, when she was sad and when she was angry. When Ellie sang, we would stop whatever we were doing to listen. Ellie did everything with purpose and determination and with all her heart."
Honoring Ellie's legacy
"The tragic loss that the Goldenberg family has endured is heartbreaking," said Dr. Kevin Black, interim dean of Penn State College of Medicine. "I am in awe that they would honor Ellie's life and legacy by establishing this lecture. Through their leadership at the College of Medicine and their incredible generosity, they exhibit the same admirable qualities that they instilled as parents and for which Ellie is remembered."
Black noted that Goldenberg has been at the forefront of advancing innovative, groundbreaking procedures. A fellow of the American College of Surgeons and an internationally recognized leader in his field, Goldenberg launched the transoral robotic surgery program at Penn State Health Milton S. Hershey Medical Center in 2010 and is the first surgeon in the commonwealth to offer radiofrequency ablation of thyroid nodules. In his 18 years with the health system, Goldenberg has recruited and retained surgeons specializing in all facets of otolaryngology-head and neck surgery; mentored and taught residents, fellows, medical and graduate students; and received numerous awards, including the prestigious Penn State College of Medicine Distinguished Educator.
Flax-Goldenberg is a former faculty member in the Department of Radiology at Penn State College of Medicine, where she specialized in pediatric radiology. Previously, she was a faculty member at Johns Hopkins University.
"The Ellie Goldenberg Memorial Lecture enables us to invite leading educators such as Dr. Goldenberg to share their knowledge and expertise to inspire our learners, advance our educational mission and ultimately improve health," said Black. "I am grateful for all that David and Renee have invested in our learning community and for their decision to honor their remarkable daughter in this way."
Impact of giving
With the record-breaking success of "A Greater Penn State for 21st Century Excellence," which raised $2.2 billion from 2016 to 2022, philanthropy is helping to sustain the University's tradition of education, research and service to communities across the Commonwealth and around the globe. Scholarships enable our institution to open doors and welcome students from every background, support for transformative experiences allows our students and faculty to fulfill their vast potential for leadership, and gifts toward discovery and excellence help us to serve and impact the world we share. To learn more about the impact of giving and the continuing need for support, please visit raise.psu.edu.
If you're having trouble accessing this content, or would like it in another format, please email Penn State Health Marketing & Communications.