Student translational science training programs now accepting applications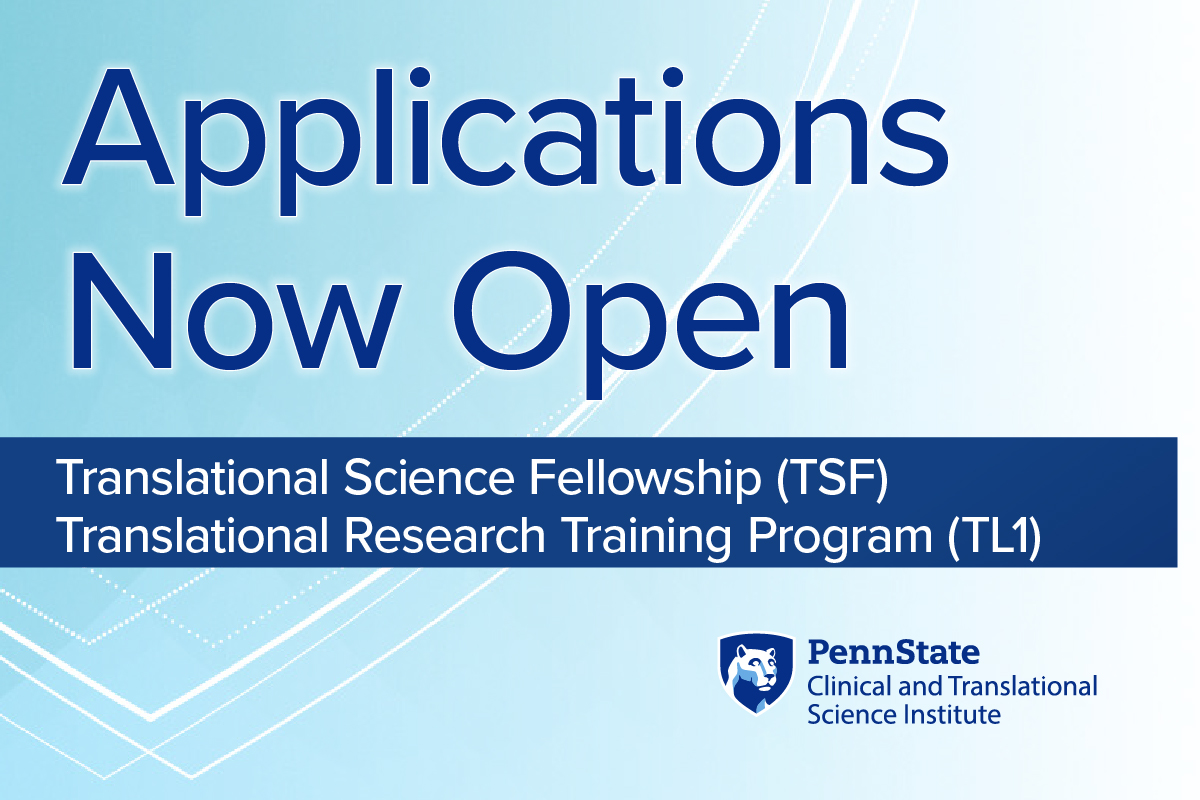 Penn State Clinical and Translational Science Institute is accepting applications for both its yearlong and summer training programs for students interested in learning the fundamentals of translational science until Tuesday, Feb. 28. These programs work to teach the next generation of scientists the skills to move research in the laboratory to benefit patients in the health care system. To apply, visit the TL1 Program website.
Penn State College of Medicine is part of the National Center for Advancing Translational Sciences' Clinical and Translational Science Award (CTSA) program and one of more than 60 organizations nationally charged with delivering infrastructure and training to improve the health research process.
"The educational programs that we offer would not be available without the CTSA grant," said Gail Thomas, PhD, director of the Translational Research Training Program at the College of Medicine. "The support provided by the CTSA awards made it possible to develop and launch these programs. None of them existed before."
These programs were featured in the December Translational Science Seminar. The full recording of that seminar can be viewed on the CTSI YouTube channel.
Translational Research Training Program (TL1)
The yearlong Translational Science Training Program (TL1) is a highly customizable, NIH-funded training program for PhD, MD/PhD, and MD/MPH students engaged in health-related research across Penn State. Medical students who are on official leave to complete a health research-related master's program also may be eligible.
Scholars in the program work toward completion of a dual-title doctorate in clinical and translational sciences, a graduate certificate in translational science, or a master's degree in public health sciences. Areas of emphasis include epidemiology, biostatistics, bioinformatics, bioethics and regulatory science, experimental design and interpretation, and scientific communication. Scholars also receive training in translational science tools, including the research population tool TriNetX and data collection and storage tool REDCap.
Funding includes a 12-month stipend, 60 percent tuition, and travel support. For detailed eligibility and to apply, visit the TL1 Program website. The deadline to apply is Feb. 28.
"Working with a diverse group has allowed me to think differently about my research and become a better scientist. This program is hard work but incredibly beneficial in the long-term."
                –Makenzie Nolt, Neuroscience PhD student and current TL1 trainee
Medical/Graduate Student Summer Program
The Summer Translational Science Fellowship (TSF) Program is for MD and PhD students to learn both foundational skills, including clinical research design and data analysis, and professional skills, including communication and teamwork. Ten full-days classes, over the course of five weeks, in June and July, with classes alternating between the University Park and Hershey campuses, provide examples of real-world clinical and translational research. Opportunities to practice skills are integrated throughout the program using case studies, simulations, computer-based modules, and small-group discussions.
A three-month stipend is provided to cover the active learning program and related research time. Students must have a research project and mentor to apply. For more details and to apply, visit the TSF Program website. The deadline to apply is March 15.
Eligibility
Applicants for both programs must be full-time students at Penn State, be a U.S. citizen or permanent resident (as per NIH policy), and have the support of the primary research mentor. For more information, email Karen Shields. More information about both programs is available in this recording of the December Translational Science Seminar.
If you're having trouble accessing this content, or would like it in another format, please email the Penn State College of Medicine web department.