Bringing holiday cheer: Inspired staff decorate doors in HVI units for the holidays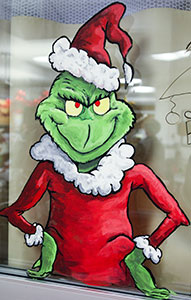 Tweety Bird, Olaf, Popeye and The Grinch are keeping an eye on patients and staff in the critical and progressive care Heart and Vascular inpatient units at Penn State Hershey this month. Each character hangs out on its own sliding glass door, which — at this time of year — provides both privacy and a canvas for spreading holiday cheer.
This December is the fourth year that critical care unit staff has painted holiday scenes and symbols on the entrances to each of its 30 patient rooms, offering a boost to morale for both employees and patients alike. The progressive care unit next door is in on the fun as well. Glass doors are decked out with snowmen, Santa Claus, elves — even a minion from the popular movie "Despicable Me."
Across the hall, rooms with wooden doors have been wrapped like gifts. One door displays snowflakes and photographs of the nursing staff, with mustaches drawn on their pictures and the title "Staching through the Snow." Another has become a penguin, using the standard-issue yellow socks as mittens.
"It's ingenious how they incorporate things around here," says Nikki Clutton, a patient care secretary who works night shift in the Heart and Vascular Critical Care Unit (HVCCU). Clutton is responsible for a good part of the art in her unit, together with registered nurse Ron Long.
"I have always been into art and I love to draw, so it was really cool that they let us have this fun and freedom," Clutton says.
 She gets her inspiration everywhere, printing images off the computer and using them as a reference to draw freehand on the glass doors. First, she sketches with dry-erase marker, which is forgiving of mistakes. Other staff members then take turns outlining her work and filling them in with acrylic paint when they have down time.
Whitney Staub Juergens, nurse manager in the HVCCU, says this year's art gallery is especially impressive. One room has a snowman on the outer glass door and a Christmas tree on the inner door, creating a cool effect as the doors move across each other. A Grinch across the hall looks so three-dimensional he appears to be peering over the shoulders of doctors doing their rounds.
"That's all Ron," Clutton says. "He is a really good painter and really good with shading."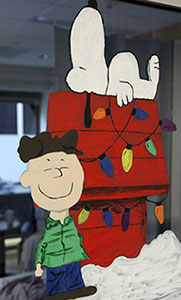 This year, for the first time, the glass doors got decorations for the fall holidays as well, combining Halloween and Thanksgiving themes. Clutton took requests: "There was a patient who had been here for a while, so I asked his wife what she thought he would like," Clutton says. "He was really into Charlie Brown and The Great Pumpkin, so I did that."
Staub Juergens says the project brightens everyone's day.
"You're spending time away from your family when you're in here, so it's nice to walk in and have it decorated," she says. "If you have to be here, it makes it a little more homey."
Julie Werner, nurse manager of the progressive care unit, says her crew invited patients and visitors to cast votes for their favorites in past years.
She also organized an afternoon of caroling for the first time last year. Volunteers come through the unit and invite any patients who are willing and able to come out into the hallway for sing-alongs. The music carries into the rooms of those who can't leave their beds.
"When we did it last year, for that two-hour period, no bells rang and they didn't need the things for pain that they usually call for," Werner said. "It was so peaceful. I think we don't put enough stock in adjunct therapies."
Click here to view a photo album of the various window decorations.
If you're having trouble accessing this content, or would like it in another format, please email the Penn State College of Medicine web department.