Camp Lionheart: A place for young heart warriors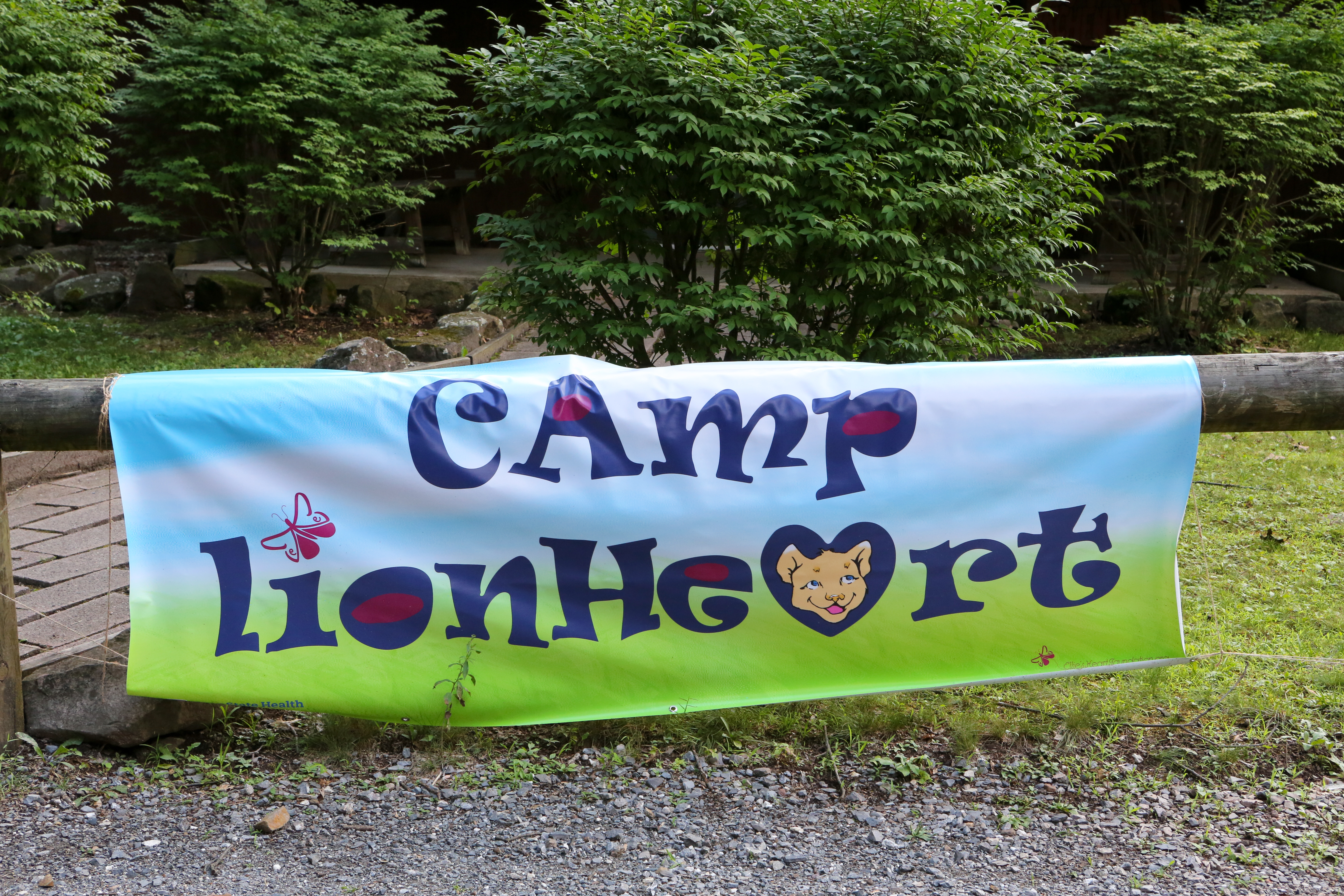 Some young campers celebrated the fifth birthday of a little girl they never knew on Aug. 2, although they had a lot in common.
"My little girl was a heart warrior like you guys," Williamsport resident Jennifer Ayers told the 15 campers at Camp Lionheart. " It means a lot for me to be able to have this camp for you so you can meet other heart warriors."
The inaugural session of Camp Lionheart at Camp Kirchenwald in Colebrook, Lebanon County welcomed campers age 11-18 who share an important bond with Ayer's daughter, Ellie, who was born on Aug. 2, 2011 and died from cardiomyopathy (heart disease) on April 25, 2012.
Although none of the campers have the same rare dilated cardiomyopathy that Ellie had, all of them have repaired congenital heart defects or cardiomyopathies and all are cared for by the Penn State Children's Heart Group at Penn State Health Milton S. Hershey Medical Center.
"For some of them, this is the first time they have ever been to a camp," said Dr. Thomas Chin, chief of pediatric cardiology, whose idea it was to begin the camp. "We want them to learn not only about their physical limitations, but more importantly about their physical abilities."
Camp Lionheart is free, funded by Ellie's Heart Foundation, Children's Miracle Network , the Medical Center's Department of Pediatrics, Penn State Children's Heart Group and private donations.
The camp was staffed continuously, primarily with volunteer physicians, physician assistants, nurses, paramedics and other medical personnel from  within Penn State Children's Hospital and Children's Heart Group. In addition, volunteer medical personnel and lecturers from outside the Medical Center, as well as the counselors, life guards and a nurse provided by Camp Kirchenwald were present during the week. They monitored the children during their activities and administered any medications the children needed during their week-long stay.
Emma Good, 13, who is well versed in describing her ventricular septal defect, confessed she was scared to be so far from her family in Annville, but she was having a great time.
"Tomorrow we're going to look at a pig's heart and see how it works," she said with much enthusiasm. "I'm excited to learn about that."
To 16-year-old Matt Kreider, who has pulmonary atresia and was born missing half his heart, Camp Lionheart gave a rare gift – a new friend who knows what he feels like.
"Sometimes I feel like, 'Why me?' but now I know I'm not alone," said Matt, nudging his roommate and new friend, Patrick Sholl, 17, who has a stent in his left pulmonary artery. "We spent the first night just talking about our hearts."
A rare topic of conversation among most teenagers, for sure, but for these children, dealing with heart ailments is the only way of life they have ever known.
"I just take it one day at a time," Patrick said. "I was supposed to die at two days  of age  and I was never supposed to be able to play sports. Now I play baseball and basketball."
While Matt isn't allowed to play sports, music has been his way to cope. He plays percussion and enjoys listening to music.
"It makes me forget about things. I go into my own little world," he said. "Friends, family and music – that's what keeps me going. This camp gives me more opportunities to get friends, like Patrick."
Chin marvels at the resiliency and the determination of the Camp Lionheart campers.
"This just really gives me a lot of satisfaction to  provide these kids with the opportunities to go out and test themselves and do things that anyone their age would want to do," he said.
"These kids will try anything – canoeing, archery, swimming – and they show me up," said 17-year-old Meredith Fagan, a patient of Dr. Chin who volunteered to be a camp counselor and brought along her friend, Jordan Welsh.
"It's really eye-opening how strong these kids are," Jordan said. "People complain about small stuff all the time, but these kids have had so many issues to deal with and they're smiling."
Although there's plenty of time to swim, hike and enjoy campfires, there's much more to Camp Lionheart than fun and games. Educational sessions on the structure of the heart, heart rhythm problems, the importance of taking medications, "hands only" CPR and living a healthy life-style are part of the schedule.
Cardiomyopathy – where the heart muscle becomes abnormally enlarged and or thickened and muscle cells and heart tissue become damaged – can affect anyone at any age, however, it is classified as a rare disease when it strikes children. There's no cure for it and treatment options are few. It remains the leading cause of heart transplants in children.
Children with cardiomyopathy often have a healthy-looking appearance, just like Ellie, giving parents no clue how sick they really are.
"Many people don't have warning signs until the first episode," Chin said. "There are things to watch out for, though, like chest pain with exercise and progressive tiring and weakness." Sometimes a child's sports coach is the first to notice these signs, he said.
Jennifer and Geoffrey Ayers began the non-profit Ellie's Heart Foundation as a way to give back to the Children's Heart Group after their daughter's death. They were thrilled with the idea of Camp Lionheart.
"This is something that I would have liked Ellie to participate in when she got older," Jennifer Ayers said. "Today is her birthday, which is always hard, but this camp makes it better because if it weren't for Ellie, these kids wouldn't be here."
Eleanor Lily was born on Aug. 2, 2011, looking perfect and healthy at 19 inches long, 6 pounds 13 ounces. Just before she turned four months old, Ellie started exhibiting symptoms of what her parents thought was her first cold. However, at her four-month well baby visit, a heart murmur was detected.
The infant was sent by helicopter that evening from Williamsport to Hershey Medical Center.
The echocardiogram of her heart was so bad that her doctors thought the wrong CD was sent with her; they were amazed she could look as good as she did with such a poorly-functioning heart. Although she rallied for several months, Ellie's heart functioning worsened and she was once again flown to Hershey, where a transplant was determined to be her only option.
Ellie, her parents say, had other ideas – and she left this earth on April 25, 2012, four months shy of her first birthday.
Today the Ayers celebrate the lives of their other children, Malcolm, 11, and Amelia, 2, but they miss Ellie every day. As part of Ellie's birthday celebration, the campers released butterflies, watching and laughing as they fluttered high into the evening sky.
Afterwards, every camper gathered around Ellie's mom for a spontaneous group hug.
"This camp is maintaining a connection to Ellie,"  Jennifer Ayers said tearfully. " I can't watch her grow, but I can watch them."
By Carolyn Kimmel
If you're having trouble accessing this content, or would like it in another format, please email the Penn State College of Medicine web department.